William A. Aden '67, '72
Ryan M. Beach '97
Mary Virginia Jones Berry '62

*


Daniel W. Bird Jr. '60

*


J. Thomas Carter

'

81, '83,


past president


Jeanne C. DaDamio '75, '76
Douglas R. Fahl '65
Elizabeth A. Flanagan
Harry N. Gustin II '43*
Todd F. Hearp '89
Dwight A. Holland '86, '91, '01
William B. Holtzman '59

*


Gene A. James '53*
William C. Latham '55
Mark S. Lawrence '80
Kevin W. Leclaire '95,
president elect
Drew Lichtenberger '00
R. Easton Loving '89, '91
David E. Lowe '63,

president


James L. Mahon '73
Cecil R. Maxson Jr. '52
Aaron McClung '00
Pamela A. McConnell '72
Kylene Barker McNeill '78
Gregory D. Merritt '93
Nicholas J. Moga '76
Thomas W. Moss Jr. '50

*


Jeanette I. Poole '64
Glenn P. Reynolds '76
Curry A. Roberts '80,


vice president


Wayne H. Robinson '80
J. Thomas Ryan '68
A. Melissa Smarr '00
Lance L. Smith '68
E. Ann Spencer '76, '84
Charles W. Steger '69
Thomas C. Tillar Jr. '69,


secretary-treasurer


G.T. Ward '49, '52

*


John C. Watkins '69
Matthew M. Winston Jr. '90

* honorary directors



---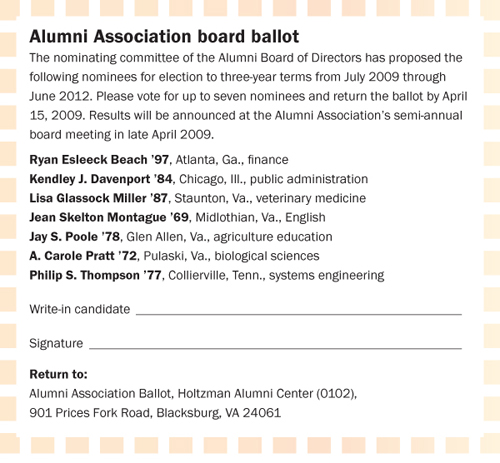 | | | |
| --- | --- | --- |
| | The Institute for Critical Technology and Applied Science at Virginia Tech supports and promotes cutting-edge research at the intersection of engineering, science, and medicine. | |
The theme for this year's Summer Around the Drillfield program, July 16-18, is "Healthier Living through Engineering."
Participants will enjoy an in-depth look at human health research taking place at the university, including that by the College of Engineering and the Institute for Critical Technologies and Applied Sciences. The program also will feature the School of Biomedical Engineering and Sciences, a joint venture between Wake Forest University and Virginia Tech that integrates the resources of the Virginia Tech College of Engineering, Wake Forest University School of Medicine, and the Virginia-Maryland Regional College of Veterinary Medicine.
Summer Around the Drillfield is a family-friendly opportunity to stay at the Inn at Virginia Tech, explore the campus and New River Valley, and interact with your fellow alumni, including a Friday night picnic and outdoor concert.
For more information or to register, please visit www.alumni.vt.edu/reunion/satdf/coe.