The Virginia Tech Alumni Association, PUNTACANA Ecological Foundation, the Virginia Tech College of Architecture and Urban Studies (CAUS), and Peacework Development Fund will partner with the Primary School of Veron in the Dominican Republic to give alumni the unique experience of constructing a multifunctional learning facility and playground for the school.
From March 7–14, 2009, alumni volunteers and a few Tech students will participate in this service project, which will be coordinated through Peacework. CAUS designed the multifunctional learning facility and playground to address the school's need for a safe place for students to participate in school and extracurricular activities and to help control flooding and exposure to weather that may cause respiratory illness, while also promoting activities that will support the education, well-being, and social environment of students and teachers.
Join Virginia Tech students, alumni, and Peacework leaders in this unique opportunity to perform meaningful international service. No special skills are required. Personal expenses for the week (March 7-14) are $1,000, plus the cost of air travel to Punta Cana. Several major airports have direct flights to Punta Cana. Alumni will stay at the PUNTACANA Resort. The registration fee covers ground transportation, single or double-occupancy room, breakfast each morning, mid-day meals at the school site, and evening meals at the resort. Peacework provides optional $25,000 comprehensive global medical insurance for those needing international coverage.
To register online, visit www.alumni.vt.edu/serviceproject. To address specific questions regarding this service opportunity and the tasks that different group members will perform, contact Heather Burke, director of international programs with Peacework, at heather@peacework.org or 800/272-5519.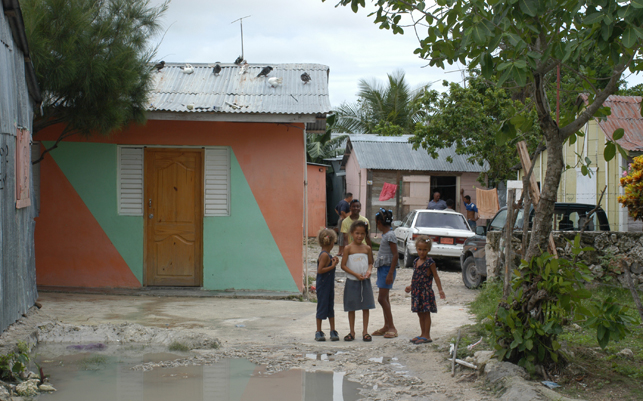 In 2003, Virginia Tech established a partnership with the PUNTACANA Ecological Foundation and the PUNTACANA Resort and Club to create the Caribbean Center for Education and Research on the eastern coast of the Dominican Republic. The center serves as a base for Virginia Tech faculty to conduct research and instruct Tech students in biodiversity, environmental and social sustainability, global issues of natural resources, and hotel and tourism management. Faculty and students are able to take full advantage of the PUNTACANA Ecological Foundation to study the natural resources of the area. The foundation maintains a 2,000-acre natural forest reserve, about 8.5 miles of protected coral reef, freshwater lagoons, and coastal mangroves. The educational center is associated with the PUNTACANA Ecological Foundation and PUNTACANA Resort and Club.

Peacework, an international nonprofit organization, creates partnerships with organizations around the globe to address issues of social and economic disparity. Peacework volunteer projects directly link the positive goals of indigenous organizations and grassroots community groups to the resources and expertise of partner volunteer groups. Programs include long-term alliances between sponsoring institutions and villages and short-term volunteer service and technical assistance. The Peacework program model combines volunteer service and local community leadership to sustain effective development and social change. This concept, Peacework Village Network, is an innovative approach to international development.