What alumni advocacy means to Virginia Tech
by Laura Fornash and Ralph Byers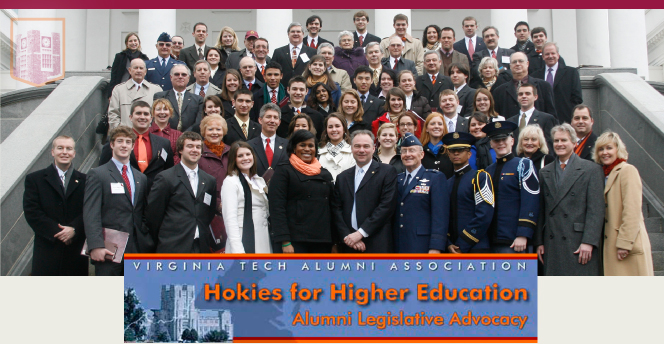 Advocacy efforts were the key to the founding of the university we know today. The stakes in 1866 were high as Virginians urged members of the General Assembly to create a new separate agricultural and mechanical college to receive resources designated by the 1862 Morrill Land-Grant Act. At the time, the Richmond Dispatch dubbed the fight for the money the "War of the Colleges."
After a six-year legislative battle, the General Assembly passed legislation in March 1872 allocating the land-grant funds to two colleges, one-third to the Hampton Normal and Industrial Institute and two-thirds to the Preston and Olin Institute, which reorganized to create the new Virginia Agricultural and Mechanical College.
Today's advocacy efforts remain focused on elected officials, primarily members of the General Assembly and the governor, to provide sufficient state funds for higher education. In 1997, the Alumni Association, in coordination with the president's office, began organizing Hokies for Higher Education to advocate for Virginia Tech. A year later, Hokie Day in the General Assembly was initiated, with alumni from across the commonwealth traveling to Richmond during the legislative session for briefings on the university's top priorities before meeting with legislators in the General Assembly offices. Now, approximately 100 alumni and students participate in this annual event.
As Virginia looks to spur an economic rebound, it must strengthen and grow the commonwealth's workforce to expand existing opportunities for businesses and create new jobs. Investing in higher education not only allows greater access to college, but also contributes to the state's budget, as shown by a study released at the Higher Education Summit hosted by the Virginia Business Higher Education Council and the Grow by Degrees campaign (mentioned in the president's message in the fall 2009 issue). According to one source, spending on public higher education supports 144,000 jobs and generates almost $24 billion in economic activity--nearly 6.2 percent of Virginia's economy.
The 2010 Hokie Day is set for Feb. 3. E-mail govrel@vt.edu for more information or to sign up. Betty Lee represents the Alumni Association in Richmond and can be reached at bettylee@vt.edu. If you are interested in getting involved, please contact Laura Fornash, director of state government relations, at fornash@vt.edu.