For Mark Richardson (architecture '79), a zest for the creative and a passion for design aren't confined solely to the realm of architecture. As a leader in the remodeling industry, Richardson co-chairs Case Design/Remodeling Inc., a local remodeling company in the Washington, D.C., area, and Case Handyman Services, a business with more than 40 franchises nationwide. He works extensively with the Case Institute of Remodeling, an education- and training-based institute focused on the remodeling industry. In addition, Richardson is a regular columnist for two publications, author of a book on business success entitled How Fit is Your Business?, and a frequent guest speaker for organizations across North America.
Though Richardson built his first house at the age of 22 and has an extensive career in design and remodeling, these days he tends to direct his attention mainly to the business aspect of the industry. "I've focused more on designing in a business sense than on designing architecture," he notes. "In architecture, people think of design as extremely creative. The same sort of creative thinking or creative circuits are used in developing a business, product, or service."
His accolades, both for business and architectural design, are many and diverse, ranging from design awards to awards for leadership in the industry, including a 2006 Ernst & Young Entrepreneur of the Year in Real Estate and Construction award for the Maryland Region and a 2000 Harold Hammerman Spirit of Education Award for excellence in remodeling-industry education and training. He was recently inducted into the National Association of Home Builders' Remodeling Hall of Fame, a significant milestone for someone in the prime of his career.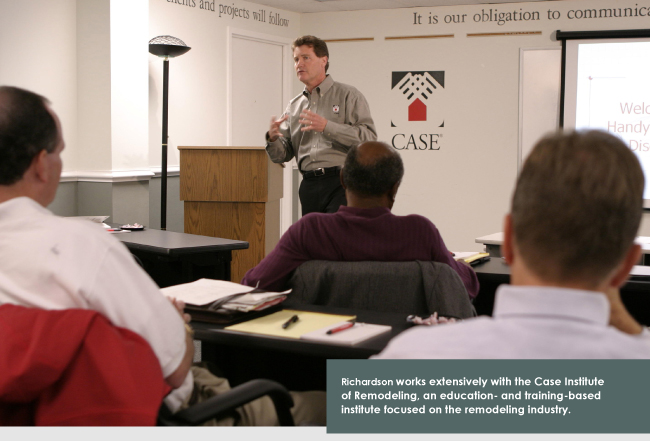 Among these honors is a Gold Award he received at the 31st Annual Awards Competition of the American Society of Business Publication Editors (ASBPE) in 2009. The ASBPE competition recognizes the outstanding work of business and professional magazine, newsletter, and Web editors and designers. Richardson pens a monthly column for Remodeling magazine that addresses industry-specific business issues, in addition to his writing for Smart Business Ideas.
The subject of Richardson's columns varies, but it inevitably involves business leadership. For example, a recent column focused on the use of analogies and metaphors in organizational communication. Others have focused on lessons in time management and the structuring of business meetings. "Because I'm living and breathing it every day, it's not about examining the issue as an abstract. I'm talking about topics that are real time and relevant," he says.
In addition to Richardson's columns, his book is a detailed exploration of his knowledge of business design and leadership. In How Fit is Your Business? he draws parallels between physical fitness in terms of personal health and fitness in terms of business health. In writing the book, Richardson drew on his own observations about weight loss, exercise, and diets.
"I realized that if you followed a certain diet or exercise regimen, you could get fit. Many of us know what it means to be physically fit, but I wondered if business owners knew what it meant for a business to be fit." The book, which fulfills his lifelong passion to write one, contains a 10-point "checkup" for business health, followed by prescriptions to improve a company's fitness.
Writing and working for Case aren't the only ways that Richardson serves the remodeling industry. He also was recently appointed to serve as liaison between the Remodeling Futures Board for Harvard University's Joint Center for Housing Studies and the remodeling industry, serving as a bridge or conduit to the industry.
Though Richardson has served on the board--comprised of 40 industry leaders including people involved in manufacturing, distribution, and industry publications--for 15 years, he was recently appointed to a one-year role as a liaison between the industry and Harvard researchers who are studying it. He acts as a sounding board for the data they are researching and analyzing, providing his real-world experience to help them further understand the implications of their research by aligning their theoretical knowledge with his years of experience in the field.
For Richardson, the journey began with an inspirational high school teacher who taught architectural and mechanical design. When that teacher retired in Richardson's junior year, his replacement was a shop teacher who felt unprepared to teach architecture. Recognizing Richardson's passion and skill for the subject, the teacher asked him to student-teach the class, a task Richardson was eager to accept. These first steps into design and teaching paved the way, Richardson says, for his time at Tech.
"I think Virginia Tech gave me an incredibly strong foundation," he says. "It was about teaching me how to think." Richardson credits his advisor with teaching him to look at things from a different angle. That background, he says, has allowed him to translate his skill for architectural design into the design of business and leadership models.
Sharing this knowledge with others has become a large part of Richardson's professional life. In an average year, he estimates that he gives between 70 and 100 talks, speaking to remodeling-industry professionals as well as to small- and medium-size businesses outside the industry. His goal with each of his presentations is to leave the organization members looking at their business, product, or service in a slightly different way. For 2010, he is doing a 30-city tour with Pella Windows on the future of the remodeling industry, and he recently concluded a fall 2009 lecture series sponsored by Suntrust entitled "How Fit Is Your Business?"
Though he divides his time among all of his many endeavors, the largest portion of his time with Case is devoted to the institute, which he hopes to grow into an established center for quality education and training for remodeling. "My vision is that it would become the Harvard of the remodeling industry in terms of the uniqueness and quality of the knowledge in the institute," he says, adding that he spends about two-thirds of his time working on this project.
Richardson finds a reward with each new experience, whether designing, writing, teaching, or speaking, as each offers the potential for professional growth. "The reality is that the only way to get out of a passage is to get out of your comfort zone. Speaking and teaching help you grow."