Chapter Scholarships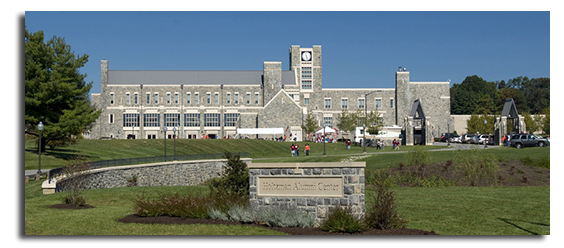 More than 60 chapters sponsor freshman scholarships

Virginia Tech Alumni Association chapters build strong relationships among alumni and students, enhancing the university's community image while supporting university students. By awarding scholarships annually to students attending Tech from their chapter areas, alumni chapters provide a tremendous benefit. Since the first chapter scholarship was awarded in the late 1960s, the program has grown every year.

Chapters use a variety of programs to engage local alumni and raise scholarship funds, including hosting golf tournaments, wine-tasting events, silent auctions, career fairs, and more. They also conduct service projects and community events. More information about individual scholarship programs may be found on chapter websites via www.alumni.vt.edu/chapters.

Three excellent examples of students benefiting from this program are Mauricio Castro, Alyssa Hoffmaster, and Kristianne Macaraeg, who received scholarships in their freshman years.
Hometown: Coral Springs, Fla.
Home chapter: South Florida


Class of 2013,
business information technology

Mauricio Castro has been attracted to technology and the Internet for as long as he can remember. "I received my own AOL account from my parents when I was just 6 years old," Castro said. Since then, he's been interested in utilizing technology to its fullest, and his coursework and internships through Virginia Tech are teaching him to do just that.

Being awarded his local chapter's scholarship made a significant impact on Castro's ability to attend Tech. "If I [hadn't received] the scholarship, it would have been a tough decision between going here or going to an in-state college in Florida. The scholarship swayed me toward Virginia Tech."

The South Florida Chapter also provided an opportunity for Castro to meet other students from his area and experience Hokie Spirit away from campus. "My dad and I went to the VT-Miami game at Sun Life Stadium, and we found the visitor's section filled with people I recognized from the South Florida chapter."

Hometown: Lancaster, Pa.
Home chapter: Central Pennsylvania

Alyssa Hoffmaster has been studying Spanish since she was 5 years old, and she wanted to continue her passion for the language in college. "I love that my classes are small, and I've gotten to know the other Spanish majors very well," she said. Hoffmaster enjoys the unique learning opportunities that are part of the Spanish program at Virginia Tech, including teaching Spanish to elementary school students in an after-school program.

Receiving the Central Pennsylvania Chapter scholarship was a significant moment for Hoffmaster. "I won the scholarship my senior year of high school, and it made me so excited to go to Virginia Tech." The summer before her freshman year, she was drawn to the university's Hokie Spirit and sense of community when she attended the chapter's welcome picnic and scholarship recipient reception. "This was a great way to get to know people and hear about their experiences at Virginia Tech."

Hoffmaster also minors in business, and she hopes to craft a career that combines Spanish with the business knowledge she is gaining.

Hometown: Virginia Beach, Va.
Home chapter: Tidewater

Class of 2013,
chemical engineering

For Kristianne Macaraeg, chemical engineering was an opportunity to combine her passion for calculus and chemistry in an academically rigorous program. "I love the challenge," she said, "and because it is so challenging, the professors in my field have stressed the importance of working in groups. As a result, we've all gotten to know each other well. I enjoy spending time with my classmates, doing homework or just hanging out."

Macaraeg's first interaction with the Tidewater Chapter was her scholarship interview. "I was nervous at first, but I immediately warmed up to the interviewers because they were so welcoming. Their descriptions about their time at Virginia Tech made me excited to start college life."

Winning the scholarship gave Macaraeg a sense of accomplishment for her achievements in high school, eased her financial situation, and encouraged her to work hard while at Tech, a place she has come to love. "The Hokie Spirit on campus gives me a sense of belonging. Although Virginia Tech is a large university, I feel that our campus is really a close-knit community."
ALUMNI
ASSOCIATION
| | | |
| --- | --- | --- |
| | | |
| CHAPTER | AWARDS | TOTAL |
| | | |
| Alleghany Highlands | 10 | $5,300 |
| Amherst-Nelson | 1 | $1,000 |
| Annapolis | 2 | $2,000 |
| Atlanta | 2 | $3,000 |
| Augusta (Staunton) | 1 | $300 |
| Baltimore | 1 | $2,500 |
| Central Florida | 1 | $1,000 |
| Central Pennsylvania | 1 | $500 |
| Central Virginia (Lynchburg) | 2 | $500 |
| Charlotte | 2 | $4,000 |
| Charleston (South Carolina) | 1 | $500 |
| Chattanooga | 2 | $2,000 |
| Chicago | 1 | $2,000 |
| Cincinnati | 1 | $1,000 |
| Coastal Carolina (Wilmington, N.C.) | 1 | $2,500 |
| Columbia (South Carolina) | 1 | $500 |
| Connecticut | 7 | $2,200 |
| Dallas/Fort Worth | 1 | $2,000 |
| Denver | 5 | $8,000 |
| East Tennessee | 1 | $1,000 |
| Eastern Shore | 3 | $3,000 |
| Emporia | 2 | $1,000 |
| First State (Delaware) | 2 | $4,000 |
| Franklin Co./Smith Mountain Lake | 4 | $4,500 |
| Fredericksburg | 6 | $6,000 |
| Houston | 1 | $2,000 |
| Iowa | 1 | $300 |
| Jacksonville (Florida) | 1 | $500 |
| Kentuckiana | 1 | $500 |
| Knoxville | 2 | $1,200 |
| Loudoun County | 8 | $10,500 |
| Middle Tennessee | 6 | $7,500 |
| Minnesota | 1 | $1,000 |
| National Capital Region | 9 | $32,000 |
| NC Triad (Winston-Salem, Greensboro) | 3 | $6,000 |
| New England | 1 | $1,000 |
| New Jersey | 4 | $2,000 |
| New River Valley | 7 | $3,500 |
| New York City | 3 | $4,000 |
| Outer Banks (North Carolina) | 4 | $3,500 |
| Palmetto (South Carolina) | 1 | $1,000 |
| Patrick Henry (Martinsville) | 1 | $500 |
| Peanut (Suffolk area) | 1 | $750 |
| Peninsula (Newport News) | 4 | $4,000 |
| Philadelphia | 1 | $1,000 |
| Pittsburgh | 2 | $1,000 |
| Prince William (Manassas) | 3 | $3,000 |
| Research Triangle (Raleigh, Durham) | 1 | $1,000 |
| Richmond | 5 | $10,000 |
| Roanoke | 4 | $4,000 |
| Rockbridge (Lexington) | 1 | $1,500 |
| San Antonio | 1 | $1,000 |
| Seattle | 1 | $1,000 |
| South Florida | 2 | $1,600 |
| Southside (Virginia) | 4 | $1,600 |
| Southwest Virginia | 3 | $1,500 |
| Tampa Bay | 1 | $1,000 |
| Tideneck (Virginia Northern Neck) | 6 | $3,000 |
| Tidewater (Virginia Beach, Norfolk) | 6 | $12,500 |
| Tri-Cities (Petersburg) | 5 | $5,000 |
| Western North Carolina | 1 | $1,000 |
| Williamsburg | 3 | $3,000 |
| | | |
| TOTAL | 177 | $199,250 |
| | | |