[The fall edition was] the best issue I've read since my 1989 graduation. I especially enjoyed "How Virginia Tech Was Won" (the history caught my interest); Sharon Johnson, [who] makes me wish I had continued French after high school [and] makes me wish I was taking classes at Tech with my family living nearby; [the "tiny tackler" letter from Sarah Milans] brings passion to my heart for children with special needs and parents dealing with them; and the winner is [Book Notes]. After checking off the books I've read, I want to go read what I almost missed. Keep up the great work!
Diane Humphreys Tegtmeyer (education '89)
Virginia Beach, Va.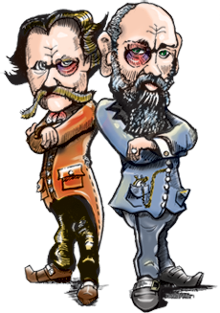 | | |
| --- | --- |
| | Charles L.C. Minor, the first president of Virginia Agricultural and Mechanical College (today's Virginia Tech), and Gen. James H. Lane, the school's first commandant of cadets. Illustration by Steven White '92. |
The Allen family has been a Virginia Tech family for some years. [My husband, one son, and daughter-in-law graduated, and another son attended.] So you can understand why I was very interested in "How Virginia Tech Was Won."
I am almost 91, but I remember visiting in Ironto, Va., as a 12-year-old to see my uncle Dabney Burkett, whom I was told was one of the early graduates of Virginia Tech. The year I first saw him was 1933, and he looked about as old as the [1877-78 Virginia Agricultural and Mechanical College (VAMC)] faculty. Apparently after finishing at Tech, he was able to buy a large spread of land on which he built a home, and he adopted an Indian girl named Pearl Ironto. He named the town Ironto for her.
I read every word of [the] article and enjoyed knowing more about early Virginia Tech. ... Just know that your article made an elderly Southern lady very happy.
Mildred Allen
Chesterfield, Va.


I really enjoyed [Juliet Crichton's] article. As an alumnus of the [Virginia Tech Corps of Cadets] Highty-Tighties, [a history graduate], and finally a former student of Peter Wallenstein, I enjoy very much the opportunity to discover Virginia Tech's origins.
I would love to see [Lane's and Minor's] mug shots, though! Ha! Well done, thank you.
Carlton "Bubba" Fox (political science '99, M.A. history '01)
Glen Allen, Va.