ALUMNUS PROFILE
Maurizio Porfiri
The Force of Water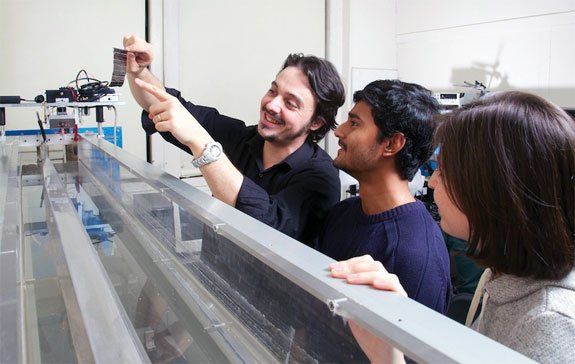 NYU-Poly mechanical engineering professor Maurizio Porfiri '00, '06 (left) and his team. Photos courtesy of NYU-Poly.
Like the largely uncharted depths of the Earth's oceans, the brilliance of one alumnus is proving to be similarly as deep.
Dubbed the "Water Wizard" when Popular Science magazine named him to its "Brilliant 10" list in late 2010, Maurizio Porfiri (M.S. engineering mechanics '00, Ph.D. '06) is pursuing a fascination with robot-animal interactions, combining his personal interest in animal behavior with his technical training in mechanics to create a robotic fish designed to steer animals away from potential dangers.
Porfiri, an associate professor of mechanical engineering at the Polytechnic Institute of New York University (NYU-Poly), said that while he is still only beginning to understand the complex communication system of fish, his ultimate goal is for robots to coexist with and help animals in the wild. "In the future, what we would like to do is put robots in the wild and have them interact with animals and change [their] behavior," he said. "Some possible applications could be guiding fish away to a safe area, whether because of an oil spill or a pollutant, or changing migration patterns to bypass manmade structures."
Porfiri is well on his way to reaching that goal. At 35 years old, he holds a doctorate from Tech and dual doctorates in theoretical and applied mechanics from the University of Rome and the University of Toulon. The coauthor of more than 70 journal articles and conference papers, Porfiri won the prestigious National Science Foundation's Faculty Early Career Development (CAREER) Award in 2008.
Operating at the intersection of biology and engineering, Porfiri and his team chose to focus on the zebrafish, a social animal that communicates primarily through visual cues. After a series of experiments, they designed a robot that mimicked the shape and color pattern of the zebrafish—bright yellow with white stripes—though the robot would be four times larger in order to hold all of the necessary equipment.
After successfully replicating the visual cues of the zebrafish, the team redirected their focus to determine if the robot could swim in a way that produced a wake the fish would follow. They placed the robot and the fish in a tank of water, controlling the tail speed of the robot, and observed when the live fish would ride the wake of the robot.
"We discovered that for each flow speed, there are certain tail-beat frequencies of the robot for which live fish prefer to be in the robot wake," said Porfiri. "In these conditions, live fish can reduce their tail-beat frequency by following the robot, that is, reducing their energy expenditure. In other words, the robot can be a leader for live fish by offering them a hydrodynamic advantage."
Romesh Batra, the Clifton C. Garvin Professor of Engineering Science and Mechanics at Virginia Tech, was Porfiri's mentor for more than four years. Porfiri is arguably the most accomplished of Batra's protégés.
"He's brilliant—super," Batra said, adding that Porfiri's IQ and his desire to achieve make the scientist stand out.
Porfiri said the transition from student to professor was difficult because of the increased responsibility.
"It was extremely challenging to get [the transition] right. But [being a professor] is very rewarding. You see [students] grow and you can make a big impact on their career, but it's something you're not trained in. You're trained in writing papers, in research, not in motivating people and getting them excited about what they do. When you first start, you see that it is a big obstacle; you see that you need to learn a lot there," he said.
Nicole Abaid, an assistant professor of engineering science and mechanics at Virginia Tech, studied for her doctorate under Porfiri at NYU-Poly and was a member of the team that discovered how to duplicate communication factors of certain fish, such as visual cues, pressure-sensing cues, and synchronization.
Abaid, whose dissertation was on the mathematical modeling of fish schools, said that Porfiri's profound curiosity sets him apart. "He's super-creative and just thinks in a really original way. He's incredibly smart; he has two Ph.D.'s and he's 35 years old. He's the hardest-working person I've ever met in my entire life," she said.
In addition to robotic fish, Porfiri is also involved in many other water-related projects. He is currently researching how humans interact with machines; how to mathematically model the collective behavior of fish, humans, and frogs; how to harvest energy from water to power environmental monitoring sensors; and how materials in U.S. Navy marine vessels respond to their surroundings.
One element of Porfiri's work that makes his research unique is the interdisciplinary nature of combining the clean variations of engineering with the live experiments of biological sciences, forcing scientists from both disciplines to examine the problem at hand from a different perspective. Porfiri said the varying interpretations allow him to combine experimental tactics from both fields and arrive at richer hypotheses.
Abaid worked with biology students to generate experimental campaigns comparing the mathematical model to the actual behavior of fish. "Most math departments don't have labs or let you touch anything; you have pencil and paper," Abaid said. "In engineering, especially working with Maurizio, I had fish. You get to touch stuff; you get to see how your research lives in the world."
While Porfiri said he is pleased with the recognition his work has earned, he is also excited that honors like the "Brilliant 10" list, which carry a great deal of weight in terms of public perception and visible impacts on younger students, allow him to interact with the next generation of scientists.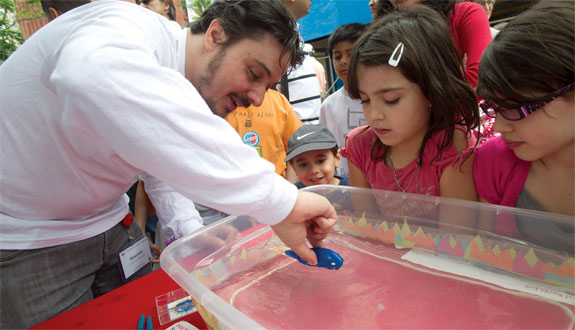 Porfiri demonstrates how the design of a fish's tail can affect its swimming.
Porfiri is currently part of three programs operating at the intersection of marine biology and robotics that help teach students about science—two at the New York Aquarium and a third at a middle school in Brooklyn. "My research has allowed me the opportunity of impacting K-12 students and the general public through science fairs, invited lectures at conferences, community meetings on environmental science, presentations in local high schools, and symposia for the general public on science, music, and creativity," he said.
Batra said that Porfiri's desire to explore all aspects of a problem and to make full use of his knowledge propels him toward greatness. "One of these days, he will come up with something that will be groundbreaking and probably revolutionize underwater robotics," Batra predicted.
Jenn Bates, a junior communication major, is an intern with Virginia Tech Magazine.