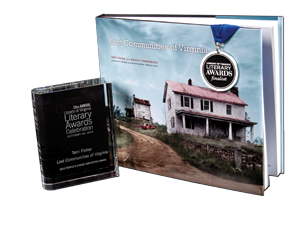 'Lost Communities of Virginia' book earns honors
"Lost Communities of Virginia," co-authored by Terri Fisher, outreach coordinator for the Community Design Assistance Center in the College of Architecture and Urban Studies, and Kirsten Sparenborg, a former intern with the center, recently received two distinguished honors. The first, a Library of Virginia's People's Choice Award for Nonfiction, allows readers to vote on their favorite works written by Virginia authors or featuring Virginia subjects. The second honor is Preservation Virginia's 2012 Outstanding Historic Preservation Research Effort Award, given annually for contributions to historic preservation or archaeology in Virginia through research or education.
Thomas R. Fox named Soil Science Society of America Fellow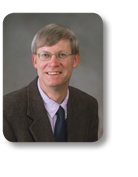 Thomas R. Fox, professor of forest soils and silviculture in the College of Natural Resources and Environment (CNRE), has been named a Fellow by the Soil Science Society of America. Being chosen as a Fellow is the highest recognition bestowed by the organization; the honor is limited to 0.3 percent of the society's more than 6,000 members. Fox is the lead principal investigator for the CNRE Department of Forest Resources and Environmental Conservation's $3.4 million portion of a $20 million grant from the National Institute of Food and Agriculture to study the effects of climate change on southern pine forests. He was recognized during the society's 2012 annual meeting.
Landscape architecture programs ranked second in North America
Virginia Tech's School of Architecture + Design, part of the College of Architecture and Urban Studies, has once again earned high marks in national rankings. DesignIntelligence awarded both the undergraduate and graduate landscape architecture programs top marks, with each ranking second in the nation in the America's Best Architecture & Design Schools 2013 report. Other programs within the school were also highly ranked, and Professor Robert Dunay was listed among the 30 Most Admired Educators for 2013.
Engineering team wins space-vehicle design contest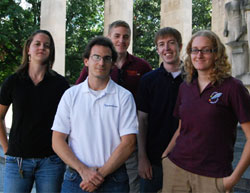 (From left) Aerospace and Ocean Engineering students Maria Ryem, Tom Kasmer, Bryan Undercoffer, Matt Shepherd, and Nicole Heersema.
A student team from the Department of Aerospace and Ocean Engineering in the College of Engineering won first place in the American Institute of Aeronautics and Astronautics Foundation's 2011-12 Undergraduate Team Space Transportation Design Competition in September in Pasadena, Calif. The contest required entrants to design and produce a business plan for a commercial Earth-to-orbit passenger vehicle. Members of the winning team, all aerospace engineering undergraduates when the project began in 2011, were Nicole Heersema, Tommy Hertz, Tom Kasmer, Maria Rye, Matt Shepherd, Matt Smith, Bryan Undercoffer, and Greg Wheeler. Kevin Shinpaugh, an adjunct faculty member of aerospace and ocean engineering and the director of information technology at the Virginia Bioinformatics Institute, served as the team's faculty advisor.
Veterinary college celebrates opening of new addition, research facilities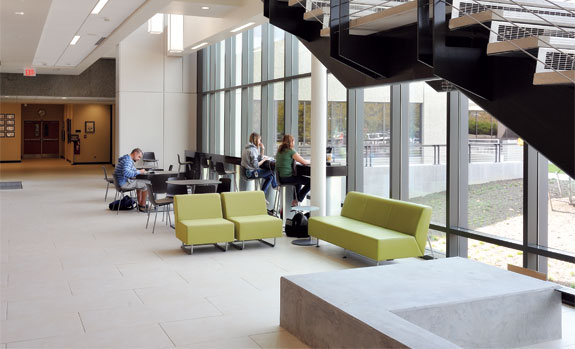 The Virginia-Maryland Regional College of Veterinary Medicine's latest cohort of students began their training in new instructional and laboratory spaces that give the college a sleek, modern look. The $14.1 million, 30,000-square-foot Veterinary Medicine Instruction Addition broke ground in summer 2011 and was completed by mid-August 2012. The addition includes a clinical-techniques laboratory for second- and third-year veterinary students, as well as new faculty offices, student seminar space, and small conference areas. The college held a grand opening for the addition in October. The event also marked the completion of the $10.5 million, 16,000-square-foot Infectious Disease Research Facility, which opened in November 2011, and the renovation of the Multi-Disciplinary Lab, which took place in summer 2012.
New majors, minors added to liberal arts and human sciences offerings
Beginning in the spring semester, two innovative majors, a pair of minors, and a new program option will be available in the College of Liberal Arts and Human Sciences. The State Council of Higher Education for Virginia has approved a bachelor of arts degree in religion and culture and a master's degree in material culture and public humanities. In addition, the college boasts a new minor in Middle East studies, a minor in 21st-century studies, and a new research methods option in sociology.
Researcher determined to find better treatment for 'sleeping sickness'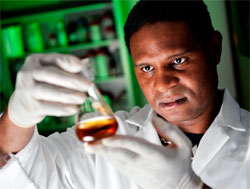 Zac Mackey
In sub-Saharan Africa, a disease known as sleeping sickness—spread by the tsetse fly—infects hundreds of thousands of people each year. Because domesticated animals also die from the parasite, the disease delivers a tremendous blow to the agricultural economies of these countries. Zac Mackey, an assistant professor of biochemistry in the College of Agriculture and Life Sciences and an affiliated faculty member with the Fralin Life Science Institute, is investigating new ways to develop drugs to combat the parasite. He examines the parasite, Trypanosoma brucei, by studying a protein kinase that may be responsible for controlling DNA replication and repair.
Seeing red? Study examines color's influence on consumer behavior
Researchers found that at auctions and similar situations where consumers compete with one another to buy a scarce or a limited edition product, willingness to pay was strengthened through exposure to red rather than blue backgrounds. In contrast, in situations that allowed negotiations–when a product is readily available–willingness to pay was weakened by red backgrounds compared to blue. Published in the Journal of Consumer Research, the study was authored by Pamplin College of Business Associate Professor of Marketing Rajesh Bagchi and the University of Virginia's Amar Cheema.
First-of-its-kind degree in real estate approved
Beginning in fall 2013, Virginia Tech will offer a bachelor of science program in real estate, the nation's first interdisciplinary undergraduate program of its kind. Incorporating Tech's academic strengths in architecture, building construction, business, applied economics, engineering, property management, and natural resources management, the degree program was unanimously approved by the Virginia Tech Board of Visitors at its quarterly meeting in November. The program, pending approval from the State Council of Higher Education for Virginia, will prepare students to become leaders in today's complex real estate industry.
In obesity, economics, not genetics, may be to blame
In a first-of-its-kind study that shows environmental conditions can be more influential than genetics, Virginia Tech researchers have found that the cost of food—not someone's genetic makeup—is a major factor in selecting fattening food. The study, published in The Open Neuroendocrinology Journal, suggests that economic environments could be altered to help counteract the obesity epidemic plaguing more than one-third of Americans. In the U.S. over the past 30 years, the price of fattening food has declined compared to healthy food, while obesity rates increased. This research suggests that if fattening foods cost more or were taxed, people would be less likely to eat them.
National Tire Research Center to open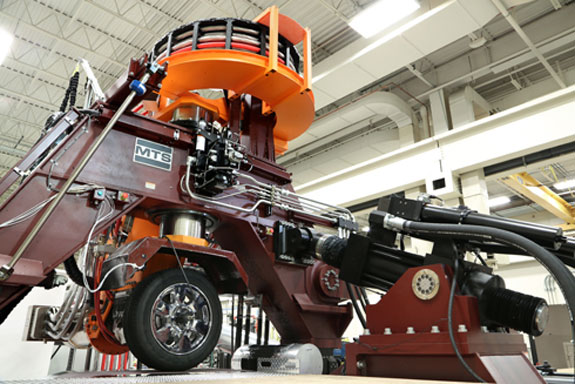 A force and moment tire test machine at the National Tire Research Center
The National Tire Research Center, located in Halifax County adjacent to the Virginia International Raceway, had a ribbon-cutting ceremony on Oct. 24 for its renovated facility. The center features custom-built equipment that economic development leaders and Virginia Tech officials hope will make Southside Virginia a one-stop destination for global tire testing and development.
One test machine, the "Flat-Trac LTRe," is unique in its use of electric motor technology and can run a tire up to 200 mph. It provides data on handling, ride, torque, and braking capabilities on various surfaces, including wet road conditions. The facility also houses the Southern Virginia Vehicle Motion (SoVa Motion) Laboratory, which has an eight-post test rig, wheel force transducers, and a simulator lab.
The $14 million center was created in 2010 through a collaborative effort led by the Virginia Tech Transportation Institute in alliance with the Virginia Tech Department of Mechanical Engineering, the Institute for Advanced Learning and Research, General Motors, and the Virginia Tobacco Indemnification and Community Revitalization Commission.
Virginia Tech hosts its first LGBT history month
Throughout the month of October, Virginia Tech celebrated the history of lesbian, gay, bisexual, and transgender heritage and related civil-rights movements, marking the first time that a cultural awareness month dedicated to LGBT issues was observed at the university. Events included film screenings, guest speakers, and discussions, as well as the Dining Out for Equality Restaurant Week, in which participating restaurants offered discounts on selected menu items in support of the LGBT community.
Virginia Tech, WSLS-TV co-host senatorial debate
Virginia Tech and WSLS-TV co-hosted the last of three U.S. Senate debates between Democratic candidate and former Virginia Gov. Timothy Kaine and Republican candidate and former U.S. Sen. George Allen on Oct. 18 on campus. WSLS senior political reporter and anchor Jay Warren and WSLS political analyst Robert Denton, the W. Thomas Rice Chair and professor of communication at Virginia Tech, moderated the one-hour televised debate.
People not hooked on fish could get omega-3 through dairy
Not everyone has a taste for fish, even though it is a natural source of heart-healthy omega-3 fatty acids. And while a growing number of omega-3 enriched foods may net health benefits for people who resist the lure of salmon or sashimi, milk remains the product that has gotten away in what has become a billion-dollar health industry.
But now, food science researchers at Virginia Tech may have reeled milk into the omega-3 delivery system, showing it is possible to incorporate fish oil into milk and dairy-based beverages in amounts sufficient to promote heart health without destroying the product's taste or limiting its lifespan. The study was featured in the November issue of the Journal of Dairy Science.
"We were concerned the fish oil would undergo a chemical process called oxidation, which would shorten the milk's shelf life, or the milk would acquire a cardboard or paint flavor by reacting with the fish oil," said Susan E. Duncan, a professor of food science and technology in the College of Agriculture and Life Sciences. "It appears we have a product that is stable, with no chemical taste or smell issues."
Steering driverless cars through intersections
How do driverless vehicles navigate through intersections? Faster and safer than if humans were in charge, according to researchers from the Virginia Tech Transportation Institute.
Autonomous vehicles will turn themselves over to an automated intersection controller, which will allow the vehicles to move at the speed limit, with the controller tweaking their trajectory to prevent crashes, explained Ismail Zohdy, a Ph.D. student in civil engineering at Virginia Tech, and Hesham Rakha, director of the Center for Sustainable Mobility at the transportation institute and professor of civil engineering at the university.
Their research on "Optimizing Driverless Vehicles at Intersections," presented at the Intelligent Transportation Society World Congress in Vienna, won the Best Scientific Paper Award for North America.