ALUMNI SHORTS
Alumna brings event-planning pizzazz and vintage flair to street market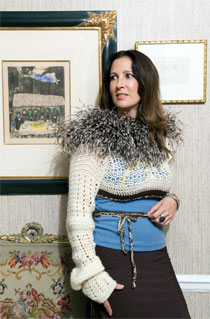 Sally Schwartz '81
In the Chicago event-planning arena, Sally Schwartz (marketing management '81) has found a niche for herself: the Randolph Street Market, an indoor-outdoor antiques market.
The market is an interesting transition from Schwartz's earlier work. She founded Paint Me A Party Productions, a party-planning company, in 1985; she then restructured the company in 2000. It became Image Pilots in 2002, a company that reflects the flexibility Schwartz wanted to offer clients.
"I wanted to pull things together, pull teams together, rather than sit on a staff," said Schwartz. "I wanted to pull in experts for events, whether [they were in] the auto industry or health care."
While on a trip to buy party props in 2003, Schwartz began planning the Randolph Street Market as an antiques event. "There was nothing in Chicago like [the antique markets] I visited," Schwartz said. "There was a niche to fill; it was the right timing and [the market] filled a big gap in the Chicago community."
A European-style bazaar, the Randolph Street Market is the largest indoor/outdoor market in the country. It attracts more than 250 vendors from around the country and customers from around the world, and has been recognized as one of the "top three national urban antique markets" by Travel & Leisure magazine.
Image Pilots now runs three markets on select weekends. The Randolph Street Market is a "market of markets," including the main antique market as well as vinyl and fine food markets. Modern Vintage Chicago, a fashion event, is hosted indoors in the spring and after the Randolph Holiday Market in the winter.
"It's a real institution," said Schwartz. "People fly in from around the world to shop here. There have been smaller things that have popped up since I started this, but they haven't lasted long, and have disappeared. The Randolph Street Market is much longer lived, and will continue."
Schwartz developed her skill and love for event planning during her time at Virginia Tech. "I was in advertising, and we had to plan an event for a client," said Schwartz. Even then, she knew she'd found her calling. "I liked marketing through special events; it was more fun than [traditional] advertising."
Emily Goodrich, a sophomore majoring in English, is an intern with Virginia Tech Magazine.
---
From the D.C. rat race to Alaskan dog races
Christine Christensen '94, '96, '00
Alaska may not be a preferred vacation destination for most. For Maj. Dr. Christine Christensen (biological sciences '94, forestry and wildlife '94, animal science '96, D.V.M. '00), however, the frozen tundra offers the perfect escape from the hustle and bustle of Washington, D.C., where she works as a veterinary pathologist.
While stationed in Fort Wainwright, Alaska, with the U.S. Army from 2003 to 2006, Christensen discovered the sport of dog sledding. Since then, she has spent her vacation time volunteering as a trail veterinarian and pathologist for major dog sled races, such as the Yukon Quest and the Iditarod. Each race is 1,000 miles long and takes about two weeks for competitors to complete.
"It's exciting to be a part of something that's so different than what I'm usually exposed to. It's great to escape from the rat race in D.C.," said Christensen.
During the Iditarod, Christensen remains at a single checkpoint, while in the Yukon race, she travels along the trail by SUV. The tasks she performs during the races are quite different from her daily routine as chief of comparative pathology at the Armed Forces Radiobiology Research Institute, a U.S. Department of Defense research laboratory. During the races, Christensen helps take care of the sled dogs. She said the most common injuries she treats are orthopedic injuries and sore shoulders and wrists. Over the course of a race, she will perform 700 to 1,200 physical exams on the dogs.
"I work with tissue in the lab, but at the races I'm working with animals. I get to use my clinic skills. I don't touch a stethoscope during the year other than when I work on the races," she said.
Christensen said that last year's weather was warmer than usual, with highs reaching 20 degrees. In past years, she said, temperatures have been as low as 60 degrees below zero. She brings her own survival gear—an arctic sleeping bag, an arctic parka, a fur hat, mukluk boots, and more. "I love the cold and the winter," she said. "[Dog sledding is] a great sport and I enjoy using my professional skills to support it."
Jenn Bates, a junior communication major, is an intern with Virginia Tech Magazine. Photos courtesy of Christine Christensen.