HOW TECH TICKS
The Sensors Within
Goodwin Hall knows where you are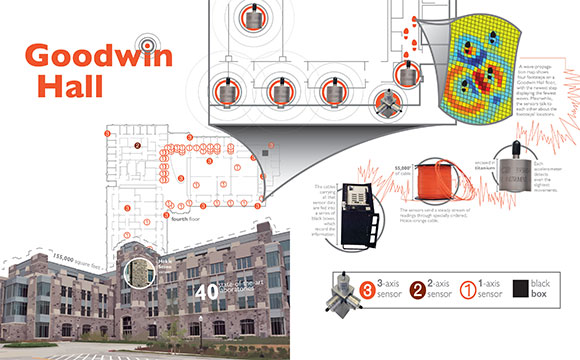 Goodwin Hall knows where you are. Opened in June 2014, the newly built engineering building is rigged with 241 accelerometers that measure motion and vibration inside and outside its walls. The building—the world's most-instrumented for measurement of vibrations—contains three times as many sensors as the world's next most-measured building.
Vibrations large and small—from earthquakes to footsteps—are catalogued by sensors.
The accelerometers are placed throughout the building and synchronized. Because each sensor records information in only a single direction, they're frequently used in combination with one another. That's especially the case at the building's corners, where trios of sensors are mounted in tri-axial formations to cover a range of motion and essentially produce a 3-D picture of what's happening.
Encased in titanium, each accelerometer detects even the slightest movements ⇒ The sensors send a steady stream of readings through 55,000 feet of specially ordered, Hokie-orange cable ⇒ The cables carrying the sensor data are fed into a series of black boxes that record the information.
Pablo Tarazaga and Mary Kasarda, the professors in the Department of Mechanical Engineering who proposed and implemented the sensors, are still working on the early stages of what will become a multi-decade project. They're helping develop a baseline of building movement, which will be useful as a filter for future experiments and data projects.
Goodwin Hall is designed as a test bed to track data related to building design and security, occupancy monitoring for emergency response, structural health monitoring, and more.
Eventually, the data could be used to "program" the building for more efficiency. If the building senses that every person within its walls has gathered on a particular floor in winter, it may consequently heat that floor while reducing the temperature elsewhere, saving on energy costs. If there's a fire, the building may be able to transmit information to firefighters arriving on the scene. Long-term, the building will tell maintenance crews where it needs work.
The accelerometers mounted throughout the building will eventually be complemented by additional sensors that measure information such as temperature and light.
Since Goodwin Hall's opening in June 2014, one of the structure's main attractions has been the 14,000-pound Rolls Royce Trent 1000 jet engine hanging above the first-floor atrium. The engine, donated by the London-based engine builder as a learning tool for engineering students, was shipped from London to Baltimore and then driven to Blacksburg. During a two-day period in late fall 2012, the engine was slowly lifted into place via a chain pulley system. Photo gallery of the engine's installation »