FEATURE
Sowing the Future
Part Two
Rain doesn't have far to fall in Ecuador.
The volcanic mountains that rise from the country's dramatic terrain often pierce the rainclouds and seem to scrape the sky with slopes so steep they challenge even the most surefooted hikers.
Long gone are the trees that once covered the landscape, replaced by a patchwork quilt of farms that blankets the Andes Mountains, each one producing potatoes, wheat, maize, and other crops that grow heartily in soil as rich as cake batter. Locals clad in the colorful woolen shawls and Panama hats that typify Andean dress work the land with the sweat of their brow, a good back, and crude tools. They take pride in the cornucopia of food they grow and sell at farmers markets around the country.
Over the past few decades, as the country's population has swelled, thousands of new mountainside farms have sprung up, each one moving farther up the hillside as owners clear-cut the trees that once bound the soil to the mountains.
Corinna Clements, a senior majoring in agricultural and applied economics, and Austin Larrowe, a senior majoring in agricultural and applied economics and agricultural sciences, spent two weeks in Ecuador talking to farmers about a project to curb deforestation by using a better variety of the naranjilla plant.
Problems arise when a deluge of rain meets steep mountains and deforested land. Raindrops smacking into freshly tilled dirt creates runoff that erodes the soil. Valuable nutrients wash away, as do the pesticides that farmers overapply. In cities and towns downstream, the water supply is polluted and sometimes undrinkable. Silt-laden rivers regularly overflow their embankments, causing hundreds of millions in damages yearly. The land that was once so fertile has lost much of its potency.
The situation is playing out in similar fashion in countries across the globe, as hundreds of Virginia Tech faculty, staff, and students help humanity face perhaps its greatest challenge ever: providing food and fresh water to a growing population.
"The story of what is happening in Ecuador is far from unique," said Jeff Alwang, a professor of agricultural and applied economics in the College of Agriculture and Life Sciences (CALS), who has worked in South America for decades with others from Virginia Tech. "All over the world, nations are facing the challenge of feeding populations on limited lands. As agricultural production expands into more marginal areas, there are myriad challenges, from maintaining or increasing productivity to reducing soil erosion and lowering damages from toxic chemicals. At Virginia Tech, we are trying to help ease this pressure by sharing our knowledge that will help feed the world in a sustainable and profitable way."
Mounting pressure
Add a billion people here, a billion there, and the systemic pressures on the globe's resources can seem insurmountable. By 2050, the world's population could increase from 7.2 billion today to 9.6 billion, according to a 2013 United Nations report. In turn, the Earth's food pantry will have 37.5 percent more people to feed, when 805 million are already undernourished today. And the Earth's water spigot will have more thirst to quench. Today, 1.6 billion live in water-scarce regions, a number expected to rise to 2.8 billion by 2025, according to the World Bank.
The individual demands of the interconnected system amplify each other. Agriculture accounts for 70 percent of the world's water usage, and experts estimate that water inputs to agriculture will have to double by 2050 to feed the growing population. In addition, aquifer depletion threatens traditional irrigation and drinking water sources, with an underreported side effect: A recent study found that as much as 42 percent of the annual sea-level rise can be attributed to irrigation runoff, as depleted soil fails to absorb the groundwater and surface water pumped onto crops.
Meanwhile, carbon emissions trap warmth in the atmosphere, shrinking glaciers, tinkering with surface and ocean-water temperatures, shifting jet streams, and altering microclimates. Water, the most elemental human need, is also a destructive force.
Zach Easton, an associate professor of biological systems engineering in Virginia Tech's College of Agriculture and Life Sciences, is developing a biodigester that reduces the amount of nitrogen and phosphorus in the water that comes off agricultural fields.
"Climate change is really water change," said Luke Juran, an assistant professor in the College of Natural Resources and Environment's (CNRE) geography department who studies the intersection of water and disasters. Juran expects the frequency and intensity of hydrometeorological hazards such as hurricanes, droughts, severe thunderstorms, and blizzards to increase—"an unfolding, more permanent disaster that's creeping up," he said.
The natural world's volatility, of course, seeps into human behavior. In the mid-1990s, Yannis Stivachtis, as a research fellow at the United Nations Institute for Disarmament Research, argued for greater economic, social, developmental, and environmental investment in the Middle East and northern Africa. The associate professor and director of international studies in the College of Liberal Arts and Human Sciences' Department of Political Science saw that demographic and economic trends in the region pointed toward a young population with limited access to food, clean water, health care, and economic opportunities—limitations that paved the way for extremism. Despite calls for a comprehensive approach to regional issues and a substantial investment and aid plan, Congress didn't want a new Marshall Plan, which rebuilt European economies after World War II, nor did the American people envision global engagement of such magnitude, Stivachtis said.
"States have to deal with economic, social, developmental, and environmental issues in a very comprehensive way. Otherwise, we face problems at a global scale," said Stivachtis, offering as an example neighboring countries fighting over water resources. "It's only a disaster that makes people change course of action, and this change is generally more expensive than the investment that was initially needed to prevent it."
Capacity building
In the carrot-versus-stick dichotomy of foreign policy, the carrots are offered through Virginia Tech's Office for International Research, Education, and Development (OIRED). With a portfolio approaching $100 million, OIRED manages projects in some 30 developing countries. Two primary thrusts are the Innovation Labs—the Sustainable Agriculture and Natural Resource Management (SANREM) lab and the Integrated Pest Management (IPM) lab—funded by the U.S. Agency for International Development's (USAID) Feed the Future initiative. At Virginia Tech, the two programs operate alongside the Innovation for Agricultural Training and Education (InnovATE) program, also USAID-funded, and the Women and Gender in International Development program, which ensures that OIRED programs are gender-sensitive.
InnovATE Director Tom Hammett, a professor in CNRE's Department of Sustainable Biomaterials, recently traveled to Jordan, where the agricultural sector, though hampered by the availability of water, has the potential to export tomato, squash, and cucumber crops to the Middle East and Europe. Farmers employ water-user associations to decide how to share water and enforce limits, and the InnovATE team learned about how the associations work so that the lessons can be applied in other countries.
Whereas SANREM and IPM are collaborative applied research programs, InnovATE works with overseas agricultural training and educational institutions to improve curricula, strengthen administrative capacity, and build infrastructure, which in turn develops the human and institutional capacity necessary to achieve food security, reduce poverty, and conserve natural resources.
"My mantra is that agricultural education and training are very closely tied to health, natural resources, gender equity, economic development, and youth and workforce development," Hammett said. "If the U.S. is really interested in helping food security—and we see that food security around the world impacts the U.S.—then the U.S. should be interested in improving agricultural education and training capacity."
Give a man a fish, and he'll eat for a day. Teach a man to fish, and he'll eat for a lifetime. Such sentiments are behind the idea of capacity building in developing nations. And the efforts sometimes begin with pests.
In developing countries, pests cause production and post-harvest losses of 25-30 percent, said IPM director Muni Muniappan, who works with his colleagues to track the movement of pests and diseases around the globe. IPM is working in 17 countries in six tropical regions, developing solutions wherever possible and preparing countries for oncoming pestilences.
The papaya mealybug was decimating papaya, eggplant, and tomato crops in India before Muniappan and others introduced parasitic wasps that fed on the mealybug's larvae. Not only did the solution spare the ecosystem the ineffective use of pesticides, but it prevented crop devastation that would have totaled between $524 million and $1.34 billion over a five-year period.
Working in more than a dozen countries, Virginia Tech's SANREM scientists help farmers develop conservation agriculture production systems (CAPS) that encourage year-round soil cover, minimize soil disturbance from tilling, and utilize crop-rotation systems.
In Mali, soil improvements and conservation of groundwater have simplified the retrieval of water, a task typically performed by women. In Cambodia, SANREM techniques are leading to healthier soil and less deforestation, and the use of mulch and cover crops instead of tilling.
With SANREM's 10-year run at Tech expiring this academic year, the university applied for but didn't receive USAID's subsequent "sustainable intensification" funding. "We're very disappointed we didn't win [the funding]," said Michael Bertelsen, OIRED executive director. "We are proceeding to search for SANREM-related projects to go after in order to capitalize on our experience and personnel with this project."
All told, the OIRED efforts currently involve some 300 Virginia Tech faculty, staff, and students. Said Bertelsen, "[The outreach] all fits into the land-grant mission and Ut Prosim. It's projecting the land-grant mission overseas—the research, the education, and the outreach."
"Virginia Tech is a major player in the USAID Feed the Future initiative," said Guru Ghosh, vice president for outreach and international affairs. "The very survival of the human race is at stake, especially in the vulnerable regions of the world."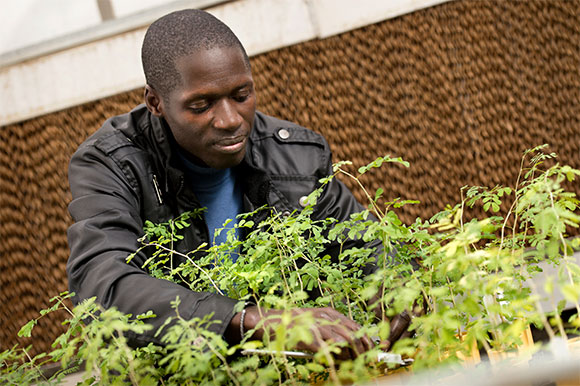 Sekouna Diatta, a graduate student at Virginia Tech, is an associate professor at the University of Dakar. Tom Thompson, head of the Department of Crop and Soil Environmental Sciences, dubbed Diatta the "unofficial dean of the Senegalese students" at Virginia Tech. (Below) To ward off pests in Ecuador, researchers are helping farmers plant a more resistant strain of the naranjilla.
Teaching the world
Sekouna Diatta is keeping a close eye on his Virginia Tech professors.
Pursuing a master's degree in the Department of Crop and Soil Environmental Sciences, Diatta already holds a Ph.D. from a Senegalese institution and is an associate professor at the University of Dakar. In Senegal, professors customarily lecture from a chapter summary without expecting student discussion. A syllabus is rarely used. But in the U.S., students read materials beforehand and know what to expect from the class.
"I'm learning a lot by the way they're teaching here—how they relate with students, how they coordinate activity. I am looking deeply at aspects of Virginia Tech life, to think [that] it can help me initiate, innovate, when I'm back in Senegal," Diatta said.
Wangui Gichane (international studies '13, crop and soil environmental sciences '13), a graduate student from Northern Virginia with Kenyan roots, is surveying the curricular needs of the agriculture-related departments at five Senegalese universities and how to empower students using learner-centered strategies in lieu of teacher-centered learning—precisely the difference that Diatta has come to appreciate. "It's a big part of distributing knowledge," Gichane said of reforming Senegalese curricula. "It's an important step in establishing overall food security."
Three-fourths of the population in Senegal works in agriculture, yet 70 percent of the rice is imported. "Between these two statistics, we need to have an adequate answer to provide food by ourselves. I hope that we are in the right way to get the answer. If you correctly identify a problem, you have at least half the solution," Diatta said, adding that he's glad Virginia Tech is helping us "to answer the questions by ourselves."
Improving soil productivity
Despite adequate rainfall in Zambia's Luangwa River basin, villagers have a name for November, December, and January: "the hunger season."
"I see people planting corn in the fields, and it gets 6 inches high," said Conrad Heatwole, an associate professor in the Department of Biological Systems Engineering in CALS and the College of Engineering (COE).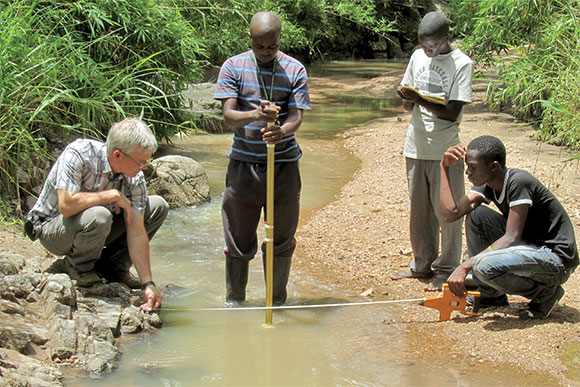 In Zambia, Conrad Heatwole, an associate professor in the Department of Biological Systems Engineering, has spent eight years monitoring watersheds and demonstrating sustainable practices. Photos courtesy of Conrad Heatwole.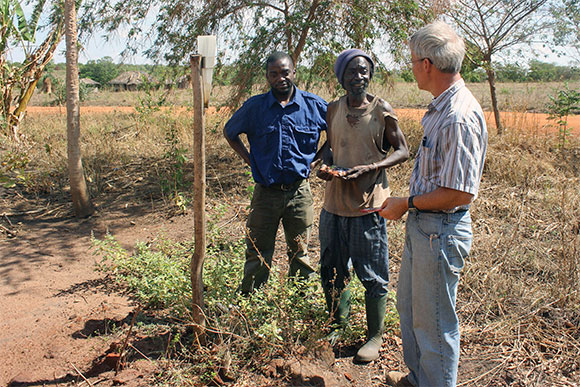 Degraded soil prompts the farmers to clear forest land, which leads to great yields in the first few years … yields that dramatically drop as nutrients are depleted. For instance, farmers often sweep organic residue from the fields and burn it, simply because their fathers did so. After five to seven years, the topsoil is gone. So at the sight of 6-inch corn, farmers repeat the cycle, which shoves agricultural land farther into forest land, driving up transportation costs and distancing farmers from community infrastructure.
"They'll say, 'This land is spent, this land is not productive anymore.' It seems like an inevitable outcome to them," Heatwole said. "They've never seen sustainable outcomes."
Similar soil issues are found in Senegal. Commonly sandy, acidic, and saline, most soils are infertile due to a lack of plant nutrients. Soils are bereft of organic matter because crop residues are removed for fuel, animal feed, and building material. In Haiti, massive deforestation leads to similar problems with soil quality. "It is safe to say that at least half of the world's fertile topsoil has been lost through erosion and degradation," said Tom Thompson, head of the Department of Crop and Soil Environmental Sciences.
Virginia Tech soil scientists work in Haiti's Central Plateau to help farmers and students learn about conservation agriculture, which helps preserve soil.
However, soil productivity can be greatly—and simply—improved with the use of organic matter, such as leaving crop residue on the fields instead of removing the residue for fuel and fodder, and adding animal manure. Tech's research efforts are focused on such efforts. Indeed, 40 percent of crop and soil environmental sciences department faculty members are involved in OIRED projects in Haiti and Senegal. Thompson and Associate Professor Wade Thomason have made a combined 25 trips to Haiti in the past three years alone, partnering with Haitian agronomists and hundreds of farmers via a SANREM project to implement conservation agriculture practices and build capacity among Haitians.
For eight years running, Heatwole has traveled twice a year to Zambia, monitoring four watersheds and demonstrating the potential of sustainable practices. "The productivity in that area is just a small fraction of what it could be," he said. "The potential is great to feed themselves and have significant exports."
The idea of boosting productivity is promising. A July 2014 article in the journal Science examining 17 key global crops—16 of the highest calorie-producing corps, along with cotton, for its intensive water and nutrient needs—found that current yields are 50 percent below "realistically attainable" yields and that closing the yield gap could provide enough calories to meet the needs of about 850 million people.
In certain spots around the globe, the yield gap is already closing. Adopting improved bean varieties is leading to an average yield gain of 53 percent in Rwanda and 60 percent in Uganda, said Catherine Larochelle, a research assistant professor in CALS' Department of Agricultural and Applied Economics. The gains produce ripple effects: Families earn more, and shorter production cycles free up land and labor for other uses. Beans are mainly grown by women, and the extra time can be invested in handcrafts and tending the health, education, and nutrition of children. And new varieties are often more nutritious, fighting the hidden hunger of nutrient deficiency.
Heartier crops
Growing rice is water-intensive, for sure. But don't flood it. When completely covered, the plant tries to quickly grow and reach the surface, leading to an energy crisis, carbohydrate starvation, and death. In rice-producing nations, flash floods cost more than $1 billion in rice losses annually.
Ten years ago, however, Takeshi Fukao, an assistant professor in the crop and soil environmental sciences department, was at the University of California, Riverside, where he worked with collaborators to analyze the functional importance of a gene dubbed "Submergence 1-A" that amplifies flood tolerance. Today in South and Southeast Asian countries, rice cultivars carrying the gene (transferred through conventional breeding methods rather than genetic modification) react much differently to a flood. In a passive strategy, the submerged plant reduces its metabolism and energy consumption, restarting photosynthesis once the water subsides.
"It's like they're in hibernation," said Bishal Tamang, a Nepalese Ph.D. student working with Fukao on research into genes associated with flood and drought tolerance.
As climates change around the world, leaving farmers to contend with more flooding, the submergence tolerance gene offers researchers an advantage because the entire DNA sequence, submergence tolerance, and metabolic mechanisms are now known quantities that can serve discovery in other species. "This is a very good model for stress tolerance," Fukao said of Submergence 1-A.
Worth its salt
Three concepts—recycling, conserving, and desalination—point the way forward for the world's water supply. Today, about 1 percent of the world's water is utilized, said Jason He, an associate professor of civil and environmental engineering in COE. In coming decades, providing water for agriculture and drinking may well require using wastewater and ocean water to a much greater extent.
In He's Hancock Hall lab, in a student-made, lidless container the size of a washing machine, water gurgled through numerous vertical PVC pipes that lined the container's edges and disappeared beneath the rolling surface water. With a 100-liter capacity, the device is the world's largest microbial desalination system.
He's research has two directions. The first is developing microbial fuel cells that harness electrical energy from bacterial activity and organic waste. The second is using that energy to desalinate water. The potential synergies—picture a wastewater treatment facility built next to an ocean that generates energy and clean water—are profound. The next step is scaling up the process to the point that industry collaborators are ready to invest.
Juran, the CNRE assistant professor, encourages viewing wastewater as a resource. Urine and feces can be safely neutralized, giving the water new life as an irrigation source and more. "We need a paradigm shift," Juran said. "We can look at wastewater as a resource that serves other purposes. We have to realize that we're capped with a finite amount of water. Every day it's more polluted. Every day it's more stressed by more people. We're the variables. We have to adapt. Something's got to give, and it's got to be us. We can't make more water."
Clustering experts
Just how does a university marshal its resources to tackle challenges as big as water? One way is faculty hires. In the 2013-14 academic year, CNRE and CALS teamed up to hire seven faculty members to fill the ranks of a water cluster and establish a premier water resources program.
The cluster complements Tech's existing experts—more than 125 already study various aspects of water—by exploring such subjects as the effects of climate change on agriculture, management of water and natural resources, transport of chemicals to surface water and groundwater, and development of decision-support tools to mitigate the negative impacts of human activities, said Saied Mostaghimi, CALS' associate dean of research and graduate studies.
By encouraging collaboration, the cluster's interdisciplinary model matches the trend at research funding agencies. "Agencies are focusing on funding interdisciplinary research because most of our global issues are too complex for any one discipline to solve, and there is a need to develop interdisciplinary teams to address these issues," Mostaghimi said.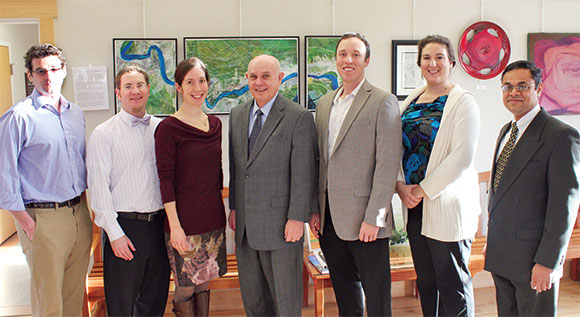 Provost Mark McNamee (center) posed with six faculty members in the water cluster (from left to right): Zach Easton, Luke Juran, Kelly Cobourn, Ryan Stewart, Meredith Steele, and Venkat Sridhar. Not pictured is the seventh member of the cluster, Daniel McLaughlin.
One such issue is urbanization. By 2050, 78 percent of the world's population will live in cities, compared to 54 percent today, according to the World Health Organization. The trend is positive for reasons of efficiency, said Meredith Steele, an assistant professor in the crop and soil environmental sciences department who studies cities and how land cover and land change affect watersheds and water quality at a regional and continental scale. Double a city's size, and its carbon emissions won't increase by the same rate, Steele said. "You don't often think about saving cities to save nature, but everything I've seen points to that's the direction we need to go in."
Another member of the cluster, Venkat Sridhar, an assistant professor in biological systems engineering in CALS and COE, seeks to develop and implement hydrological and water management models to map the availability of resources over time and space, thus providing strategies for sustainable agricultural production in a future beset by climate uncertainty. Achieving this goal—as he knows and the cluster's structure illustrates—requires an interdisciplinary approach. "The issue in front of us, providing food and water to humanity, is so complex that innovation becomes necessary," Sridhar said. "My research lab will tremendously benefit from the synergies of various efforts across campus to start addressing food and water sustainability."
Matching the water cluster's interdisciplinary approach, a new bachelor's degree program titled "water: resources, policy, and management"—approved in November 2014 by the State Council of Higher Education for Virginia—draws experts from five Virginia Tech colleges. "In order to sustainably manage the resource, understanding the human side of water is as important as understanding the science," said Stephen Schoenholtz, the CNRE professor of forest hydrology and soils who will coordinate the program with an advisory committee representing faculty from 10 departments. Offered through the Department of Forest Resources and Environmental Conservation, the degree has eight specialization options, including one in international water management and another in water, climate, energy, and global issues.
From Blacksburg classrooms and labs to Ecuadorian mountaintops, from desalination in the Middle East to agricultural curriculum in Senegal, Virginia Tech is fully engaged in addressing humanity's most foundational needs.
Zeke Barlow, communications manager for the College of Agriculture and Life Sciences, contributed to this article, including the opening section on Ecuador.