Winning the Right Way
by Timothy D. Sands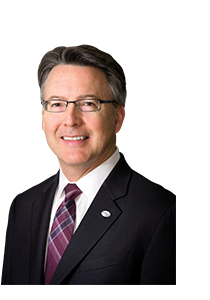 As others have said before, the athletics program is our "front porch," a place where our community—students, faculty, staff, alumni, and friends—gathers. It's a place where we extend hospitality to our neighbors, friends, and rivals. It's a place to win not merely with strength and skill, but with character.
This remarkable football season was a great example of how we come together and celebrate the Hokie Spirit through athletic activities. We registered our 12th consecutive Commonwealth Cup win; traveled to yet another bowl game; commemorated the retirement of our coach and friend, Frank Beamer; and celebrated the announcement of our new coach, Justin Fuente. I am excited that we will move forward with a coach who can build on Frank Beamer's success.
I know you all join Athletic Director Whit Babcock and me as we take a moment to thank Coach Beamer for his dedicated service to Virginia Tech. It has been heartwarming to see his players and staff and the fans express their appreciation for his 29-year career at the university, and their affection for him as a person. He did more than just win: He demonstrated the value of character, honor, and the holistic development of the student-athlete.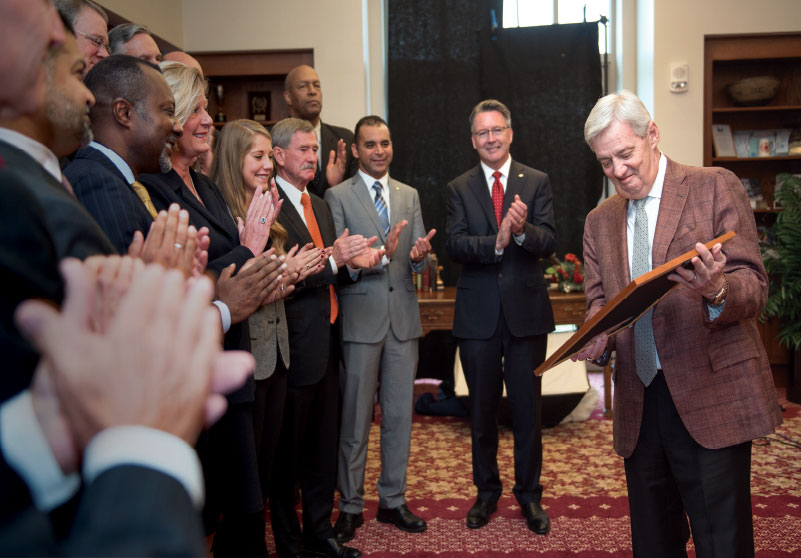 To understand Coach Beamer's impact on Virginia Tech and the Hokie Nation, one must appreciate the role of athletics at this university. The athletics program is a natural extension of the land-grant mission to prepare citizens for service and success in the commonwealth and beyond. Our student-athletes are winners in every sense. In the 2014-15 academic year, Virginia Tech student-athletes served more than 10,000 individuals through community involvement, and every one of the 22 varsity teams participated in outreach initiatives. Virginia Tech varsity athletes have an 88 percent graduation success rate. According to our recent Gallup survey of alumni, former student-athletes were more likely than their peers to be thriving in all five elements of well-being, especially in their senses of purpose and social connection.
While I have been honored to share the "front porch" with Frank Beamer during my first two football seasons as president, I envy those of you who have enjoyed his company for the past 29 seasons. I'm happy to say that while he may be retiring as a coach, he will never retire from the Hokie Nation. He is serving, and will always serve, as an example of what it means to be a Hokie, and we can honor his service and legacy by following his example in our own lives.
Thank you, Coach. Let's go, Hokies!
Timothy D. Sands is Virginia Tech's 16th president.