The Great Duck Pond Project:
Building a community of learners around a campus landmark
by Sandy Broughton
Ice skating, going to "submarine races," being thrown into the mud by corps buddies -- the Virginia Tech Duck Pond holds a special place in the memories of alumni. In early October at Homecoming, Blacksburg middle-school students collected these stories from alumni as part of an oral history project in which they developed a sense of the Duck Pond's importance to Virginia Tech and the Blacksburg community.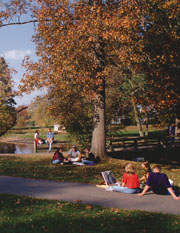 The sixth- and seventh-graders' interviews were just one part of a year-long community of learners venture called the Great Duck Pond Project, in which students of all ages focus on the Duck Pond to study an array of projects ranging from geography, ecology, entomology, water quality monitoring, poetry, environmental art, and even computer science.
The Duck Pond project started to take shape when Lynn Hill, curriculum coordinator of the Virginia Tech Child Development Laboratory, noted that whenever they were given a choice, children at the Wallace lab school wanted to go to the Duck Pond. Hill decided to form the curriculum around their interests.
The preschool-aged children learned about seasonal changes, the life cycle of ducks, and observed fish, worms, salamanders, and tadpoles on their walks to the Duck Pond. They incubated duck eggs in their classroom and watched them hatch. The children created sculptures and handmade paper from trash collected at the Duck Pond, and then traced the process of refuse collection and recycling by visiting the Montgomery County Waste Authority.
"It is amazing how rich an educational experience developed around their interest in the Duck Pond," says Hill.
Hill knew she was onto something. With fellow College of Human Resources and Education faculty members Victoria Fu and Andrew Stremmel, Hill approached Provost Peggy Meszaros about broadening the concept to include a diverse group of teachers and learners from the Blacksburg and Montgomery County community. Meszaros heartily endorsed the idea. Not only does it support the university plan to emphasize interdisciplinary collaborations and partnerships with public schools, but it serves the needs of a broad-based community of learners at the university as well.
The Great Duck Pond Project was launched in August in a meeting at the Duck Pond gazebo. Besides the middle schoolers' project to chronicle the Duck Pond's impact on the community, learning activities include a mapping endeavor, a creative writing project, a study of animal habits, and a computer game based on the Duck Pond community of learners.
Steve Bickley was one of the first Tech professors to dive into the Great Duck Pond Project. His art students created environmental art at the site, hanging objects from trees, floating them on the water, and doing performance art on the shore. To represent the concept of walking on water, a group of students positioned Styrofoam footprints through the water, leading to a door suspended above the pond.
| | |
| --- | --- |
| | Within the learning community, a web of connections are being woven across age groups. English instructor Penelope Gleeson's freshman composition class is working with eighth graders to develop a World Wide Web site for the Duck Pond Project which will provide updates on what classes are doing. Blacksburg seventh graders are developing a mystery-clue map game for pre-schoolers in the Child Development Lab. And student teachers in Andy Stremmel's family and child development courses are integrating the project into the curricula they are creating for public schools. |
| Steve Bickley's students temporarily installed environmental art at the site. | |
An important part of the Great Duck Pond Project is its responsiveness to the interests and needs of learners. The students work with their teachers to brainstorm about activities, creating excitement about process of learning. The learners are also encouraged to express their understanding of learned concepts in a wide variety of ways -- orally, in writing, painting, sculpture, graphics, maps, dance, photography, computer programs, video, or any other media. These will be displayed at the Museum of Natural History in summer.
"Each person brings to the community his or her own interests, talents, curiosity, and style of learning. Together we will fashion a shared understanding of the Duck Pond by studying it in different ways, shapes, and forms," said Hill, who is recording the learning process on video for her doctoral dissertation.
What alumni remember about the Duck Pond
"I didn't realize until I was a teenager that there was a whole campus beyond the Duck Pond," says Carol Chafin (management housing and family development '69) president of her department's alumni association. Chafin's memories of the Duck Pond go back to when she was five years old and her parents would bring her and other Radford kids to the Duck Pond for all-day picnics. She attended 4-H conferences on campus when she was a teenager.
Dave Minichan (biology '51) remembers how he and fellow corps of cadets members would wrap an unlucky comrade in a sheet and throw him into the muddiest part of the pond. If he wasn't covered with mud, they would roll him around in the muck until he was coated in slime.
Gayle Zydron (home economics '60) found her niche putting on watermelon parties for 4-H children at the pond when she was one of only 125 women among 5,000 men on campus. "That's how we knew that women could be a part of Virginia Tech," she says. "In the winter, the Duck Pond froze with ripples in it. The local firemen would build a big fire and spray the pond with water so that it would re-freeze smooth enough for skating."
Several of those interviewed recalled "going to the submarine races," slang for a romantic encounter at pond's edge. When Ida Berger Powell (home economics '58) mentioned the "submarine races" to her student interviewer, the student remembered that her mother had used the same term. "And that was 20 years after I was at Tech," Powell says. "It just goes to show you the men haven't thought up any new lines in all that time."
Stories about the Duck Pond being collected by the students will be published in a booklet. The students are also exploring the possibility of featuring the recorded interviews in an audio exhibit at the Virginia Tech's branch of the Museum of Natural History next summer.
It is not too late for you to share your stories and photos of the Virginia Tech Duck Pond. You can do so by writing to the Great Duck Pond Project at 140B Wallace Hall, Virginia Tech, Blacksburg, VA 24061-0416, or by calling the "Hot Duck Line" at (540) 231-6698.
You can get more information by contacting Lynn Hill at (540) 231-6148 or (540) 231-7194 or by e-mailing her at hillfam@vt.edu.
Building a community of learners
The concept of learning communities was born in a small town in Northern Italy in the early 1950s. There, teachers formed partnerships with professionals, families, and businesses to make education the town's top priority. The town of Reggio Emilia gives 12 percent of its taxbase to the pre-school, and citizen volunteers serve as adjunct teachers for topics as diverse as caving, marketing, and the hydraulics of fountains.
Last May, family and child development faculty members Victoria Fu, Jean Vogler, and Lynn Hill traveled to Reggio Emilia to explore that community's unique approach to early childhood education. They met with parents, teachers, and alumni of the schools to understand how such an approach might be implemented in the United States.
Fu likens the collaborative experience to the beautiful tapestry the group viewed in the piazza of one of the schools. "It was made up of a diverse set of materials -- branches, feathers, clay pieces, pine cones, cornstalks, and more," Fu said. "Each piece added a unique and meaningful aspect to the whole. We believe strongly that a collaboration among university faculty, graduate students, practicing teachers, and public administrators would provide the warp and weave of our own exciting tapestry."
In January 1998, Fu and Hill will take faculty members and teachers from university communities across the United States to Riva San Vitale, Virginia Tech's European Studies Center in Switzerland, and to Reggio Emilia. The purpose of the two-week study/research tour is to form an collaborative learning group to explore the implementation of the Reggio Emilia approach in the United States.
Sandy Broughton is the public information officer in the College of Human Resources and Education.
Home | News | Features | Research | Philanthropy | President's Message | Athletics | Alumni | Classnotes | Editor's Page