Pretty Packages
Virginia Tech is sharing these important pieces of history that came to the university as gifts
by Su Clauson-Wicker
To conjure up a time when memories of their aching backs at harvest time drove Cyrus and Robert McCormick to tinker with reaper designs in their blacksmith shop, all you need to do is visit their historic Shenandoah Valley farm. You can retrace the footsteps of tobacco magnate R.J. Reynolds through his boyhood home in Critz and go north to dine in the Hotel Roanoke under Czechoslovakian chandeliers where the likes of Amelia Earhart and John D. Rockefeller feasted decades ago -- all the while treading on Virginia Tech turf.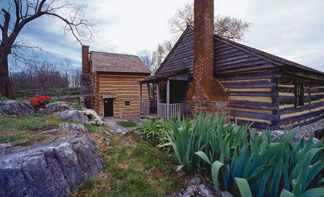 The Cyrus McCormick Farm near Lexington receives 7,000 visitors a year.
Through the years, Virginia Tech has received a dazzling array of gifts -- boats, trucks, horses, even shopping centers, a power plant, ante-bellum plantations, and a grand old hotel. But the determining factor of whether Tech keeps these gifts or converts them to cash is whether they can further the university's research, education, or service missions. As a land-grant university, Virginia Tech's business is a practical one -- developing a better soybean, outsmarting the gypsy moth, and finding ingenious ways to use technology, for instance. These three properties pass the utility test, and as a result Virginia Tech owns some important pieces of history.
McCormick Farm
The Cyrus McCormick Farm, home of Virginia Tech's Shenandoah Valley Agricultural Research and Extension Center, was the first of these three historical gifts. You may remember Cyrus McCormick from your grade-school history lessons as the Virginian renowned for revolutionizing agriculture by inventing the mechanical reaper in 1831. Before that, grain had been harvested with strong arms and some form of long knife -- a sickle or a scythe. The McCormick reaper, designed and built in Rockbridge County near Steeles Tavern, harvested five times faster than any previous methods, with a fraction of the physical effort.
In 1954, Cyrus McCormick's son, Harold Fowler McCormick, and his heirs deeded the 634-acre farm to Virginia Tech to use for agricultural research and education. Part of this property includes the McCormick Memorial Plot, where Barry Hartman and other McCormick cousins interpret history through the McCormick manor house, museum, grist mill, and blacksmith shop. Hugh Adams, another cousin, funded the renovations to put the gristmill in working order last year.
Visitors touring the national historic landmark can see a full-sized model of the horse-drawn reaper 22-year-old McCormick invented with the help of his father, Robert. You can also see a dozen scale models of later versions of the reaper and, in the blacksmith shop, the actual bellows that Robert McCormick invented. Cyrus, who moved his operation to Chicago to serve the vast grain fields of the Midwest, was responsible for founding the agribusiness giant, International Harvester. He was also a pioneer in business techniques: easy credit to enable farmers to pay for machines from harvest revenue, advertising, and written performance guarantees.
The McCormick farm now enhances Virginia agriculture through research on livestock forage systems, livestock nutrition, and integrated pest management techniques for fruit orchards. A multi-agency gypsy moth suppression program uses the center as a home base, and other special educational events are held there, including a recent summer geography teacher's workshop held by the National Geographic Society.
Reynolds Homestead
Cyrus McCormick was already a Chicago millionaire when another Virginian who would become an industry leader was born in Patrick County in 1850. While the effect of tobacco on individuals has been anything but salubrious, R.J. (Richard Joshua) Reynolds' tobacco company played a major role in revitalizing the Southern economy after the Civil War. His birthplace is now a Virginia Tech property.
Almost a century after her father founded the highly successful R.J. Reynolds Tobacco Company, Nancy Susan Reynolds decided to give something back to the region that gave her family its first opportunities. In 1969, she gave Virginia Tech 710 acres of Rock Springs Plantation, now known as Reynolds Homestead, and, in 1980, she deeded over another seven acres where the family home and the continuing education center stand.
She also created an endowment of $1.7 million to provide cultural programming to the surrounding community, to run a forestry research center on the site, and to fund a scholarship program for Patrick County high school students. Reynolds financed this transaction in part by selling her Greenwich, Conn., Quarry Farm, where stone for the Statue of Liberty had been mined, to Diana Ross of the former musical group, the Supremes.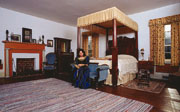 All these endowed programs and the daily operations of the continuing education center and the forestry research facility are administered by Virginia Tech. The gift to Virginia Tech seems especially appropriate in that Nancy Reynolds' uncle, Hardin Harbour Reynolds, was one of the original 11 graduates of Virginia Tech (then known as Virginia Agricultural and Mechanical College).
The Reynolds property, near Critz, Va., includes the 1843 national historic landmark homestead, an ice house, a spring house, a granary, a summer kitchen, a slave cemetery, and the Reynolds family graveyard, where Virginia Lt. Gov. J. Sargeant Reynolds is buried. Interpreters lead visitors on tours of the estate, where they can view family portraits and the Empire poster bed where R.J. Reynolds and his 15 siblings were born. Tours are available mornings Tuesday through Friday and every afternoon except Monday.
The old homestead also figures prominently in the cultural life of the Reynolds Homestead Center for Continuing Education. A fall seminar series, "The Homestead as Homeplace" illustrates some facet of life as it was lived at the homestead in the mid-1800s. One lecture, "A Sense of Place" by NPR commentator and author Donald McCaig, examines Reynolds Homestead as the setting for his Civil War novel, Jacob's Ladder, which will be published by Norton in April.
Visiting artists often stay in the upstairs rooms of the homestead. McCaig was inspired to finish his Civil War novel while spending the night there, and Blacksburg author Anne Goette drafted her best-selling novel, Midnight Lemonade, while on retreat at the homestead.
The spacious continuing education center, under the direction of Tech professors David and Mary Britt, offers programs for the community ranging from concerts, craft guilds, studio art workshops, and a personal writing course to high school equivalency classes. On a recent weekday, an environmental writer led a book discussion against a backdrop of nature theme quilts and landscape paintings on the center's wall.
Next door, the Forest Resources Research Center studies forestry practices, pond management, wildlife habitat enhancement, and Christmas tree culture.
Hotel Roanoke
In 1881, Roanoke, like the area surrounding Reynolds Homestead, relied heavily on the tobacco industry. In fact, the 670 souls who lived in the crossroads town, then called Big Lick, found their main employment in six tobacco factories. But that year Norfolk and Western Railroad decided to put the intersection of its two railroad lines in Big Lick, and building a grand hotel was part of the plan. The regal Hotel Roanoke took the town's new, post-railroad name.
When Hotel Roanoke opened late in 1882, townspeople crowded into the elegant Queen Anne structure to marvel at its porcelain bathtubs (the first in Roanoke), bell system, and sweeping staircase. Throughout the years, the landmark hotel has hosted the city's most prominent social occasions, as well as a celebrity list that included John D. Rockefeller, Joe DiMaggio, Amelia Earhart, evangelist Billy Sunday, and U.S. President Dwight Eisenhower.
The renovated hotel is still reaching out to the community, this time with "and Conference Center" appended to its name. Since spring 1995, the hotel has been providing a setting for Virginia Tech's continuing education services and the region's conferences. And you can still see the Czechoslovakian chandeliers, the murals, and the sweeping staircase, perhaps on a staff-led tour of the hotel.
The late Virginia Tech President James McComas had a vision for the landmark hotel when he accepted it as a gift from Norfolk Southern Corp. in 1989. He envisioned it as a conference center where Virginia Tech could extend its outreach through larger gatherings in a more convenient urban setting. Roanoke joined forces with Tech by raising funds for the $40.6-million project through Renew Roanoke Foundation, a private, not-for-profit community organization that joins a Virginia Tech subsidiary in the ownership of the hotel. The adjoining conference center is owned by the City of Roanoke, but jointly administered by the city and Tech.
The hotel is listed in the National Registry of Historic Places, but in actuality, it is the soul and not the structure of the 1882 hotel that remains. A fire in 1898, additions, demolitions, and a major rebuilding effort in 1937 have changed all but the foundation. Now Hotel Roanoke boasts a high tech conference center, computer kiosks, and the largest ballroom between Washington, D.C. and Charlotte, N.C.
In the 1980s, Norfolk and Southern realized that bringing the hotel up to modern hospitality and safety standards would cost $30 million; they decided to get out of the hotel business. No one wanted to tear down the historic hotel, but no corporation was willing to take on the task of renovating it, until Tech received the gift. "From day one, the hotel has been meeting its financial projections," says University Treasurer Ray Smoot (English '69). "The university is putting no new money in Hotel Roanoke.
Now, thanks to leaders at Virginia Tech and Roanoke, a Southwest Virginia institution is lively again.
Home | News | Features | Research | Philanthropy | President's Message | Athletics | Alumni | Classnotes | Editor's Page