Looking Back in Virginia Tech's 125th Year:
Scenes from the Past
Photos courtesy of Virginia Tech Special Collections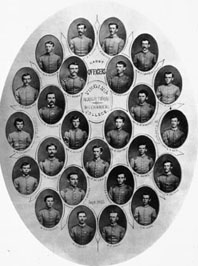 The first class of cadet officers of Virginia Agricultural and Mechanical College. The first student to enroll at V.A.M.C. was William Addison Caldwell, who is on the left.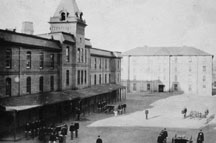 Barracks No. 1, now Lane Hall, with Barracks No. 2 (Rasche Hall), in distance. Barracks No. 1 was built in 1888 and later named Lane Hall in honor of the first commandant of cadets, James H. Lane.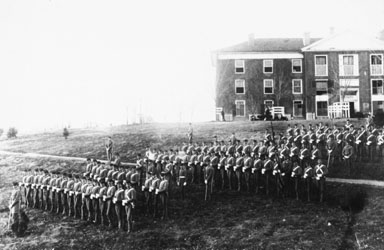 Battalian of cadets, 1887. When townspeople began to complain in the 1870s about the behavior of students living off-campus, one suggestion was to reorganize the college along military lines.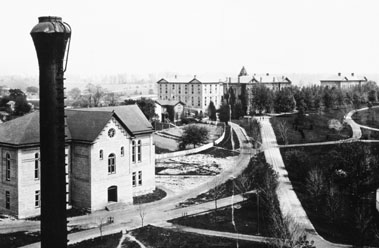 The old McBryde Building of Mechanical Arts, built in 1917 and torn down in 1968, was the first building to use the neo-Gothic architecture that is so prevalent on campus today.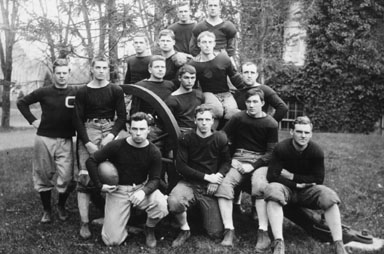 The football team of 1913 won seven out of 10 games, but did not play UVa; the 5-0 win over Virginia in 1905 made the Cavaliers so angry that they did not play Tech again until 1923.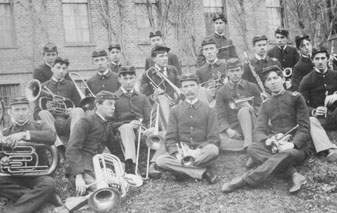 This is the first band company of the corps, organized in 1893. Before this time, a 10-piece cornet band of students and townspeople had played music for drills and parades.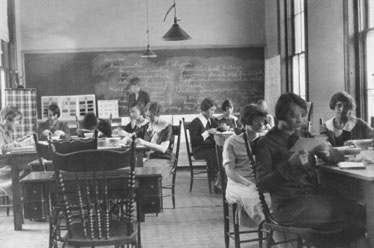 A 1927 class of women studies household design. The first 12 women were admitted in the fall of 1921, the year women won the right to vote.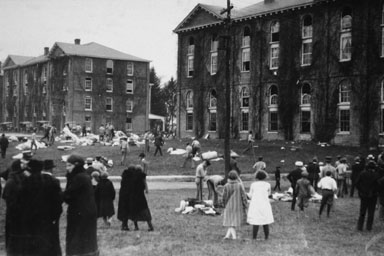 In 1905 a fire destroyed the science building that used to stand where Shanks Hall is now located.
Back to Features Page
Home | News | Features | Research | Philanthropy | President's Message | Athletics | Alumni | Classnotes | Editor's Page