Hot rods, horses, and hearty potted possum:
Roddy Moore reigns as folklorist of Blue Ridge Culture
by Su Clauson-Wicker
Roddy Moore (history '67) is barely senior to the baby boomer generation, yet his encyclopedic knowledge of Southern mountain culture exceeds that of almost any Blue Ridge octogenarian.
Two records and their accompanying books produced through his recording company have been nominated for Grammy awards, yet he admits he's so tone deaf his mother wouldn't let him sing in church. He's never lived on a working farm, but he owns the national champion Percheron stallion.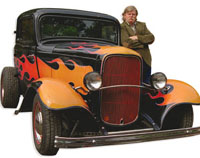 Moore is, in short, a man of contrasts. A fellow raised in West Virginia atttending Virginia's land-grant university, a Protestant who attended Catholic boarding school, a transfer student and a non-cadet during the mandatory corps years -- Moore wasn't even a typical Hokie. About the only thing that can be said of him with any certainty is that Jay Roderick Moore, as he was officially christened, is a person of strong and diverse interests.
All of Moore's eclectic interests -- folk music, draft horses, traditional crafts, hot rods, the collection of pickled peppers and potted possum on his office shelves -- culminate in the ideal candidate for the job he's held since 1974 -- director of the Blue Ridge Institute and Museum at Ferrum College.
"Roddy always was a 'can-do' sort of guy," says Moore's Virginia Tech friend, Richard "Dick" Walters (English '65). "He followed his dream, and I'm not at all surprised he's director of a folklife museum today."
Walters, who started the Blacksburg coffee shop and bookstore, Books, Strings and Things (now under new ownership), remembers touring the blues-concert circuit in a souped-up VW piloted by his buddy.
"He was always something of a horse trader," Walters says. "In the middle '60s, he'd start calling people, and out of the blue, we'd get a major act at BS & T. We've had Doc Watson, Jesse Fuller, or Patrick Sky -- really popular people in those times."
Today, Moore has the same sandy mustache, the same laid-back style, and the same West Virginia radio voice that he did in the 1960s, and he can still sweet talk musicians into traveling the backroads to perform for his causes. These days, though, it's for the Blue Ridge Folklife Festival, which draws more than 15,000 people to tiny Ferrum each year on the fourth Saturday in October.
Moore started the fall folklife festival, and, in 24 years, he's built it into the largest celebration of Virginia traditions. The music ranges from blues and western swing to old-time string bands, gospel, and mountain mariachi music. The events and exhibits celebrate traditions practiced in the Blue Ridge Mountains, including coon dog treeing competitions, a mule jumping contest, horse pulling events, a marbles tournament, a quilt exhibition, a hot rod and classic car display, molasses making, and demonstrations of numerous crafts.
"These aren't dusted-off relics of a lost heritage," he says. "These people are demonstrating talents used in their modern lives."
Moore, who grew up in the coal town of Welch, W.Va., learned early about the concept of cultural heritage as he listened to polkas and heard his friends speaking Russian, Italian, or Polish at home. As a teenager he had a strong interest in folk and rhythm and blues music, as well as hot rods and rock music.
After he'd collected a history degree from Tech with minors in political science and sociology, he headed over to Colonial Williamsburg to work as a re-enactor and apprentice gunsmith. A few years later, with a family in tow, Moore headed up to the State University of New York at Oneonta for a master's in folklore and folklife. He taught school a few years and then landed the job he'd been looking for -- starting the rural life studies program at Mountain Empire Community College in Big Stone Gap.
"My students and I started recording oral histories in Wise County to see what people had traditionally been doing and what they were doing now. We even built a log barn that the Children's Television Workshop filmed to broadcast on Sesame Street," he said.
Moore worked at the first Smithsonian folklife festival on the Washington Mall. One of his Mountain Empire students helped Foxfire set up its music program, and Moore was asked to be on the Foxfire board.
"There was a real movement in Appalachian crafts. The federal government supported it. That movement is dead today," he says.
Early in 1974, Moore came to Ferrum as the director of the fledgling institute. He immediately started setting up an archive and working to transform the small spring craft festival into a major fall event with lots of music, craft demonstrations, and contests. He also worked to build the museum from one room to the free-standing exhibition hall it is today. In 1986, Virginia Gov. Gerald Baliles designated Blue Ridge Institute as the State Center for Blue Ridge Folklore.
Moore also brought in authentic buildings for Ferrum Institute's 1800-era German-American farm. In summer, costumed student-interpreters work at household chores of the period, including the raising of breeds of animals and species of plants that would have been found on a 19th-century Blue Ridge farm. Across the road, the museum this winter is featuring an exhibit of Southern heirloom apples and "Playing with Knives," a collection of folk carvings by carvers from Southwest Virginia.
Moore also started the Blue Ridge Institute's recording company, and nine recordings have been produced of chants, songs, and instrumental music by otherwise unknown folk musicians. The books accompanying two of these albums, Virginia Work Songs and Southwest Virginia Blues, were nominated for Grammy Awards. Most of the recordings were done on porches or in living rooms.
Moore is not one to be left in the 19th century. As a result of a recent grant, his institute is now in the process of putting a catalogue of its archives up on the Internet.
While Moore's thoughts never really leave his work, it can not be said that he's all work and no play. In fact, sometimes it's hard to tell the difference. Take his world champion stallion, Valley Vista Knightime ("Knight"), for instance. After purchasing a Percheron-cross horse for the college riding program, Moore and his wife Sally decided to raise Percheron horses and cross-breeds. Knight won many national awards, and his son, Storey Creek Knight Cruiser, has claimed numerous awards in the weanling division this year. The Moores are the first breeders to have successfully used frozen Percheron sperm for artificial insemination. Knight has foals all over the United States and France from this procedure.
"The horses," Moore says, "are something Sally and I do together. The cars -- well, that's pretty much me."
The Blue Ridge region, he says, has a tradition of hot rods, street rods, and auto racing, especially on small tracks like Calloway and New River. "You used to drive the cars on weekdays and race on Sundays," he adds.
Moore built hot rods in high school, and now, almost 35 years later, he owns a '67 Cobra replica (license plate: HISSS), a 1941 Ford truck, and an authentic 1932 Ford coupe. "If you grew up, you can have a midlife crisis; if you didn't, you just keep getting toys," he says.
Moore has maintained some ties with Virginia Tech, serving as a consultant in appraising some historical artifacts. His other legacy is his daughter, Allison Rani Moore, who graduated in 1992 with a degree in landscape architecture.
Home | News | Features | Research | Philanthropy | President's Message | Athletics | Alumni | Classnotes | Editor's Page