Alumni and Conference Center now open
After more than two years of construction, Virginia Tech's new alumni and conference center is now open, giving alumni, friends, faculty and staff, and the university's visitors a place to call home on campus. The center is comprised of three components. The Holtzman Alumni Center, with its majestic façade and distinctive clock tower, connects to the Skelton Conference Center, which in turn adjoins the new university hotel, The Inn at Virginia Tech. The three parts of the complex create a magnificent landmark that welcomes visiting alumni, overnight guests, conference participants, and restaurant patrons.
The complex is built entirely of Hokie Stone and its interior public spaces feature hardwood flooring and rich wood paneling, doors, and trim. The facility is designed to accommodate large gatherings in its pre-function and banquet spaces. Ten conference rooms in the Skelton Conference Center, the Assembly Hall, and four additional conference spaces in the Holtzman Alumni Center provide comfortable, modern, high-technology facilities for various groups. Dining space in the inn's restaurant, Preston's, and adjacent lounge, Continental Divide, offer an inviting ambiance accented by a quality menu and fine service. The Inn at Virginia Tech has 147 guest rooms, including several parlor suites and executive suites.
The Holtzman Alumni Center also features the Grand Hall reception space, the Alumni Museum with a variety of university artifacts and photographs, and the Alumni Library that houses volumes authored and donated by alumni. Points of interest on the exterior include the Alumni Terrace, which highlights donor pavers, and two gifts from the Class of '52, a three-tiered fountain and the Alumni Gateway.
The Holtzman Alumni Center can be conveniently accessed from Duck Pond Drive, past a small pond bounded on one end by a Hokie Stone wall. The entrance to The Inn at Virginia Tech and the Skelton Conference Center is located at the traffic light intersection of Prices Fork Road and University City Boulevard. Be sure to stop by during your next visit to campus.
2005 Alumni Association scholars
This fall, the Alumni Presidential Scholarship endowment awarded scholarships totaling approximately $215,000 to 78 students in the Honors Program. The university's first major academic merit scholarship program, the Alumni Presidential Scholarship endowment was created more than 30 years ago by the Alumni Association. In addition, 50 alumni chapters nationwide awarded 150 merit-based scholarships totaling $145,000 for this fall. Both programs encourage talented high school students to select Virginia Tech over other universities.


2006 Virginia Tech
Alumni Association Tours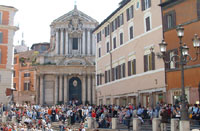 Galapagos Adventure:
February 10-18
Mexico's Yucatan Peninsula:
February 23-March 2:
Rome Escapade:
March 2-15
Amazon River Journey:
March 3-12
Virginia Tech's Caribbean Center in Punta Cana, Dominican Republic:
March 7-12
Alumni College in Ireland:
May 8-19
Essential Europe for New Alumni:
May 21-June 14
Alumni College in Italy--
Orvieto and Sorrento:
June 3-14
Cruise Alaska Denali National Park:
July 15-29
Village Life in the Alps:
June 14-22
Danube Cruise--
Eastern Europe and Black Sea:
July 26–August 7
Village Life along the Dalmatian Coast:
August 29-September 6
Village Life by the Aegean Sea:
October 13-21