New year, renewed commitment by Charles Steger '69
At the start of each academic year, the Virginia Tech community takes great pleasure in welcoming to campus our newest faculty, staff, and students. This year's group has brought to the university an especially keen promise of accomplishment and success.
Despite the daily array of challenges confronted by institutions of higher education nationwide, Virginia Tech remains most fortunate. We lay claim not only to an outstanding faculty renowned for its innovative research and quality teaching, but also to a resourceful, talented staff dedicated to the highest service--without which our faculty could not be as effective. Expressed in decidedly more pedestrian terms, one hand feeds the other.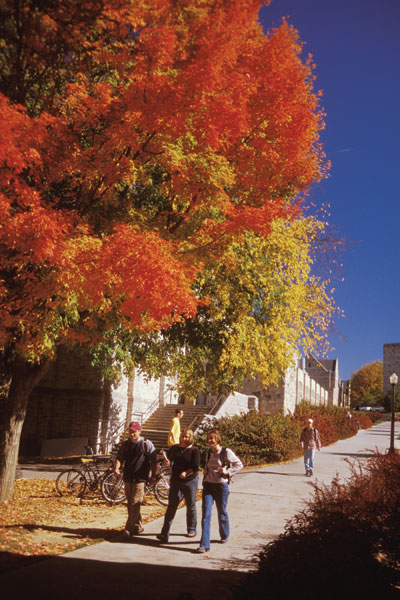 We have entered this academic year with renewed commitment both to our public land-grant mission of teaching and learning, research, and outreach and to our university motto Ut Prosim (That I May Serve). Having acknowledged in our recently approved Principles of Commitment "those aspects of our legacy that reflected bias and exclusion," we move forward as a community with a heartfelt intent to embrace, not exclude, each and every one of our university's members.
We take particular pride in our new teaching appointments that have resulted in the most diverse faculty in the university's history, including a greater than 10 percent increase in the number of African Americans in the tenured and tenure-track ranks at Virginia Tech. We look to these new faculty members, as well as to our already established professors, to help us reach our goals in research, educational superiority, and diversity.
Along with our new faculty campus-wide, the College of Engineering is now under the leadership of a new dean, Richard Benson, whose prior post was department head of mechanical and nuclear engineering at Penn State University. With Benson at the helm, we anticipate that the college will continue its ascent among the nation's very best.
Another significant appointment on campus is the university's new Vice President for Student Affairs Zenobia L. Hikes, who came to us from Spelman College in Atlanta, where she was vice president for students affairs and dean of students. Hikes, who earned an Ed.D. in educational leadership, administration, and policy from the University of Delaware, has taken responsibility for 14 university departments with an annual budget of $66 million and 970 employees.
A certified mediator and graduate of The Ohio State University College of Law, Kevin McDonald has assumed duties as Virginia Tech's new director of the Office for Equal Opportunity. Formerly the associate director for compliance and conflict resolution in the Office of Equal Opportunity and Affirmative Action Programs at The Johns Hopkins University in Baltimore, McDonald brings to Virginia Tech a great deal of experience with sexual harassment and discrimination prevention training programs and mediation services.
To complement our progressively more diverse faculty and staff, we have welcomed into our fold the university's brightest students yet. A visible testament to Virginia Tech's first-rate faculty and staff is our ever-growing reputation among the nation's most sought-after young minds. Admission to Virginia Tech has become increasingly competitive as the university's quality, dedication to innovation, and results have continued to flourish.
The entering freshman class, the university's 133rd, is the most qualified group of students in school history. Of the 17,687 students who applied to the university, 5,187 were enrolled. Hailing from 43 states and 27 countries, Virginia Tech's Class of 2009 has an average GPA of 3.72, up from last year's 3.67, and an average SAT of 1204, up from 1201. [For more about the Class of 2009, see News & Research.]
As always, I am most certain that Virginia Tech's faculty, staff, and students will persist in their efforts to anticipate new opportunities and forge new ground, both in their research and in the classroom. It's no surprise that a great deal of our efforts here would not be possible without the ongoing support of our dedicated alumni and friends, perhaps our most treasured resource. We must all take part in providing for the health of Virginia Tech, which includes the ongoing investment of our time and energy into our university. I have little doubt that we shall continue to take the correct actions today to ensure our well-being tomorrow.
I hope you'll have occasion to join me in giving our newest students, faculty, and staff members the warmest welcome possible.
---