FEATURE
Instant Replay
Naturalistic studies provide clues to decreasing crash fatalities
Illustration by Steven White '92
Every 13 minutes, someone on America's roadways dies in a vehicle-related crash.
In an ongoing effort to lower this sobering statistic, the Virginia Tech Transportation Institute (VTTI) conducts naturalistic driving research involving teen drivers, truck drivers, older drivers, and motorcyclists.
Superior to other research methods, naturalistic driving studies use sophisticated cameras and instrumentation in participants' personal vehicles, providing researchers with thousands to millions of hours of data on actual driver behavior and performance. Data is collected through multiple channels of digital compressed video, radar sensors, machine vision-based lane trackers, cell phones, GPS, and instruments that record such vehicle information as braking, acceleration, and yaw.
Participants, who are monitored for periods ranging from six months to three years, are given no instructions other than to go about their normal daily driving activities. As a result, these drivers face real driving conditions and pressures and make real decisions that have real consequences.
Drivers participating in traditional controlled experiments, on the other hand, might alter their behaviors to make themselves "look good on camera." Moreover, police accident reports must rely on information from those involved and from crash scenes from which the vehicles have often been moved. Drivers in crashes may be deceased or injured; pre-crash events occur so rapidly that the driver or passengers often forget key elements; and witnesses frequently leave out important details.
In a nutshell, data from naturalistic driving studies provide greater detail and accuracy regarding driver behavior, driver error, and vehicle performance in a process similar to instant replay in televised sporting events.
The first naturalistic study of motorcyclists
While fatality rates for other road users have been in decline, according to the National Highway Traffic Safety Administration, fatalities from motorcycle crashes increased 128 percent from 1997 to 2007. In addition, AAA Mid-Atlantic reported 78 motorcyclist fatalities and 1,981 injuries in Virginia in 2010.
To address this growing danger, in August 2011, VTTI launched the world's first large-scale naturalistic motorcycle riding study: the Motorcycle Safety Foundation's (MSF) 100 Motorcyclists Naturalistic Study, a partnership effort between VTTI and (MSF), the largest trainer of motorcycle riders globally.
The study is tracking two age groups, 21 to 34 years and 45 to 64 years, and seven motorcycle models, including sport bikes, cruisers, and touring bikes. Each participating motorcycle is equipped with five color cameras, a GPS, accelerometers, a gyro, forward radar, a machine-vision lane tracker, and front and rear brake sensors.
Three different locations are being used for outfitting, tracking, and data collection: VTTI in Blacksburg; MSF headquarters in Irvine, Calif.; and the Motorcycle Mechanics Institute in Orlando, Fla. Researchers expect approximately 500,000 miles of riding data, which will be collected until summer 2013 and studied for an additional year.
"We know of no other naturalistic study for motorcycles," said VTTI director Tom Dingus. "We expect the study to be very valuable to the MSF's work since we also will examine where and how crash avoidance is successful. With so much information bandwidth coming from the cameras and instrumentation on each bike, we'll be able to examine details for years, and the findings will be relevant for decades."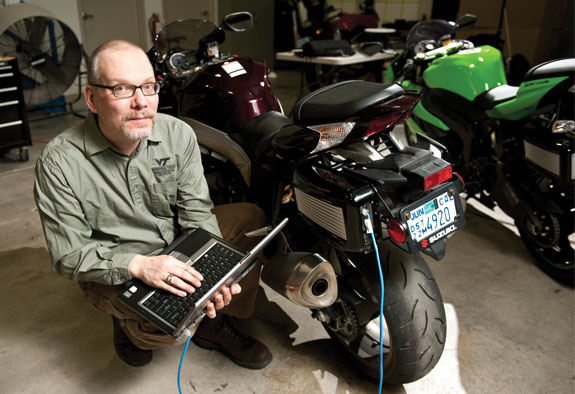 Data driven: Alex Bier, an electronics technician supervisor with the Virginia Tech Transportation Institute, uses a laptop to install data acquisition software on a motorcycle. Photo by Logan Wallace.
Trucking and texting
In June 2009, the results of a VTTI naturalistic driving study, "Driving Behavior of Commercial Vehicle Drivers," provoked national and international debate about the dangers of texting while driving, ultimately leading to new laws for commercial vehicle drivers.
Combining data from two naturalistic truck-driving studies previously conducted by VTTI, the study evaluated the types, frequency, and impact of driver distraction in commercial motor vehicle operations. Analysis of 3 million miles of motion and video data collected from 203 commercial vehicle drivers revealed that drivers who texted were 23.2 times more likely to be involved in a crash or near-crash event.
Another key finding, which brought balance to the debate, indicated that talking or listening on a cell phone or CB radio did not statistically increase crash risk. However, dialing, reaching, and other intensive visual-manual cell phone sub-tasks did.
The results from this study prompted a two-day Distracted Driving Summit in Washington, D.C., and an executive order by the U.S. president that banned texting while driving for government workers operating government vehicles. In January 2010, the U.S. Department of Transportation announced a federal texting-while-driving ban for truckers and bus drivers. Nearly a year later, a Notice of Proposed Rulemaking was released that would restrict, but not ban, cell phone use by truck drivers.
Distracted driving
Commercial vehicle drivers aren't the only ones on the road affected by VTTI's naturalistic driving research.
"Our research has sparked national debate over the dangers of distracted driving and, if nothing else, has made and will continue to make drivers more aware of how quickly situations can change when they take their eyes off the forward roadway," said Charlie Klauer, research scientist in VTTI's Center for Automotive Safety Research.
Eye-glance data gathered from more than 6 million miles of driving during VTTI's various naturalistic driving studies revealed that text messaging, which had the highest risk—more than 20 times worse than driving while using a phone—also had the longest duration of eyes not on the road: 4.6 seconds over a six-second interval. This time span equates to driving the length of a football field at 55 mph without looking at the roadway. "The danger increases exponentially when drivers take their eyes off the forward roadway for extended periods of time for any distracting task," said Klauer.
In light of these findings, 35 states and Washington, D.C., currently ban texting while driving. In Virginia, texting while driving is considered a secondary offense.
Tracking teen drivers
Among several naturalistic driving studies being conducted with teens, an 18-month study sponsored by the National Institutes of Health will determine issues that place newly licensed teenage drivers at a much higher crash risk when compared to other drivers.
The study's results will not only provide transportation researchers with a more complete understanding of how teens learn to drive during the first 18 months of independent driving, but also furnish information to legislators working on graduated driver licensing laws in an effort to reduce teen fatalities.
Past research has indicated that crash rates of novice teenage drivers are significantly higher during the first six months and 1,000 miles of independent driving. Seeking to determine the effect of greater and lesser amounts of supervised driving on the driving performance of newly licensed teens, VTTI researchers will analyze the amount and variety of practice provided by each teen's parent, as well as the teen's compliance with state laws.
Seniors: coming to a stop
To help senior drivers decide if they should stop driving, VTTI has also been conducting research with drivers who are 75 and older.
In a 2007 study sponsored by the National Surface Transportation Safety Center for Excellence, the vehicles of 20 senior drivers were instrumented for one year. During the initial phases of the study, 40 participants—20 senior drivers and 20 seniors who had given up driving within the past two years—underwent a battery of assessment testing that included a driving history and tests of health, vision, physical strength, and reaction time.
Although results are still being tabulated, the study was renewed and continues.
1,500 vehicles instrumented
VTTI is currently managing data collection from more than 1,500 cars, pickups, and SUVs in the Second Strategic Highway Research Program, the largest light-vehicle naturalistic driving study ever conducted. Authorized by the U.S. Congress to address the critical needs of the nation's highway system, the nationwide study is administered by the Transportation Research Board of the National Academies.
As part of their daily activities, roadway users of all ages and in all vehicle types face risks. With the help of VTTI's naturalistic driving research, the frequency of fatalities and injuries can be greatly reduced, and our roads will be safer for all.
Kayla Czech (communication '11) was a public relations, marketing, and graphics assistant with the transportation institute.