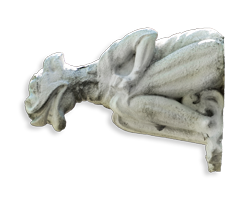 HOW TECH TICKS
Under a Watchful Eye
The legend of the gargoyles
Their hunched bodies and contorted faces are the stuff of legend. Chiseled in stone and calling to mind the rooftops of Paris or the Halloween season, the gargoyles capture Hokie imaginations.
Function and form
Gargoyles might send a shiver down our spines or send our imaginations racing, but they have a purpose beyond mere ornamentation. "Basically, gargoyles are nothing more than waterspouts. They move water from the gutters on the roof away from the building," said Matthew Gabrielle, an associate professor in the Department of Religion and Culture. The name "gargoyle," however, is a modern corruption of the French word gargariser ("to gargle"), which the sculptures appear to do with the water they move.
Hugh Latimer, university architect, said not all of the fixtures on campus are true gargoyles, which serve as rainspouts. Many, including the infamous "cowgoyles" in the Ag Quad, are what he refers to as "projected medallions," meant simply for decoration.
Instead of the costly process of carving a gargoyle rainspout out of stone, Latimer said the university typically uses the more economical method of "scuppers"—U-shaped pieces of concrete that serve to drain rainwater from the roofs of campus buildings.
A medieval reminder and modern-day mascot
If gargoyles are merely artful rainspouts, why the monstrous faces? Gabrielle offers one theory. "There's no one agreed-upon understanding of why they came to be [so grotesque,] but most likely, [they] symbolized the dangers lurking outside the walls of the Church and the ever-presence or watchfulness of the demons who caused temptation and sin. From there, they became iconic—simply an architectural feature—by the late Middle Ages."
But here on campus, some members of the Virginia Tech community see these gargoyles and projected medallions in a much different light: not as monsters, but as unofficial mascots.