FEATURE
'Raising an Entrepreneurial Ecosystem'
Mentors and capital bolster area's visionaries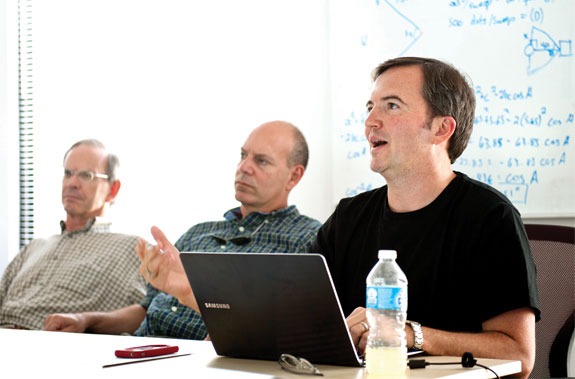 Bob Summers '98 (right) is leading a push to improve the region's resources for startup businesses. Photo by Logan Wallace.
Bob Summers was already immersed in his third startup venture when he completed a bachelor's degree in computer engineering at Virginia Tech in 1998. Plotting his next move, Summers surveyed the entrepreneurial landscapes in Blacksburg; Raleigh, N.C.; and Washington, D.C.
Although his assessment indicated few resources for startups in Blacksburg, Summers chose the town for its quality of life and availability of talent. More than a decade later, those good qualities still ring true—and even better, the lack of resources is becoming a thing of the past.
Step into TechPad, launched by Summers as an open, collaborative space for high-tech entrepreneurs, and you'll begin to see why.
Two years ago, looking for a downtown venue from which to work, Summers toured an empty space above PK's Bar and Grill. After extensive renovations, Summers opened TechPad, a co-working space designed to nurture startup entrepreneurs through collaboration and mentoring. He quickly discovered an unmet demand, with four other entrepreneurs joining him in the first month alone. Well ahead of its official opening in September, TechPad had already hosted a variety of startup businesses.
On a Tuesday afternoon in August, Braden Croy, the president of the Virginia Tech Entrepreneur Club, was preparing to enter a conference room in the back corner of TechPad's 6,000-plus square feet of space. The senior geography major would have 10 minutes to convince a room full of hypothetical investors that they should provide critical funding for the roll-out of his business, Cloud Conservatory, an online source for university-level music education.
If practice makes perfect, Croy, whose business is in the pre-launch phase, was in the right place. He was headed into a "Pitch & Polish" clinic, a monthly session at TechPad hosted by the Roanoke-Blacksburg Technology Council that allows entrepreneurs to hone their ideas in front of about 10 investors, venture capitalists, and successful entrepreneurs.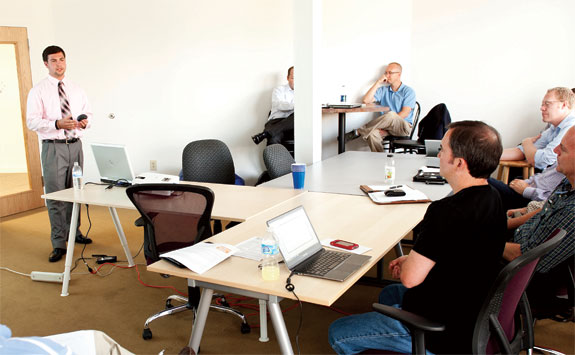 Making the pitch: Virginia Tech senior Braden Croy overviews Cloud Conservatory at a pitch clinic held at TechPad in August. Photo by Logan Wallace.
After outlining such concerns as American spending on the arts, competition in online music education, the pricing structure for lessons, and revenue projections, Croy listened and responded as the audience asked probing questions about the business plan and offered tips on his presentation—in short, the keys he needed to move forward with Cloud Conservatory.
"Their critique of my financials was the most helpful. As in any business, it comes down to money, and when your financials are a bit skewed, investors are going to question the validity of your claims," Croy said. "The clinic really helped solidify that what I'm doing is viable, and it encouraged me to keep pursuing this great market opportunity."
Summers, who previously launched a desktop videoconferencing software company serving more than 3 million customers worldwide, is now working out of TechPad on his fifth startup, Friendeo, which aims to offer users a personalized video entertainment channel. In 2005, though, Summers sensed that he needed a fresh perspective. He stepped away from Blacksburg, going to the Massachusetts Institute of Technology (MIT) for an M.B.A. There, he was inspired by a friend's Cambridge Innovation Center, adjacent to MIT, and borrowed the concept for TechPad: an open, innovative space next to campus, a place where faculty and students could quickly move from an academic to an entrepreneurial context.
"What [an open design] allows for is ad-hoc, unintended, unplanned conversations that can solve real problems," Summers said, explaining that every entrepreneur is constantly challenged by market, funding, and personnel opportunities. "An open space can help people through these challenges by sharing. I felt that we needed a vessel, a place for our entrepreneurs to meet on a regular basis and a low-friction pathway to getting started."
Summers and others are doing nothing short of "raising an entrepreneurial ecosystem," as he put it. He's not alone in his efforts. A venue similar to TechPad—the Cooperatory—is coming soon to the Virginia Tech Corporate Research Center, a wholly owned subsidiary of the Virginia Tech Foundation. Meanwhile, other university entities­­—VT KnowledgeWorks, the Office of Economic Development, Virginia Tech Intellectual Properties, and more—support businesses throughout their life cycles.
Visionary capital
Financial backing is an integral part of an entrepreneurial ecosystem. When he returned to Blacksburg from MIT, Summers spent a year investigating the viability of an early seed-stage venture fund. The outcome is 460 Angels, a fund whose 35 accredited investors have already made several investments totaling more than $1 million in the last 24 months. Along with the availability of 20 mentors, Summers' goal is a $5 million fund that will make 10 investments per year in the $50,000 to $100,000 range.
In the realm of venture capital, Summers and his 460 Angels colleagues are operating alongside a growing number of others. The Virginia Tech Foundation, Carilion Clinic, and Third Security, a Radford-based venture capital firm, teamed up in 2004 to launch the NewVa Fund, investing $13 million in five businesses that, in turn, generated job growth and additional outside investment. Now the same three players are retooling: Earlier this year, they announced their intention to create the Valley Ventures fund, aimed primarily at life-sciences businesses, said John E. Dooley, Foundation CEO and secretary-treasurer.
For the foundation, which exists to support the mission of Virginia Tech, investing in the Roanoke and New River valleys is both an investment strategy and a regional development strategy. By leading to higher-compensated jobs, employment for students and spouses of faculty and staff, and enhanced retail and cultural scenes, economic development efforts yield tangible benefits for the university, said Ray Smoot (English '69, M.S. educational administration '71), who retired this summer as foundation CEO.
When it comes to capital, however, the mentors behind the money are far more important than the number of zeroes.Venture capital can accelerate sales or attract talent, but a business needs advisors to properly apply the money—which, Summers said, is the real value of such funds.
Pushing Cloud Conservatory toward viability, Croy recognizes as much. "As a startup [entrepreneur], your success depends on that network of advisors and mentors," Croy said.
Dooley added that such advice is "critical for the university long-term" because it aids faculty members—already proficient at the art of discovery—with the next step of moving intellectual property into the commercial pipeline.
A thriving ecosystem
The years of steady progress in the region are bearing fruit. Smoot and Dooley agreed that one measure of success is that they're coming across more and more initiatives that bear no university influence. "There is a growing awareness of opportunity," said Dooley of the region's economic climate.
As for TechPad, 20-plus startups have circulated through its doors since it opened. Two businesses have graduated to a nationally known incubator program, while a third, Heyo (formerly Lujure Media, which Summers advises) just raised $500,000 in venture capital.
To be sure, the region's climate is ripe for entrepreneurs. "I've been really surprised by the number of students and faculty entrepreneurs [who] are here and are ready to get started," Summers said. "There is significant opportunity to grow our entrepreneurial ecosystem, more so than I thought five years ago, and that's a surprise to have that [finding] validated."