The power of the printed world
If you haven't yet heard about 3-D printing, you soon will. Stories that have covered the process, known inside the industry as additive manufacturing, typically focus on folks at home in front of a souped-up version of an ink-jet printer kicking out replacement parts for a broken valve cap or a homemade Jedi trinket for their fourth-grader obsessed with "Star Wars." There's even been talk of 3-D printed guns, both pro and con.
In Assistant Professor of Engineering Christopher Williams' DREAMS laboratory—an acronym for Design, Research, and Education for Additive Manufacturing Systems—Hokie researchers are looking well beyond just the fizz in the soda. In fact, many believe that 3-D printing will revolutionize manufacturing, medicine, and the marketplace. Williams' lab is helping to lead the charge.
On the drawing board and inside several of the 3-D printing processors, which range from the size of a coffee maker to a Honda Fit, are plans for bendable wings that could upend the way that small, unmanned aircraft are designed and built. And a 3-D printed sponge-like scaffolding implant made of dissolvable material could quicken the recovery of anyone with a shattered bone.
Read the full story in the summer edition of Research magazine »
---
From 'Fourth Class' to top class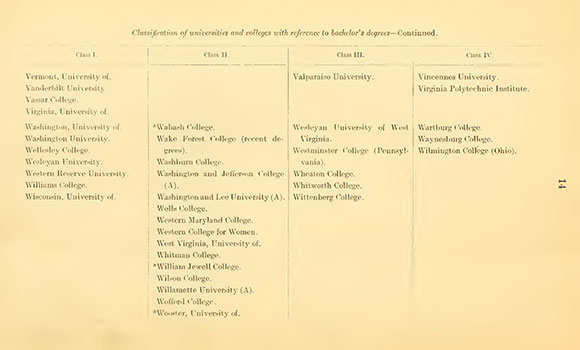 A 1911 report from the U.S. Bureau of Education didn't look kindly on the performance of a certain school in Blacksburg. Courtesy of the Internet Archive.
While Virginia Tech continues to accumulate accolades, evidence that our beloved university hasn't always been so highly regarded has resurfaced. An Aug. 6 blog entry from The Chronicle of Higher Education recaps a national report, originally released by the U.S. Bureau of Education in 1911, ranking the country's colleges in four tiers.
Virginia Polytechnic Institute—today's Virginia Tech—was unceremoniously proclaimed a "Fourth Class" college, sharing the bottom rung with such institutions as Alabama Polytechnic Institute, Georgia School of Technology, Kansas State Agricultural College, and Texas Agricultural and Mechanical College.
What a difference a century makes.
In July, Virginia Tech was named among the country's top 50 colleges and 25 best public colleges on Money magazine's list of best colleges, and the university made its first appearance among the top 25 public colleges as ranked by Forbes.
On Money's list, Virginia Tech ranked 42nd among all institutions and tied for 12th among the 25 best public colleges. Overall, Virginia Tech received a value grade of A- and a ranking score of 3.62 on a 4.0 scale. To build its list, the magazine assessed some 1,500 four-year colleges and universities in the U.S., ultimately ranking 665 schools.
For the first time, Forbes added Virginia Tech to its annual ranking of the top 25 best public colleges, placing the university 23rd among public institutions and 117th among 650 national schools. Among the top 25 public colleges, which represent 16 states, three Virginia colleges appear.
The formula used for these most recent rankings placed high value on a college's "output," which includes graduation rates and graduates' success. While Money evaluated colleges based on educational quality, affordability, and outcomes, Forbes measured student satisfaction, post-graduate success, graduation rates, and academic success to compile its rankings.
Beyond this recognition of its outstanding academics, Virginia Tech routinely earns high marks for its overall campus experience, particularly its dining. Once again, the university was named No. 1 in Princeton Review's Best Campus Food rankings for 2015.
Administered by Dining Services, campus dining at Virginia Tech has placed in Princeton Review's top five best campus food spots for nine consecutive years, attaining the No. 1 designation in both 2010 and 2008. This year's top ranking was especially sweet: Virginia Tech dining was featured on the Aug. 5 broadcast of NBC's "Today" show.
Along with the No. 1 ranking for food, Virginia Tech was recognized as No. 2 for Town-Gown Relations Are Great, No. 3 for Their Students Love These Colleges, No. 5 for Happiest Students, and No. 5 for Best Quality of Life. These top rankings earned Virginia Tech a spot in Princeton Review's respected annual college guide, "The Best 379 Colleges."
"Fourth Class"? Not in our lifetimes.
---
European facility renamed for Steger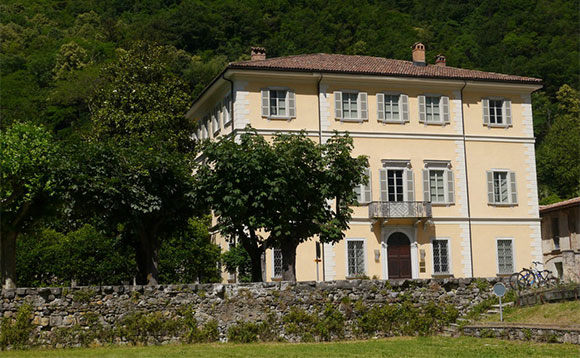 Photos by Larry Hincker
Virginia Tech's primary international facility, the Center for European Studies and Architecture, located in Riva San Vitale, Switzerland, has been renamed the Steger Center for International Scholarship in tribute to former Tech President Charles W. Steger's vision of broadening the university's global presence, a defining element of his tenure. More than $2.6 million in gifts made in Steger's honor by major donors to the university enabled the center's renovation and expansion.
"I was surprised, touched, and humbled to learn about this and am extremely honored," said Steger, who, while serving as dean of Virginia Tech's College of Architecture and Urban Studies, spearheaded efforts over several years to obtain approvals from the Swiss government for the Virginia Tech Foundation to buy the facility.
Steger, who also negotiated the purchase with the former owners of the property, said the success of the center's programs was largely due to its founding director, Olivio Ferrari, and his widow, Lucy Ferrari, who formerly oversaw programs at the Swiss facility.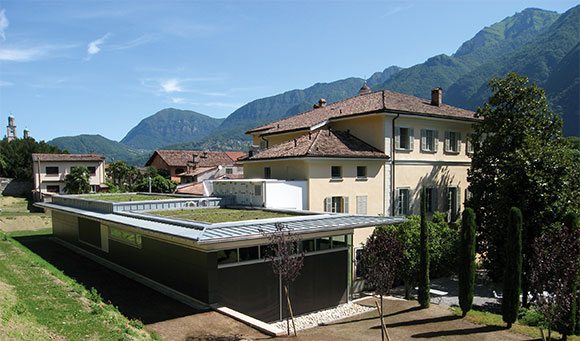 ---
It's opened ... and it's a beauty
Rolls-Royce, the global power systems company, donated a Trent 1000 jet engine to Virginia Tech for the university's new engineering building, Goodwin Hall.
The flagship building for the Virginia Tech College of Engineering—the newly renamed Goodwin Hall, formerly called the Signature Engineering Building—hosted its first classes in August.
The name change honors the philanthropy of Bill (mechanical engineering '62) and Alice Goodwin, whose donation—the largest single gift in university history—helped fund construction of the 155,000-square-foot, $95.2 million facility.
Situated on Price's Fork Road on the north side of campus, the Hokie Stone-clad building is home to 40 instructional and research labs, eight classrooms, an auditorium, and 150 offices for several engineering departments.
Intriguingly, Goodwin Hall also incorporates a groundbreaking experiment to measure even the smallest vibrations made inside the building. Spearheaded by Department of Mechanical Engineering faculty members Pablo Tarazaga and Mary Kasarda and their Smart Infrastructure Laboratory, the project is designed as a test bed to track data related to building design and security, occupancy monitoring for emergency response, structural health monitoring, and more.
Some 240 accelerometers attached to 136 sensor mounts throughout the building's ceilings detect information on where people are within the structure, measure normal structural settling and wind loads, and track building movement resulting from earthquakes—an event that last struck Virginia in 2011. A sensor array mounted outside the building will measure external vibrations, such as wind, traffic on nearby roads, the thunderous boom of the Skipper cannon, tens of thousands of Hokies celebrating a touchdown at Lane Stadium, and seismic activity.
Professors Pablo Tarazaga and Mary Kasarda discuss the test bed.
More readily visible within the building is an imposing Trent 1000 jet engine—the cleanest, quietest, lightest, and most fuel-efficient jet engine in aviation today—donated by Rolls-Royce, the global power-systems company. The engine, which hangs 15 feet above the lobby floor, was donated to inspire the next generation of engineers. Rolls-Royce also plans to outfit the lobby of the building with interactive kiosks containing information on engine design and advanced manufacturing to inform and excite students about careers in engineering.
The Goodwins, who initially made their gift anonymously, are charter members of the President's Circle of the Ut Prosim Society, the university's most prestigious donor recognition group. Bill Goodwin received the University Distinguished Achievement Award in 2005, one of the university's highest honors.
"The mechanical engineering degree I earned from Virginia Tech helped me, and I believe in giving back," said Bill Goodwin.
The building's official dedication will be held Oct. 24. Coverage of the event will appear in the winter 2014-15 edition of Virginia Tech Magazine.
---
Alumni-owned firm aiding campus navigation
The installation of a new campus navigation system—including building, interpretive, parking, street, trail, and other signs, along with information kiosks and banners—is under way on campus, thanks to the work of an alumni-owned firm.
Afton (horticulture '03) and Melissa Johnson (history '03), owners of WestView Companies, a contractor based in Oilville, Virginia, are responsible for building and installing the signage.
The project represents a tremendous upgrade for the campus's physical space. While the university's buildings and grounds receive high marks, visitors often complain about the difficulty of navigating campus. Those with mobility impairments report trouble finding accessible pathways and entrances to buildings. Even first responders have difficulty navigating campus.
"As beautiful as Virginia Tech is, it can be an intimidating place to navigate, especially for visitors and new students," said Frank Shushok Jr., senior associate vice president for student affairs. "This project is a major leap forward."
Said Jason Soileau, assistant vice president of university planning, "Over the next several years we will be making a major investment in our outdoor spaces that will match the effort we've made with the new and renovated buildings on campus. We plan to build better paths, install modern signage, upgrade the landscaping, and make other significant improvements. Our grounds will become a source of pride, just like our buildings."
---
Vision for Tech Center takes shape in Newport News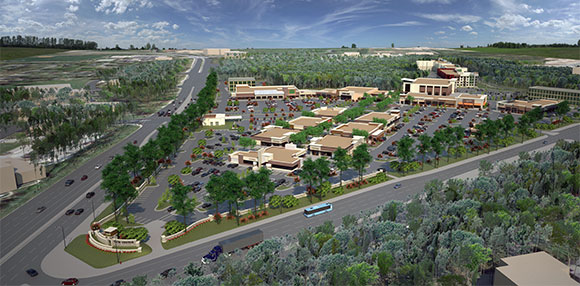 Renderings of Tech Center at Oyster Point foreshadow a dynamic development in Newport News, Virginia. Image courtesy of Tech Center.
Model a research park after the Virginia Tech Corporate Research Center (CRC).
Then add space to live, eat, shop, and exercise.
The result? The Tech Center at Oyster Point, a 100-acre, $250 million development including retail, residential, and commercial space and a technology and research center—all under construction in the heart of Newport News, Virginia.
Situated adjacent to Thomas Jefferson National Accelerator Facility, commonly called the Jefferson Lab, and within minutes of NASA's Langley Research Center, Tech Center is primed to become a hub of entrepreneurial innovation in Newport News. Tenants will find themselves in the epicenter of a booming, high-tech business community bent on creating jobs, improving lives, and strengthening the economy.
Tech Center is modeled after the CRC adjacent to Virginia Tech's Blacksburg campus. Home to some 150 companies and 2,700 employees and owned by the Virginia Tech Foundation, the CRC—named the 2010 Outstanding Research Park by the Association of University Research Parks—is a part of the university's innovation ecosystem, an environment that nurtures and commercializes ideas to benefit society.
Creating such an environment is the motivation for the Tech Center partnership, which includes Newport News-based developer W.M. Jordan Co. and its president and CEO, John Lawson, former rector of the Virginia Tech Board of Visitors; Georgia-based retail developer S. J. Collins Enterprises; Virginia Tech; and the City of Newport News.
The sprawling mixed-use campus will offer luxury apartments, easy access to walking, biking, and exercising facilities, and healthy food choices, such as a Whole Foods store. The first research building is slated for completion in late 2015.