PHILANTHROPY
Memory Lane
At the spring game in 2010, Scott "Ponch" Frank '00,'01 proposed to Mitzi Frank '97 in Lane Stadium.
During the 2010 spring football game, players on the maroon squad beat their teammates on the white side, 16-0.
Although the game was just a scrimmage, the biggest winner in Lane Stadium that day was arguably Scott Frank (civil engineering '00, M.S. '01).
While former standout players were being introduced at halftime, he pulled out an engagement ring, got down on one knee, and asked for his girlfriend's hand in marriage.
"Just as I [had] asked her to marry me and she said 'yes,' people started applauding for Michael Vick, but I told her it was for her, of course," said Frank, who goes by the nickname "Ponch."
His proposal came well after he and Mitzi Frank (psychology '97) had graduated, but the seeds of their relationship were planted long before, although the Franks never dated in college.
"I was the orientation leader and literally the first girl he met at registration," Mitzi Frank said.
Although they occasionally ran into each other on campus, it was not until 2007 that they would reconnect and begin their romance. Eventually, Mitzi Frank, who worked for Morgan Stanley in London, relocated to Florida, where Ponch Frank worked for a major highway contractor, Ranger Construction Industries Inc.
Residents of Jupiter, Florida, they are still with those companies. She is an executive director, specializing in emerging markets. He is vice president of operations.
Though the chance to join Morgan Stanley took her in another direction, Mitzi Frank said her experience working in the office of Virginia Tech's dean of students, taking graduate courses in higher education, and working abroad helped prepare her for the internationally focused career she now enjoys.
Along with the facts that she met her husband at Virginia Tech and has a brother who earned his degree there in 2010, her past experiences brought the university to the front of her mind when she and her husband were considering making a significant charitable donation.
After learning about some of the programs under way at the Graduate School, they established the Ponch and Mitzi Frank Graduate Fellowship, structuring the gift so that it will support a master's degree student in the College of Science in even-numbered years and a master's degree student in the College of Engineering in odd-numbered years.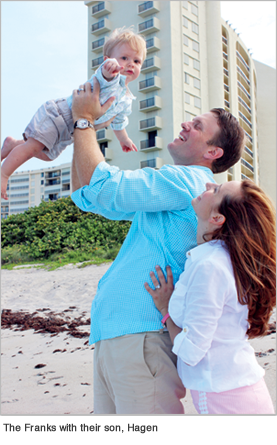 "Over the years we've both given to charities, but always felt like there was more we could do," Mitzi Frank said. "When we were approached by the Graduate School, it felt like both our [philanthropic] needs were being met. We could give to a place that was so influential to us and participate in a charity that felt natural."
Ponch Frank said one of his most memorable experiences at Virginia Tech was an engineering class taught by then-university President Paul Torgersen. While considering setting up a fellowship, he took into account something Torgersen once said.
"Dr. Torgersen said going from a top 100 to a top 50 university was a huge leap, but going from a top 50 to a top 20 was another huge leap," Ponch Frank said. "Things like having a medical school help toward that path, but you need a top graduate school too."
Graduate School Dean Karen DePauw said the Franks' generosity is deeply appreciated.
"Ponch and Mitzi's enthusiasm for their university is infectious and inspiring," she said. "I'm glad their undergraduate and graduate experiences made such an impression on them, and am extremely grateful that they've chosen to give back by creating a fellowship that will help us recruit extraordinary graduate students in science and engineering."
Ponch Frank said that back when he was a student, he would look for opportunities to stay in Blacksburg even when class was not in session. He participated in student government and was the male member-at- large for the Class of 2000. He was in the German Club. And, like his wife-to-be, he served as an orientation leader.
Mitzi Frank said that as someone who has lived in various locations for work, being a Hokie helped her to meet many people, make friends, and feel at home even when she was far from members of her immediate family.
Now that she has a family of her own, with a 1-year-old son she hopes will attend Virginia Tech in the future, she continues to find ways to feel connected to her university despite living far away.
One of those ways is by giving back to create a fellowship. Another is by getting back to Blacksburg when she can. And an additional opportunity came up when she and her husband got a chocolate Labrador several years ago. They named her "Lane," in honor of the stadium, of course.
Albert Raboteau is the director of development communications.