ALUMNI SHORTS
Alumnus guides Mars rover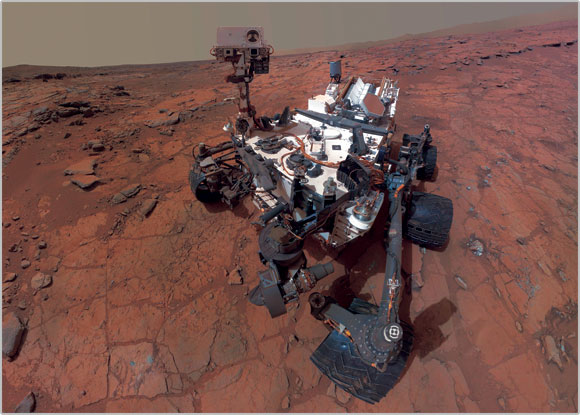 The Mars rover was guided by alumnus Dave Lavery '81.
Like many who grew up in the dawn of space exploration, Dave Lavery always wanted to be an astronaut. Despite challenges that didn't allow him to go into space, he never let his childhood dream die.
"I found out my eyesight was so bad that I was never going to be able to qualify," said Lavery. "So I figured that if I can't go myself, then I'm going to work on the machines that can go into space and let them be my proxies."
Lavery (computer science '81) began working in NASA's Telerobotics Research Technology Program, which led to involvement on flight missions and flying robots in space. Now a NASA program executive for solar system exploration, Lavery leads the ongoing Curiosity rover mission on Mars.
The rover landed in August 2012, and soon completed its objective: finding evidence that the planet once had an environment that could have supported life. The rover located the likely site of an ancient riverbed where water had flowed for a long period of time.
These findings have rewritten the textbooks on Mars and earned Lavery and his Mars Science Laboratory Team the prestigious 2013 Samuel J. Heyman Service to America Science and Environment Medal. Lavery accepted the award, presented by President Barack Obama, on behalf of the team in October 2013.
"It was a huge effort with over 6,000 people involved," Lavery said. "We knew, in our community, that this was important ... but to have the government and the rest of the country recognize that as well was an enormous validation of what we were doing."
Lavery is looking forward to Curiosity's future discoveries on the red planet. Staying inspired is easy, he said. "It gives you a rush every single day when you realize that we are actively exploring someplace that is a few hundred million miles away through the eyes of a robot. Just being able to do that and, most importantly, being able to share that with everyone in the world is an honestly gratifying thing to be able to do."
Madeleine Gordon, a senior majoring in English and communication, was a Virginia Tech Magazine intern.
---
Hokies develop SEALs sub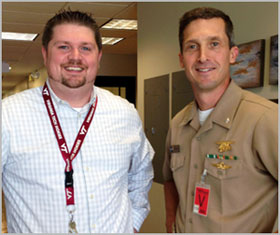 Charles Gilmer '00 and Cmdr. Craig Short '92 met while designing a next-generation submersible.
After almost 30 years as a Navy SEAL and two decades in the reserves, Cmdr. Craig Short (M.B.A. '92) was called upon to return to active duty: as the commanding officer of a special warfare unit supporting a project to develop the most technologically advanced submersible the world has seen for the next generation of Navy SEALs.
The Navy awarded Teledyne Brown Engineering (TBE) Inc., located in Huntsville, Alabama, the contract to design the Shallow Water Combat Submersible (SWCS). The first prototype is due to be delivered by year's end.
While attending a design review presentation at TBE, Short spotted a fleck of maroon and orange. The presenter wore a Hokie lanyard—and spoke with a familiar country twang.
The presenter was Charles Gilmer (mechanical engineering '00), a TBE engineer focused on the sub's system weight and balance. The two Hokies were surprised to learn that they had grown up just 13 miles apart in a small Southwest Virginia community in Scott County.
Although a few decades separate Short and Gilmer, they found they shared many friends and similar childhood experiences. Both were able to break the mold of the "small-town mentality" by pursuing higher education and working their way up to projects like the SWCS.
"People (in small towns) are sometimes told, 'You're just a country bumpkin and not as smart as other people in cities,'" Short said. "But there is nothing special about myself or Charles: We just stepped out and went into a different world."
The reunion of the two Hokies quickly turned into pride for their origins and accomplishments. "It makes me proud of where we come from. We're just two country boys," Gilmer said.
Short hopes that their story will inspire others in small communities. "It's neat when somebody comes out of that community and [knows] that they are a part of something bigger, and [it's important] that we communicate that back," Short said. "It's important, primarily for me, for the kids to realize, 'You know what? There is a whole world out there, and the things you can do [are incredible] if you believe in yourself.'"
Madeleine Gordon, a senior majoring in English and communication, was a Virginia Tech Magazine intern.
---
Reforming language instruction in Japan
Many Americans spend a couple of years in martial arts classes before moving on to other hobbies, but for Matthew Cook (human nutrition, foods, and exercise '02), the hobby became a lifelong pursuit that ultimately led him to become the first foreigner in Japanese history to work as a government civil servant.
After graduation, Cook, who was born in New Jersey but grew up in Danville, Virginia, took over his former grandmaster's dojo in Charlotte, North Carolina. He discovered a love of teaching and decided that to truly understand martial arts, he must travel to Japan. He found that opportunity through the Japan Exchange and Teaching program, which placed him in a classroom in a socioeconomically disadvantaged area in the Osaka prefecture.
After a year, he moved to another school, where the administrator gave him more freedom to teach classes and use technology the way he saw fit. Cook soon was chosen as a member of the Osaka prefecture's project team to reform English language instruction. (Cook since has been elected as chairman of the National Association for Japan Exchange and Teaching.)
Today, he works to reform the teaching of English in the Osaka prefecture, which includes roughly 1 million students. It's the second-most populous district in Japan; the only U.S. school system comparable in size is New York City.
"The failure of Japanese education in the past has been this focus on treating foreign language as a math or science—something that can be figured out," Cook said. "The entire test is based on a little bit of listening and mostly reading comprehension. There's no spoken or written output, much less an integrated test."
He's worked to change that in Osaka through a shift in instruction techniques as well as a pilot project involving the use of iPad technology. In doing so, Cook hopes to prepare Japan's students for an economy that transcends borders and languages.
"In a global society, the students need to be able to interact via email or Skype calls," Cook said. "This is going to benefit anyone, even if they are in Japan and never meet face to face with another foreigner."