PHILANTHROPY
The Campaign for Virginia Tech: One tough act to follow

by Terry McGuire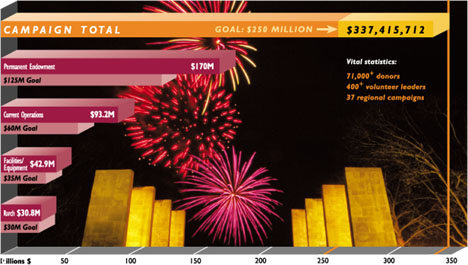 Some numerical highs--seemingly unattainable--that leave us shaking our heads in amazement: Cal Ripken playing in more than 2,600 consecutive major league games; Bill Gates having a net worth of $43 billion; General Electric reaching a market value of $300 billion.
But closer to home--how about the final results racked up by the Campaign for Virginia Tech? However you crunch the numbers, the campaign's six-year performance was pretty amazing. From July 1, 1992 to June 30, 1998, the campaign, which at $250 million carried the largest fund-raising goal in university history, raised $337,415,712. It works out to a bottom line that's 35 percent over goal.
And that's only part of the good-news story, the details of which should bring a smile to the face of every Virginia Tech supporter. More than 71,000 donors contributed to the campaign. More than 400 volunteer leaders were actively involved in every facet of its operation, from the 36-member campaign steering committee and major subcommittees to the 50 chairmen and chairwomen of the 37 regional campaigns. Some 4,000 supporters--young and senior alumni, friends, parents, and students--attended the regional fund-raising events, while President Paul Torgersen and other university administrators joined with deans and development directors to make more than 3,000 personal visits to gain campaign support.
For Clifton Garvin '43, co-chairman of the campaign, the ambitious initiative was a grass-roots effort from beginning to end. "At the very outset, we knew we had to engage as many people as possible," he says. "We needed their financial commitments as well as their willingness to expend time and energy to make the campaign a success. So I can't say enough about the thousands of individuals who responded so generously and who immediately understood just how important this endeavor was to the future of Virginia Tech, its students, its faculty, and its programs."
This widespread response lifted the campaign beyond a number of other important benchmarks. In fact, virtually every dollar target established in the planning stage was exceeded by a considerable margin. Permanent endowment, an area accorded one half of the overall goal, reached $170.6 million, bettering the $125-million goal by more than 36 percent. Support for facilities and equipment went over its ascribed $35-million target by 23 percent, attracting $42.9 million in donor funding. A portion of that funding has already been put to good use on campus, with gift income financing the building of the 40,000 square-foot Merryman Athletic Center and helping defray the construction cost of the Advanced Communications and Information Technology Center. And current operations--so critical to the daily workings of an institution serving 25,000 students and with a faculty and staff that numbers 6,000--closed the campaign at $91.7 million, topping the category's goal of $30 million by nearly 53 percent.
A winner at every level
Go down another level in the campaign report, and the financial picture remains just as bright. Under permanent endowment, donations for student support, faculty support and unrestricted endowment all surpassed their objectives. Endowment funds for students--keyed by a $3.5 million commitment from the campaign's honorary co-chairs Robert Pamplin Sr. '33 and Robert Pamplin Jr. '64 that established the Pamplin Scholars Program for top students throughout Virginia--stood at $97.6 million, climbing 63 percent over the goal of $60 million. Endowed support for faculty went over its goal with $25.3 million in gifts and commitments, while the total for unrestricted endowment nearly doubled the planned target of $10 million, coming in at $19.6 million.
The campaign's unqualified success is particularly welcomed by President Torgersen, who remembers a time when some were less than optimistic about reaching $250 million. "The campaign consultants saw it as a real stretch for Virginia Tech," he points out. "But our alumni have always risen to such challenges. It's why so many of them have done so well in both their personal and professional lives. Many regard Virginia Tech as a major contributor to their success. I knew they'd reciprocate by contributing back to the university."
Torgersen also recognized that his direct involvement was absolutely essential. From the moment he assumed the office of president in December of 1993, he made the campaign one of his top priorities. Over the next five years, he traveled extensively in his capacity as the university's highest level fund raiser, attending all 37 regional kickoff events and visiting potential donors whenever he was asked.
The ripple effect
Like a rising tide that carries all ships, the campaign has produced a jump in other philanthropic indices within the university.
One telling index is the annual level of private giving, which has risen steadily during the campaign's lifetime. In three of the past six years, income from the private sector has set high-water marks for donations, culminating in a record $48.9 million in 1997-98.
Charles Steger '69, vice president for development and university relations, notes that one result of the campaign will be a continued increase in private giving after the campaign is over. "We went into the campaign raising $25 million a year and will come out of this endeavor having raised $48.9 million in fiscal year 1997-98," he says. "This successful campaign was critical to the future of Virginia Tech. In order to sustain our programs, we must continue to expand our efforts at securing private support. Virginia Tech cannot afford to stand still."
The ripple effect can also be seen at various levels of giving. At the top, membership in the Ut Prosim Society has surged from 209 in 1992 to 470 in 1998. The 125-percent rise in the society's roles underlines the increasing support of the universityÕs most generous donors. Similarly, the success of the Pylon Society and the Senior Challenge--two relatively new annual giving programs geared to younger and soon-to-be alumni--can be directly traced to the campaign's momentum. Both have experienced increases in participation rates and total dollars pledged since their introductions in 1996 and 1995, respectively.
The Campaign for Virginia Tech. It's been an unbelievable six years. Just check the numbers.
Terry McGuire is development communications manager for Virginia Tech.
Back to Contents

Home | News | Features | Research | Philanthropy | President's Message | Athletics | Alumni | Classnotes | Editor's Page