A MESSAGE FROM THE PRESIDENT
YOU MADE A DIFFERENCE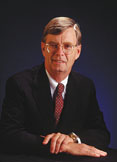 Six years ago (though it seems like yesterday), we began a venture. Today the most ambitious fund-raising campaign in university history has been a resounding success. Thank you, Virginia Tech alumni, for stepping up to the plate admirably with your generous support. Together we are changing both the face and future of our university.
While we revel now in numbers--more than $336 million raised in six years--the success of this campaign was not always assured. In August of 1993, both our consultant and our campaign leadership had reservations about a goal of $250 million. The campaign, along with enhanced legislative support, has been my highest priority, under the direction of the board of visitors, since I was appointed to the presidency on Oct. 1 of that year, and I knew, more so than the consultants, of the high regard in which Tech is held across the commonwealth.
I knew that we had alumni who would be willing to express their appreciation for the education they had received. Many of our graduates attribute their professional and personal success to the head start afforded by a Virginia Tech degree. It's not surprising that you could express your gratitude during this campaign.
Thousands of alumni participated with generous financial contributions; many hundreds labored in leadership positions. I will identify one: Cliff Garvin '44 was rector of the board of visitors when I was asked to serve as president. He also played a major role in the success of this campaign and in assuring a promising future for this university.
From the moment he agreed to serve as campaign co-chair, Cliff was unequivocal in his commitment to the campaign's success. He chaired virtually every meeting of the campaign steering committee. He was an active member of the Corporation and Foundation Major Gifts Committee, providing committee members and others with entree to top management within a number of companies. And when asked, Cliff personally visited potential corporate supporters on behalf of the university. Most important, his sage counsel was an invaluable commodity throughout the campaign.
By any measure, Cliff Garvin is a remarkable individual. During the campaign, Dot and I visited him and Thelma at their home in Loxahatchee, Fla. That Sunday we unintentionally managed to block their garage with our rental car when its ignition froze. I learned two things that afternoon: a chemical engineer is not a locksmith, but a retired chairman of Exxon can command prompt service from a rental car agency, even on a Sunday. They had the car replaced before the sun went down.
In addition to Cliff, I want to pay tribute to one of us in the university administration. When some were concerned about the size of the goal and the relatively short timeline, a strategist, global thinker, and expert manager emerged from within our ranks. Charles Steger '69 assumed the campaign leadership mantle early on with his appointment as vice president for development and university relations. He recruited the volunteer leadership. He focused the larger team, both professionals and volunteers, on objectives and strategic university priorities. He kept us all--hundreds and hundreds of volunteers and staff--moving in the right direction. He, more so than any other among us all, made this dream a reality.
In the end, a fund-raising campaign reveals to all of us our shared values; it sheds light on countless opportunities; it instills within us a heightened sense of community. More imortantly, it reminds us again that knowledge and learning are the sine qua nons of the human condition--that the power of knowledge enables us to address the problems of our times and that the acquistion of knowledge elevates the human spirit. And having been reminded, we understand once more the special place that the land-grant university holds in America.
Your generosity is a profound statement which, I knew would come to pass five years ago when I began this venture as Tech's 14th president. We can look to the future with optimism, because you have made a difference.
Home | News | Features | Research | Philanthropy | President's Message | Athletics | Alumni | Classnotes | Editor's Page