Southwest Virginia residents have probably seen Karen McNew's (communication studies '96) health reports on Newschannel 10, Roanoke's NBC affiliate. In addition to anchoring several nightly newscasts, McNew heads Health Team 10, a regular segment that covers topics ranging from meningitis on college campuses to the latest in breast cancer research.
In recognition of her efforts to raise awareness about the health issues that directly affect local citizens, McNew recently won the Jaque L. Minnotte Health Reporting Fellowship from the Radio and Television News Directors Foundation.
"To be recognized for the work you do is rewarding, but more rewarding is the feedback I get from people who benefit from the stories I do," she says. One of her recent medical reports, for example, told the story of a local woman with a case of melanoma so severe it had actually spread to her brain. "She wanted to talk to me so that people would try to make sure they caught any melanomas before it was too late. She died a short time later," McNew says.
McNew's latest health reports are included online at the station's web site, www.wsls.com.
Back to TOP
Alumnus helps advance fight against cancer

When the American Cancer Society (ACS) was founded in the early 1900s, peopleincluding the medical communitysimply did not talk about cancer. After nearly a century of raising public awareness, providing services for cancer patients and their families, lobbying for legislative change, and researching causes and cures, the ACS has greatly advanced its mission of cancer control.
Given its extensive list of accomplishments (available at www.cancer.org), success might seem easy to measure. Nevertheless, the ACS decided six years ago to establish a formal evaluation program "as a way of providing accountability to donors and the public as well as providing information that would be useful to improve ACS services to cancer patients and their families," said Dr. Don Compton (M.S. sociology '76), founder and director of ACS evaluation services.
In November 2000, Compton received two prestigious awards for his innovative approach to evaluation: the Making the World a Better Place Award from the Hamline University College of Liberal Arts Alumni Association (St. Paul, Minn.) and the American Evaluation Association Alva and Gunnar Myrdal Award for Cumulative Contributions to Evaluation Practice.
Compton developed a nationwide program that joins 20 universities (including Virginia Tech) with ACS offices to conduct practical, useful evaluations of programs. During the program's first four years, more than 100 public health graduate students have conducted evaluations under faculty supervision. This significantly cuts the cost of evaluation for ACS, while the students earn invaluable real-world training. In addition to honoring this program specifically, both awards recognize Compton's contributions to the organization's ultimate goal of combating cancer.
Back to TOP
Inaugural commemorative medal produced by Tech alumnus

Charles H. Forbes IV (business '80) achieved a significant milestone when his company, C. Forbes, Inc., was chosen by the 2001 Presidential Inaugural Committee to produce the official George W. Bush Inaugural Medallion. Forbes commissioned a sculptor to create a portrait of the 43rd president, which was then hand-cut into a die-struck medal. The commemorative medal was selected after it received ultimate approval from then President-elect Bush himself.
"It is an honor anytime you can be associated with such a prestigious event," says Forbes. The medallion is the centerpiece of a promotional campaign designed by Forbes for the Bush inaugural and is just one of a number of items produced. Forbes has overseen similar programs for the 50th anniversaries of the Korean War, the Central Intelligence Agency, and NATO. The company has also produced a merchandising catalog for the Republican National Committee for eight years.
Forbes enjoys working on commemorative events, and he already has his eye on the next possibility: "Hopefully a medal commemorating Virginia Tech's first national championship in football," he says.
The committee will use the Bush commemorative medallion as gifts and awards, and a limited number will be offered for sale to the general public. The medallion and other promotional items produced by C. Forbes, Inc. are available through the Republican National Committee website, in the GOP Store section, at www.rnc.org.
Back to TOP
Breakthrough engineering earns alumnus prestigious appointment

Procter & Gamble brands (P&G)from Pampers to Crest have long endured with American consumers, and Andrew J. Wnuk (Ph.D. materials engineering science '79) helped contribute to the success of these products as well as others. In the mid '80s, for example, he and a colleague invented a process for fabricating composite papermaking belts on which Bounty, Puffs, and Charmin paper products are now formed and dried. "The belt allowed our Paper Division to engineer the absorbency and strength of their products to a degree we couldn't attain before," Wnuk explains.
In recognition of these and other contributions during his 21-year career with P&G, Wnuk was recently appointed a Research Fellow in P&G's prestigious Victor Mills Society. Since joining the company in 1979, he has been named inventor or co-inventor on 19 patents, with more pending, spanning a wide range of product, process, and material developments.
Wnuk credits these accomplishments to the technical mastery he gained while studying for his Ph.D. at Tech. "The ability to work across many diverse technologies and products is a direct result of the training and mentoring I received," he says. He has also played a major role in building P&G's polymer science capabilities and the recruiting and training of younger employees. He remains active at Tech, serving as an interviewer for Ph.D. polymer chemists and engineers, attending technical meetings, and recently helping to secure a P&G graduate fellowship for Tech's nationally recognized polymer program.
Back to TOP
Alumna helps businesses go from broke to booming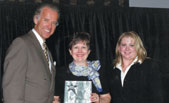 Whether the dream is starting a restaurant or opening a Montessori school, every successful entrepreneur needs financial backing to make a good idea work. As a business analyst with the Delaware Small Business Development Center, Margo Reign (public administration '78; M.B.A.'79) takes part in this process by connecting people with the capital they need to establish or grow their enterprises. Reign's work in the community was recognized in May 2000 when she was named Financial Services Advocate of the Year by the Delaware District of the U.S. Small Business Administration.
Reign joined the Delaware Small Business Development Center in 1997 after a career in banking. In a nomination letter for the award, a colleague describes Reign as "a champion of small business" for her efforts to expand access to financial services for clients. Reign helps businesses understand the loan application process from the lender's perspective and develop competitive loan packages. She offers regular workshops, promotes awareness of SBDC services in the community, and provides individual consultation.
"I never expected it to be as gratifying as it is," she says of her work. "I've had people come to my office in tears wondering how to save their business, and I've been able to help them turn it around. The general appreciation and gratitude of the people I work with is a reward that's so beyond monetary value, it's amazing."
Reign was president of her local alumni chapter in 1997-97 and has served as its secretary for the past three years.
Back to TOP
Businesswoman obsessed with everything VT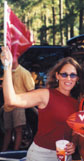 North Carolina resident Kristy Bellingham (communication studies '86) describes herself as someone who is obsessed with football and obsessed with Hokies. "Everyone who knows me or has done business with me knows that I am a Hokie," she laughs. When she launched a corporate identity program for the executive recruiting firm she founded last January, she didn't have to think twice about the colors.
Bellingham's company, POP (Power of Placement) Resources, specializes in staffing high-tech businesses in the Research Triangle Park, known as the Silicon Valley of the East Coast. "This area is full of high-tech, fast-growth start-ups. My company puts recruiters on-site we're like a guerilla recruiting team. We go in for 6 to 12 months, staff them up, then move on to the next one."
If Bellingham sounds like a coach when she talks about her work, it's no accident. She finds her love of the game has helped her create a niche in the business world. "For me, sports and football are a great way to bridge the gap in a male-dominated field."
Bellingham's company, as well as her Hokie obsession, recently got some local news play when she was featured in a series on businesswomen and technology. When the news production team visited her home, she made sure they got good shots of her computer's rotating Virginia Tech screensaver and the VT flag that hangs on the front of her house.
Back to TOP