Career building by Juliet Crichton
A letterman in baseball, basketball, and cross country at Drewry Mason High School in rural Ridgeway, Va., and later, a walk-on member of the Virginia Tech baseball team, Dale Koger (building construction '77) has always loved sports.
The son of a construction superintendent, Koger also liked building things. "My father often invited me as a youngster to go with him to job sites. The large equipment and ever-present danger kept luring me back. When I became a teenager, my father gave me opportunities to get involved in the work and to actually learn the various tradesman skills. From that point on, I was hooked."
For nearly 30 years, Koger has put his self-professed passions to work, achieving major-league results--literally. As vice president and general manager of Turner Construction Company's Sports Group, overseeing the preconstruction services and construction operations of major sports facility projects across the country, he has become one of the industry's key players.
Last May, Koger was ranked seventh on SportsBusiness Journal's inaugural list of the "20 Most Influential People in Sports Stadium Design, Architecture and Development," a list that he says is "comprised primarily of practicing sports venue architects and executives from major league franchises who have developed new stadiums for their teams." He was the highest-ranked construction management executive included on the list.
Needless to say, Koger has overseen his share of big-time projects, among them such recognizable sports venues as Lincoln Financial Field, home to the Philadelphia Eagles; Invesco Field at Mile High, home to the Denver Broncos; Qwest Field, home to the Seattle Seahawks; Colorado Rapids Stadium, home to Denver's Major League Soccer team; and--closer to every Hokie's heart--Lane Stadium, which is undergoing an expansion on the west side to incorporate 1,600 new seats, 30 new suites, elevator towers, and a new press box.
"Of course, my favorite current project," Koger says, "is the expansion of Lane Stadium. As the reigning ACC champions, Tech, as well as the construction project, has created a buzz throughout the conference. All eyes are on Tech—and on Turner—as we come down the stretch to complete the expansion work prior to the Hokies' first home game on Sept. 17, 2005."
Based on his track record, Koger is more than accustomed to the scrutiny. He began his career in the pre-engineered metal building industry, making stops in Ohio, Kentucky, North Carolina, Texas, and Washington, D.C., before landing in Maryland at OMNI Construction Inc. in 1987. When OMNI became Clark Construction Group in a 1996 merger, Koger was selected to launch the group's national sports facility construction division.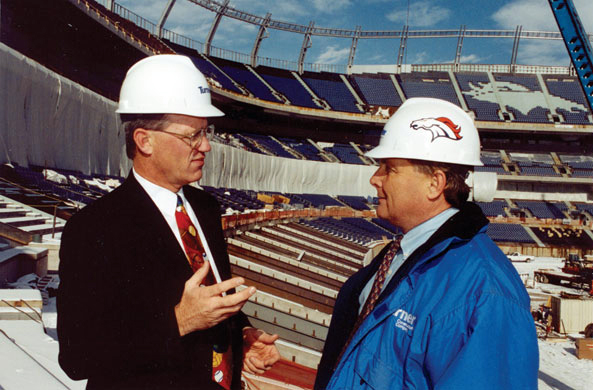 During his tenure as vice president of Clark Sports, Koger administered such high-profile projects as the 2002 World Cup Stadium in Seoul, Korea; the MCI Center in Washington, D.C., home to the Wizards, the Mystics, the Capitols, and the Georgetown Hoyas; the Washington Redskins' FedEx Field; the San Diego Padres' Petco Park; the Milwaukee Brewers' Miller Park; and the Indian Wells Tennis Garden, the site of the world's sixth largest tennis tournament, the Pacific Life Open.
In light of his extensive accomplishments with Clark, Koger was handpicked in a 2002 national search to start up Turner's Sports Group in Arlington, Va. Since its inception, the group has grown from just two employees to more than 5,000 in 44 satellite offices across the U.S.
Though clearly a gifted, and perhaps destined, construction executive, Koger says that he initially enrolled at Tech in the architectural curriculum. "It became apparent to me very quickly that I was probably not meant to earn a living behind a drafting table," he admits. "Although I made it through my freshman year, I did a lot of soul-searching about what I really wanted to be 'when I grew up.' I gravitated back to the only profession I knew anything about and transferred into the building construction program to begin my sophomore classes. As it turns out, I think it was the correct choice for me."
Correct choice, indeed. With Koger at the helm, Turner--which had never ranked higher than second on Engineering News Record's (ENR) annual list of the largest U.S. sports facility builders--has been named ENR's largest sports builder in three of the last four years. "Having started the sports group with only one staff member," Koger remarks, "I am still amazed at what we have accomplished in a relatively short time."
And that remarkable pace just keeps accelerating. To wit: from Aug. 30 to Sept. 29, 2003, Turner's Sports Group completed nine stadium projects--four NFL stadiums and five collegiate football stadium expansions--totaling more than $1.5 billion in cumulative contract value, a feat that industry experts say is unlikely to be repeated.
Not surprisingly, a number of projects are on Koger's horizon, including new ballparks for the Florida Marlins, Washington Nationals, and New York Yankees; new stadiums for the New York Jets and New York Giants; new arenas for the New Jersey Nets and the University of Toledo; football stadium expansions at the University of Maryland, North Carolina State University, and the University of Michigan; and a new cricket stadium in Port-au-Spain, Trinidad.
Despite his hectic schedule, Koger, who lives in Ashburn, Va., with his wife and two teenagers, still manages to nurture his passion for sports, coaching youth baseball and basketball and playing golf and baseball (in the men's senior league). "One of my most treasured recreational experiences was participating in the St. Louis Cardinals' 2002 Legends Camp at their Spring Training Complex in Jupiter, Fla.," he confesses. "To be in the same clubhouse and on the field for an entire week with two dozen former major league ballplayers such as Lou Brock, Red Schoendienst, Enos Slaughter, Jack Clark, and Al Hrabosky was an experience of a lifetime."
To learn more about Turner Construction Company's Sports Group, go to http://www.turnerconstruction.com/sports.