A lot has changed in the 135 years since the first dozen graduates of Virginia Tech--then Virginia Agricultural and Mechanical College (VAMC)--established the university's first Alumni Association in 1875. Thankfully, they understood that even a small college needed their moral support and advocacy. There was no Hokie Stone, no orange and maroon, no Ut Prosim motto, no football team, and no class ring to bind them. But there were important friendships with students and faculty and a fondness for the little town of Blacksburg that had been part of their lives during those past few years.
The students felt a sense of obligation to represent their school admirably and to make sure it continued to attract others to share the experiences that had shaped them. They understood that other colleges had alumni associations, and they knew that VAMC still needed them after they left the campus and town. And so, a new alumni association was born. Little did they know that they were creating an entity that would have a profound impact on their college and give rise to activities and fundraising that would help shape the school's future. Now, 135 years later, we thank those first 12 who carved an important tradition in the foundation of what would become the Virginia Tech we know today.
Just over 50 years after the beginning of VAMC, the first woman joined the alumni ranks, followed soon thereafter by four more. That, too, was an important milestone. Today, men and women from diverse cultural and ethnic backgrounds comprise the alumni family, which, in 2007, first broke through the 200,000 mark of living alumni.
This loyal family continues to shape Virginia Tech in numerous ways. Certainly, alumni are committed through their philanthropic support, but they also advance Tech's spirit, mission, and quality.
In 2010, we pause to observe an anniversary that marks the many contributions made by the members and leaders of the Alumni Association for these past 135 years. You may read more about the achievements and impact of the association in the following timeline and article.
Many alumni have left their own marks on Virginia Tech's path to greatness since those earliest days in the 1870s. But perhaps the greatest was made by those first 12 alumni, who believed that it was essential to create an association that would always serve and watch over their alma mater.


Tom Tillar '69, Vice President for Alumni Relations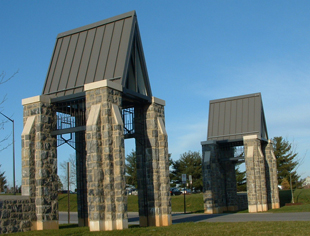 Alumni Gateway of the Holtzman Alumni Center, erected in 2005, a stylized version of the original 1913 gateway pictured above in header.