ALUMNI ASSOCIATION NEWS
Foxhunt raises funds for equestrian program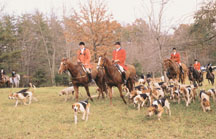 More than 50 Virginia Tech alumni and students turned out Nov. 23 for a Virginia Tech Day fox hunt in Culpeper County, Va., organized by Julie Gentleman Williamson '83 and her husband Bob Williamson '81 on the estate of Joe Kincheloe '65. The hunt, which raised $1,400 for the Virginia Tech equestrian program, served as a new event for the Piedmont chapter.
---
Back to Contents
---
New alumni chapter coordinator in Richmond
Kelly Carter Fisher (food science '90, M.S., MBA) has been appointed to serve as alumni chapter coordinator, based in Richmond. Her part-time position will involve work with Tech alumni chapters in central Virginia -- Charlottesville, Commonwealth, Eastern Shore, Williamsburg, Emporia, Peanut, Peninsula, Richmond, Tidewater, and Tri-Cities. Her telephone number is (804) 786-8111.
---
Back to Contents
---
Outstanding Young Alumni named
For 1997-98, the Alumni Association sponsored the selection of an outstanding young alumnus or alumna from each college. They are: College of Agriculture and Life Sciences, Jane E. Campbell '87, Norfolk, Va.; College of Architecture, B. Keith Fulton '89, New York, N.Y.; College of Arts and Sciences, Allen T. Wilson '88, Roanoke, Va.; College of Engineering, Charles Blankenship, Jr. '88, Cincinnati, Ohio; College of Forestry and Wildlife Resources, E. Austin Short III '89, Dover, Del.; Pamplin College of Business, Todd W. Clegg '87, Rockville, Md.; Virginia-Maryland Regional College of Veterinary Medicine, Lauren A. Sweet '93, Chicago, Ill.; College of Human Resources and Education, Elizabeth W. Witt '87, Stuart, Va.
---
Back to Contents
---
Summer Around the Drillfield slated for June 24-28
It's not too late to register for the ninth annual Summer Around the Drillfield family vacation on campus. Events include hiking, biking, faculty presentations, recreational outings, whitewater rafting, evening entertainment, children's activities, and more.
The registration fee cost for four days of activities is $250 for adults and $230 for children under 18, with $30 extra for an optional early arrival date of June 23. The fee includes lodging, meals, and most activities. Lodging will be in air-conditioned Payne Hall. For more information, please call the Alumni Office at (540) 231-6285.
A deposit of $50 per person will reserve space for you and your family. Please return the form below by May 1 to: Summer Around the Drillfield, Alumni Hall, Blacksburg, VA 24061.
---
Back to Contents
---
Football and reunion schedule
Sept. 5 - East Carolina
Sept. 26 - Pittsburgh
Reunions for Classes of
'58, '78, '83, '88, and '93 and
College of Forestry Open House
Oct. 17 - Temple (Homecoming)
Reunions for Classes of
'48, '63, '68, and '73 and
Colleges of Human Resources and Education and Arts and Sciences
Ag Homecoming
Oct. 31 - West Virginia
Class of '53 and MBA reunions
Nov. 21 - Rutgers
Corps of Cadets alumni reunion
Nov. 28 - Virginia
This schedule may be subject to change.
EVENTS
Theatre Arts-University Theatre 30th Anniversary Reunion
April 10-11
Old Guard Reunion
May 14-15
New Chapter Officer Training
May 15-16
Summer Around the Drillfield
June 24-28
Home | News | Features | Research | Philanthropy | President's Message | Athletics | Alumni | Classnotes | Editor's Page