RESEARCH
CONTENTS
Bigger peanut boosts farmers' income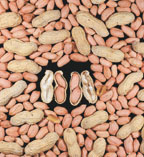 The extraordinary yield of a peanut engineered by a Virginia Tech professor has increased earnings for many Virginia farmers.
The VA-C 92R peanut was bred by R. Walter Mozingo, associate professor in crop and soil environmental science, in a joint effort with North Carolina State University and the U.S. Department of Agriculture.
The peanut is heavier, longer, and narrower than most varieties, and grows rapidly. Reduced vine growth allows air to circulate freely around the plants, keeping the peanuts dry and preventing disease. The peanut also boasts an unusually high calcium content.
The high yield peanut, introduced in 1992, brings in $50 to $100 more per acre than standard peanut varieties. It costs no more than other varieties for farmers to grow.
"This peanut has become our most popular variety," says Mozingo.
He estimates that 30 percent of Virginia's 75,000 acres of peanut farms currently grow the VA-C 92R, resulting in an increased annual income of between $1 to $2 million for Virginia farmers.
Fault-finding reveals quake hazards
A Virginia Tech geological-sciences professor and two colleagues from Rice University have discovered something about the San Andreas fault that may help in our understanding of earthquake hazards in California and other areas.
Virginia Tech geological sciences professor John Hole says seismic reflection and refraction surveys of the Earth's deep crust show that the San Andreas fault cuts through the crust and the Moho, the boundary between the crust and mantle of the Earth, rather than connecting with two other parallel faults in the area.
The discovery affects the stress predictions and the resultant assessments of earthquake hazards.
According to Hole, who did the study with Timothy Henstock and Alan Levander of Rice, the San Andreas fault is the major boundary between the Pacific and North American geological plates of the Earth. Hole and his colleagues did their surveys in northernmost California at the Mendocino Triple Junction, where the Pacific, North American, and Gorda plates come together.
The ultimate goal of the study is to understand where the rock boundaries are, the types of rock, and the way stresses build up so that scientists can better understand earthquake hazards.
Home | News | Features | Research | Philanthropy | President's Message | Athletics | Alumni | Classnotes | Editor's Page