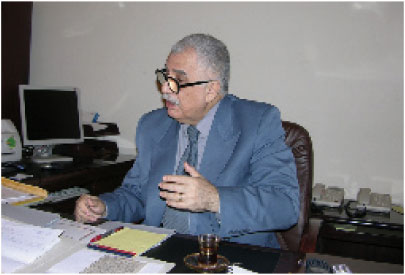 Somewhere in the expansive world of higher education, there may be a more difficult, demanding, and dangerous job than that faced by Sami Al-Mudhaffar (Ph.D. biochemistry '67), but one would be hard-pressed to identify it.
Al-Mudhaffar, recently appointed minister of higher education in Iraq, faces challenges that are nothing short of mind-boggling. Consider these few examples:
• He is expected to oversee the revamping of a national educational system that has suffered for decades under the weight of a dictatorial government, UN-imposed economic sanctions, several wars, and continuing political and social unrest.
• He will coordinate the rebuilding of some 20 major public universities, two post-graduate commissions, two research centers, more than 30 teacher-training colleges, and 47 other technical institutes and colleges--an estimated 84 percent of which have been burned, looted, or destroyed as the result of war and continuing civil strife. Within these centers of learning for more than 240,000 undergraduate students and 14,700 full-time faculty (as of the 2002-03 academic year), some 2,000 laboratories need to be re-equipped, and more than 30,000 new computers are needed nationwide.
• He must find a way to curtail an exodus of experienced scholars and scientists who have fled Iraq--an estimated four out of 10 of the best-trained and most capable educators have emigrated since 1990--and entice qualified new faculty to participate in a system in which cronyism is widespread, instructional and research resources are limited, and some four dozen academics have been assassinated in the past few of years alone, with many more facing daily threats to their lives.
• He faces the very real daily challenge of staying alive himself. In August 2004, while serving in his previous post as interim minister of education, he barely escaped assassination in a suicide car-bomb attack that claimed the lives of his bodyguards.
To say that Al-Mudhaffar has his work cut out for him is something of an understatement. But he is quick to point out that as well as being up to the task, he's also eager to make a tangible difference and to reinstate Iraq to the leadership position in education it once held among Middle Eastern nations.
"Impressive gains made in Iraq's education sector in the past were replaced by two decades of progressive deterioration in key education indicators," Al-Mudhaffar notes. "Wars, disastrous military adventures, and irrational policies resulted in a steady decline in all basic human services in the nation, with education at all levels being the most critically affected. Our job now is to reverse that situation and to accomplish that turnaround as promptly and efficiently as possible."
As Al-Mudhaffar sees it, there are six "R's" closely related to the prospect for a successful reversal. They include:
1. Restoring essential higher education services
2. Reconstructing damaged facilities
3. Rejuvenating the leadership of the higher education system
4. Refurbishing critical facilities, such as laboratories, libraries, and Internet centers
5. Reintegrating students, scholars, and scientists into the international academic community
6. Reinforcing the autonomy of Iraqi universities as independent centers for free, open, secure, and tolerant learning
Al-Mudhaffar points out that "the lack of resources and politicization of the education system--which influenced everything from curriculum and teaching staff to admission policies--resulted in education in Iraq deteriorating significantly over the past 25 years, and we now need to work together to regain what was lost so long ago. Ultimately, though, I have full confidence in our ability to accomplish our goals.
"In the immediate term, we will place special emphasis on updating and improving the quality of data that is already available or that we can collect," he adds, "and we will use this data for evidence-based planning and for generating the information needed for proper management of the system."
Al-Mudhaffar was appointed to his cabinet post with the new Iraqi government on April 28 after having served for a brief period as the interim government's minister of education, with responsibility for the nation's primary and secondary school system. The agency he now heads is formally known as the Ministry of Higher Education and Scientific Research (MHESR), which currently shares Baghdad office space with the Iraqi Commission of Informatics and Computers--a temporary accommodation made necessary after the ministry's original Baghdad headquarters had been burned and looted to the extent that it became structurally unsound.
In addition to oversight of the various institutions noted above, MHESR also supervises the accreditation of higher education institutions in Iraq, promotes scientific research and technological development, and maintains its own research institutes for cancer and psychological research, as well as a university press operation.
Al-Mudhaffar's association with Virginia Tech dates back to 1962, when he studied in Blacksburg with the help of a merit assistantship for advanced studies awarded by the university. After completing his Ph.D. in 1967, he subsequently returned to Iraq, where he became a lecturer on the teaching and research faculty in the College of Science at the University of Basrah and, ultimately, president of Baghdad University in 2003. He was forced to resign from that post following an altercation with the minister whose cabinet post Al-Mudhaffar now holds. That resignation also attracted the attention of the world academic community and led the Canadian Association of University Teachers to write to the Iraq Governing Council to "express our condemnation of your dismissal of Mr. Sami Al-Mudhaffar.... We are aware that his firing has sparked large demonstrations and protests by students and faculty who are demanding that he be reinstated."
Al-Mudhaffar brings to his new job not only some 37 years of experience in college teaching, but also a distinguished scientific background. A member of the Academy of Science in Iraq, the Iraqi Academy of Science, and the Islamic Academy of Science, he ranks as one of the most senior biochemists in his own country and is internationally known for his leading-edge research efforts in molecular biotechnology.
Jairam Reddy, director of the United Nations University International Leadership Institute in Amman, Jordan, has said that "repairing Iraq's higher education system is in many ways a prerequisite to the long-term repair of the country as a whole." The new minister of higher education would readily agree with that assessment and, in light of his long-standing reputation as a tireless advocate for education in his country, even at considerable personal risk, there's little doubt that if anyone can accomplish this task, Sami Al-Mudhaffar is the right person for the job.