Hokie, Hokie, everywhere
by Juliet Crichton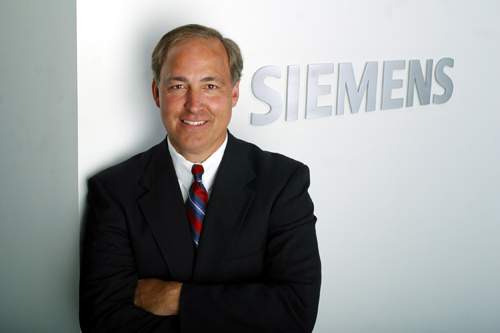 George Nolen '78, president and CEO of Siemens Corporation

The president and CEO of Siemens Corporation since 2004, George Nolen (marketing '78) is part of a Hokie lineage so extended that his family crest must surely be cast in burnt orange and Chicago maroon.

For starters, Nolen, who was raised in Northern Virginia, met his wife, Michele Carpenter Nolen (finance '78), at freshman orientation. Now married 25 years, they "share [his] greatest achievement," he says, "two wonderful children" — Jennifer (finance '06) and Brian, a rising sophomore at Tech. All told, "18 other members of our family have attended Virginia Tech," he adds.

With a family tree so firmly rooted in Hokie soil, Nolen might be considered an expert on what the university has to offer. "I learned a lot during my four years at Tech," he says, "not only in the classroom, but also through leadership activities. My experience as a resident advisor and president of my fraternity, Beta Theta Pi, showed me how important management and communications were to getting things done."

Nolen has no doubt flexed those management and communications skills during his nearly 25-year tenure at Siemens. Moreover, getting things done seems to have been his longstanding modus operandi during a career that has taken him from Washington, D.C., to Philadelphia, Dallas, and Silicon Valley.


Nolen participating in a Siemens Science Day event at an
elementary school in New York City. (photos courtesy of Siemens)

First a member of Siemens' sales force, Nolen was eventually named senior vice president of sales and services for Siemens Business Communication Systems Inc. In 1998, he was named president and CEO of Siemens Enterprise Networks LLC and then president and CEO of Siemens Information and Communication Networks Inc. (now Siemens Communications Inc.). Those leadership activities at Tech have returned big dividends indeed.

A global enterprise

An electronics and engineering giant with worldwide sales of $96 billion last year, Siemens AG — headquartered in Munich, Germany, with 460,000 employees in more than 190 countries — is, by all accounts, among the finest examples of how to do business globally.

Nolen heads up the company's U.S. branch, whose corporate headquarters in New York City occupy the Citigroup Center — one of midtown Manhattan's tallest and most dramatic skyscrapers — a site which seems especially fitting for such a dynamic, lucrative business. According to Richard Galant in a mid-2005 profile of Nolen for Newsday, Siemens is "an American success story ... a company that's grown from 650 U.S. employees to 70,000 in 30 years," with operations in all 50 states and Puerto Rico. Notably, Nolen has been on board for nearly the entirety of those three decades.

Siemens in the U.S., a leader in healthcare technology and information management, power generation and transmission, automation and controls, lighting, information and communications technology, transportation, and building technologies, reported sales of nearly $20 billion last year, a fair share of the company's global revenues. In fact, 11 of Siemen's worldwide businesses — including, for instance, Siemens Building Technologies, Siemens Hearing Instruments, and Sylvania — are headquartered in the U.S., making it one of the company's largest markets in the world. "Some people have to move from company to company to get new experience," Nolen points out. "At Siemens, it's all here."

As Nolen tells it, there's a great deal to like about being at the helm of such a diversified — and diverse — company. "There are two main reasons why I love my job and why I continue to see opportunity and challenge," he says. "First, as a global company, Siemens provides an environment where I interact daily with intelligent, innovative people representing a multitude of cultures, experiences, and perspectives and constantly presenting me with new ideas and challenges."

Nolen presenting the Siemens Trophy to University of Florida's men's basketball coach,
Billy Donovan, whose Gators won the 2005-06 NCAA Championship.

In keeping with his belief that diversity and collaboration are among the crucial components sustaining innovation, Nolen praises the wide range of Siemens' businesses: "We are developing technologies and solutions that are making significant improvements in the way people work and live around the globe. We are solving problems that will make the world a better place. One day I might be learning about advances in the early detection of heart disease. The next I might be learning about wind power or hybrid automobile engines."

Beyond the vision and experience he brings to his role as president and CEO, Nolen chairs the board of Siemens One — the U.S. company's cross-selling and solutions arm — and is a board member of the U.S. Chamber of Commerce, a member of The Business Roundtable, a member of the board of trustees of the New York Hall of Science, and the Siemens representative in the Partnership for New York City. He also serves his alma mater, having been appointed to the Virginia Tech Board of Visitors in 2005 by then-Gov. Mark Warner.

Nolen, however, hasn't been blinded by his entrepreneurial success or his far-reaching responsibilities; instead, he has maintained what might be called a sensible perspective. "I am most proud of my family," he says, "and my Virginia roots" — a good many of which stretch across the Virginia Tech campus.

To learn more about the Siemens Corporation, go to www.usa.siemens.com.
The extended Nolens of Virginia Tech
George Nolen Jr. (marketing '78) is married to Michele Carpenter Nolen (finance '78); they have two children: Jennifer Leigh Nolen (finance '06) and Brian Matthew Nolen (Class of 2009).
George's sister, Mary Nolen Blackwood (psychology '73), the first of the seven Nolen children to attend college, began the "tradition" of enrolling at Virginia Tech. She is married to Willis Pulliam Blackwood (management '72); two of their children are also Hokies: Morgan Elizabeth Blackwood (industrial and systems engineering '03) and Nolen Willis Blackwood, a current student. Blackwood's brother is David Willis Blackwood (management '70).
Another sister, Susan Nolen Foust, has two children who are Hokies: Courtney Foust Sommer (accounting '99; M.A. '00), married to Mark Douglas Sommer (accounting '99; M.A. '00); and Megan Emily Foust, a current student.
Two other sisters are Clare Nolen Ramminger (finance '84) and JoAnn Nolen Bertges, who attended Tech for two years before transferring to a Virginia university that shall remain unnamed.
George's wife Michele has three sisters: Renee Annette Carpenter Collins (communication '80) and her husband, Paul James Collins Jr. (management '80); Lisa Carpenter Bignotti (political science '84); and Kimberly Jane Carpenter Motley (family and child development '82) and her husband, Benjamin Stewart Motley (architecture '82), whose father, Kenneth Motley (architecture '53), and sister, Sharon Motley Kleinman (elementary education '75), are also Hokies.