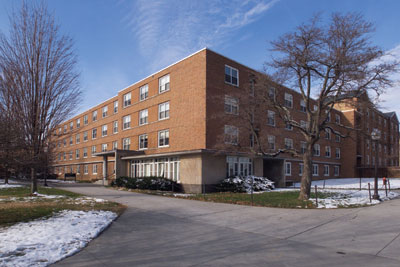 Rasche Hall
"Bosco--he eats them alive!" And so did William Henry Rasche. The cantankerous yet brilliant professor, who taught mechanical drawing and descriptive geometry at Virginia Tech for five decades, particularly enjoyed making mincemeat of sophomores. They, in turn, christened him "Bosco" after seeing a snake-eater of that name at a carnival. Rasche carried the moniker to his dying day--and beyond.
Today, a brick building memorializes the man whose thousands of students remembered him throughout their lives--often vividly.
A simple building
Unlike its namesake, Rasche Hall is relatively indistinguishable. The brick building evolved from a combination of structures. One facility that eventually made way for Rasche, the First Academic Building, was constructed in 1876. At a right angle to it and 30 feet away, Virginia Agricultural and Mechanical College (today's Virginia Tech) erected Barracks No. 2 in 1894.
The college razed the First Academic Building in 1957 to make room for a new structure, which was connected to a remodeled Barracks No. 2. The resulting L-shaped building was christened Rasche Hall and from its beginning served as a barracks for the corps of cadets.
A complex man
Bosco Rasche began his affiliation with Virginia Tech innocuously, enrolling as a student in 1893. But he joined the teaching staff two years later as an assistant in mechanical drawing and never obtained a degree, a fact that embarrassed college administrators. Even degreeless, he moved through the faculty ranks, eventually becoming head of the Department of Graphics and Mechanism.

William Henry "Bosco" Rasche

Bosco knew his subject and attained an international reputation in the field of kinematics, or pure motion. He invented a new gear-testing device; wrote a book that was used by other institutions, including MIT; and became a consulting engineer on gear trains for General Motors.

Sophomores encouraged the notion that Bosco and Professor Claudius Lee feuded over the merits of gears versus belts to transmit power, with Bosco favoring the former. Bosco claimed to have found the following exchange written on his blackboard: "Everybody in the world, except a few idiotic college professors, knows that belts are better than gears for transmitting power.--Professor Lee.

"That, I suppose, you witless jackass, is the reason why belts are so extensively used in watches and automobiles.--Professor Rasche."

In the classroom, Bosco was brusque, irascible, sarcastic, exacting, dynamic, and fearsome. A strict disciplinarian, he was impatient with those who did not grasp every problem. Making use of his powerful voice and imposing frame, he ruled his classes with an iron hand, demanding high standards of performance. Said a campus newspaper at the time, "He is wild and wooly, the only original untamed species in captivity."

Bosco had an aversion to sophomores, whom he considered to be too cocky and too rough on the freshmen. Already on his black list, they didn't endear themselves to him when they painted his riding horse to resemble a zebra.
Nonetheless, he was greatly respected, and two Bugles were dedicated to him. After he died in 1951, his former students purchased a lot and constructed a house for his widow when she had to move from faculty housing.
The future
Rasche Hall, which was constructed on the site of the building where Bosco first taught, will continue housing cadets. As part of a campus-wide plan, the structure will be upgraded and renovated during the next several years. With or without a facelift, Rasche Hall will continue to remind us of the colorful campus character whose name it bears.
Clara B. Cox is director of university publications.