ALUMNI ASSOCIATION
Applauding the Service of Colleagues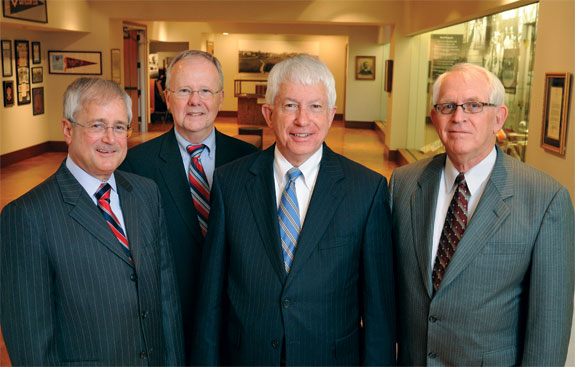 LIVING HISTORY: (From left) Erv Blythe, Ed Spencer, Ray Smoot, and Jim Bohland in the Holtzman Alumni Center's museum. Photo by Jim Stroup.
A great strength of Virginia Tech is its people, including those who devote years of leadership and dedication to help shape and expand the university's programs, which lead to its high rankings. Four individuals who have served the university for many years in leadership roles are retiring this year. It has been a true privilege to know and work with each of them as colleagues. I have seen firsthand how their special talents have made a lasting impact on Virginia Tech. Some 137 collective years of service to Tech can be attributed to Ray Smoot (English '69, M.S. educational administration '71), CEO of the Virginia Tech Foundation and treasurer; Erv Blythe (English '68, M.U.A. urban affairs '83), vice president for information technology and chief information officer; Jim Bohland, vice president and executive director of the National Capital Region; and Ed Spencer, vice president for student affairs. Each leaves his signature on our university, indelibly etched in Hokie Stone as a symbol of loyal service and enduring legacy.
Two are alumni, and two are alumni purely by osmosis. They each have possessed and shared an identical Hokie spirit and passion for Tech. I am pleased to share my perspectives on their significant service to the university and will do so in the order of each one's length of tenure.
Ray Smoot entered the university in the mid-1960s. In a short period of time, he emerged as a leader in student life and student governance and served as Student Government Association president in his senior year. He completed graduate degrees in the early '70s at Virginia Tech and Ohio State University and, in 1975, he returned to Tech to become a valued assistant to then-Vice President for Administration Stuart Cassell, a long-standing chief business officer of the university. Early on, Smoot followed in Cassell's role and assumed responsibilities in general administration and services, business affairs, and oversight of the Virginia Tech Foundation. His titles have varied over 40 years, even including a short stint as interim athletic director. Smoot stepped out of his vice presidency role a few years ago and remained at the helm of the Virginia Tech Foundation as CEO and treasurer. During his years of stewarding the Foundation and its diversified portfolio, its assets grew from $11 million to more than $1.3 billion, a figure that includes high-profile regional real estate, strategic partnerships for economic and civic development, and significant scholarship aid for students.
The physical campus has grown both in numbers of buildings and in total acreage under Smoot's careful watch. A closer relationship with the Roanoke community was established by the restoration and expansion of the Hotel Roanoke, a gift to the foundation. Smoot was integral in forging many partnerships with our Roanoke neighbors. The Virginia Tech Corporate Research Center broke ground in 1988; the initial acreage holds 22 buildings, and expansion is under way to accommodate continued growth. Other exciting additions to advance Virginia Tech through the foundation's portfolio include the Pete Dye River Course, the Virginia Tech Research Center – Arlington, and a new parking and commercial-space facility currently under construction along Turner Street. Thanks to Smoot's thoughtful and visionary leadership, these real estate initiatives and strategic partnerships for economic and civic development have been integral to the university's growth and advancement.
Erv Blythe entered Virginia Tech as a member of the Corps of Cadets in 1963. He joined the university's administration in the late '70s. Since the early '90s, he has served as an information-technology leader and pioneer in his vice presidency. Blythe's responsibility has been policy development and strategic planning related to information technology and services at a university whose students and faculty are increasingly dependent on evolving technology in software and hardware. His early career with the U.S. Department of Defense led to his wise and efficient use of resources over many years, keeping capacity ahead of rapidly advancing demand.
Partnering with the College of Engineering, Blythe's team developed the revolutionary System X supercomputer, which, with a 2004 update, was the fastest university supercomputer in the world. Also under Blythe's leadership, the Faculty Development Institute was created and became a cornerstone in the institutional information-technology field. The institute became a model, widely adopted by other universities, for expanding faculty members' use of technology for instruction. Elsewhere, Blythe has been the catalyst for Tech's world-wide reputation as a leader in computer and network security and the highly acclaimed Blacksburg Electronic Village, and he has devoted considerable attention to the eCorridors program, a statewide program to help regions and communities develop the economic potential of broadband-infrastructure technology. These are merely a few examples of Blythe's creative and strategic direction of programs that have benefited students, faculty, and alumni and have served as valuable economic engines.
Jim Bohland joined the faculty in 1980 as professor and chair of the urban affairs and planning program and later served as founding director of the School of Public and International Affairs. In the early 2000s, he served as interim provost, playing a pivotal role in the development of the university's strategic plan. During that period, he approved the initial concept for the Institute for Critical Technology and Applied Science, an idea that has extended across the university to engage multidisciplinary research and facilities designed specifically for such collaboration. Bohland also helped establish Virginia Tech's partnership with Wake Forest for the joint School of Biomedical Engineering and Sciences.
In 2002, Bohland was named vice president and executive director of National Capital Region Operations. He and his team in Northern Virginia were responsible for the development and implementation of new strategic directions in resilience, security, sustainability, health, and technology, and the coordination of services and program initiatives for the university's six sites in the region. Perhaps his most important accomplishment in the region was the preparation for and recent opening of the Virginia Tech Research Center – Arlington. Clearly, Bohland has influenced many facets of the university's academic enterprise and has broadened the university's research and instructional reach in the National Capital Region.
Ed Spencer joined the university in 1983 and most recently served as vice president for the Division of Student Affairs, which has 15 departments and a staff of 2,600 employees. He has served as director of residential and dining programs and as both an assistant and an associate vice president for student affairs. Possessing a passion for teaching, he served as an associate professor in the School of Education's graduate program in higher education. By providing services and student-life activities that improve the quality and enrichment of the student experience, he has focused his career on the welfare of students.
Significant among Spencer's accomplishments was his leadership in building a dining program that is consistently ranked among the top in the nation. The Oak Lane Community for fraternity and sorority housing was developed under his planning and guidance during the past 30 years, and a fourth phase is currently under construction. Another innovation in student affairs under his leadership was the introduction of living-learning communities and co-ed residence halls to the residence life program. The university's first residential college opened a year ago and, like many other innovations at Virginia Tech, is a model for other universities. Because of Spencer's encouragement, student-volunteer programming has soared, resulting in thousands of students participating in campus programs, such as the Big Event service day and Relay For Life. The annual relay has raised more than $500,000 for cancer research in each of the last four years. During his years at Virginia Tech, Spencer's warm and engaging personality has inspired thousands of students.
Another alumnus who has given years of service, first as a student and later as the first vice president for development and university relations, is Charles Forbes (industrial engineering and operations research '49). Forbes died March 7 in Wilmington, Del. In the 1980s, he served as leader of the university's first major campaign, a hugely successful effort that paved the way for additional campaigns in later decades. He will be remembered for his passionate love for his alma mater and the impeccable style with which he launched a comprehensive and coordinated fundraising program. His obituary and photo are included here.
All five individuals leave marks on Virginia Tech that surely will be long lasting. Their commitment to creative leadership and professional service has benefited Tech and meaningfully touched the lives of thousands of students, faculty, staff, alumni, and friends.