AROUND THE DRILLFIELD
Pursuing historic status for a campus landmark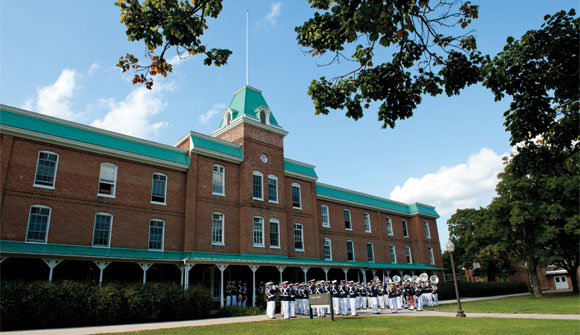 Lane Hall; photo by Michael Kiernan
A centerpiece of Virginia Tech history is on track for state and national recognition.
Lane Hall housed about 130 students until 1967, when it was converted to academic offices. Cadets still honor Lane Hall by standing retreat while the U.S. flag is lowered each evening in front of the building.
"Essentially, Lane Hall remains the heart and center and focal point of the university's corps tradition," said Hugh Latimer, campus planning architect.
Now, Virginia Tech is seeking inclusion of Lane Hall on the National Registry of Historic Sites and Virginia Landmarks Register. The move comes as part of the broader redesign of the Upper Quad, which also includes replacing Brodie and Rasche halls with state-of-the-art residence halls.
Once Lane Hall is listed on the state and national registries, it will be used only for low-impact administrative work to ensure that the building is preserved.
"Lane Hall is of unquestionable importance, reflecting the university's earliest history and the corps' proud traditions. So, too, are the program needs of the modern corps critically important, and the case for new facilities is compelling," said Kathleen Kilpatrick, director of Virginia's Department of Historic Resources, during a 2013 tour of the Upper Quad. "Saving Lane and recognizing it on the Virginia State Landmarks Register and the National Register of Historic Places strikes a good balance and demonstrates Virginia Tech's commitment to honoring its history and buildings of enduring value while moving forward," she said.
Lane Hall, which now houses administrative offices for the College of Liberal Arts and Human Sciences, will be returned to the corps as part of securing historic status.
Lane Hall's structure and architecture lend it added importance from a historical standpoint. Latimer said Lane Hall is a "rather odd building" formed from five townhouses that weren't originally connected. The silo structure allowed upperclassmen to isolate and haze first-year students, or "rats," and supervise them by running along the roofs of the canopies between each section.
Consultants spent recent months conducting a physical survey of Lane Hall. The survey involved photography, examination of floor plans, and a written evaluation of the building's systems and infrastructure.
Virginia Tech planned to submit the documentation in June for both the state and the federal applications for historic status. While it's unclear when those applications may be processed, the listings will serve as a foundation for the future of a building that was important to Virginia Tech's development.
"For Lane Hall, [historic status conveys] the recognition it deserves, and it will be positive publicity and recognition," Latimer said.