LIVING PYLONS
Commemorating the 70th Anniversary of D-Day
by Robert F. Allnutt '57

In June 2012, my wife, Jan, and I spent a couple of weeks in Paris and then rented a car and drove over to Normandy, where we had never been, for a few days.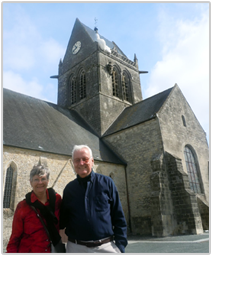 We had hired a guide for our first full day there. Bertrand spoke good English and had a terrific command of facts and figures. He had arranged the day in perfect sequence—brief looks at American tanks and a Canadian cemetery, a walk through a German cemetery, and an hour or so in a town where American paratroopers had landed by fatal mistake in the midst of German troops.
We visited the American beaches of Utah, Pointe du Hoc, and Omaha before seeing the huge and moving American cemetery, where he pointed out the graves of brothers Teddy Roosevelt Jr. and Quentin Roosevelt (a World War I casualty), and several others among the thousands of deceased.
During the day, Bertrand mentioned that three Americans who had received the Medal of Honor were buried in the cemetery. This reminded me of two men from my alma mater, Virginia Tech, who had been awarded the medal for action in Europe during World War II. Dorms built soon after the war were named for them. Fifty-five years ago, I lived in one—Femoyer Hall—but I could not remember the other dorm's name or where either of these men had earned his medal. [Editor's note: A third residence hall, Thomas Hall, memorializes Medal of Honor recipient Herbert J. Thomas Jr., a 1941 alumnus who saw action against Japanese forces on the Solomon Islands.]
As we left the American cemetery rather exhausted at the end of a long day, Bertrand said, "We have a little more time. Would you like to see one more site?" Somewhat reluctantly, we each said yes.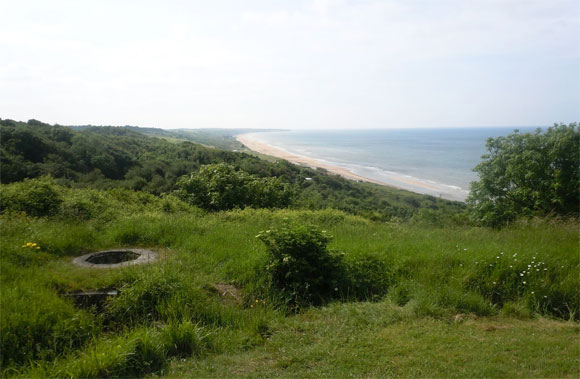 The coast of Normandy, France; photo courtesy of Robert Allnutt
He drove us to a high bluff at the east end of Omaha Beach, overlooking the entire beach. Here, the Germans had implanted bunkers and guns to rain down death on the "invaders." The Germans had been highly effective. As we walked up to the site, Bertrand said quietly, "This is where Montieth died."
Montieth. Of course. The dorm next to mine. First Lt. Jimmie Waters Monteith Jr. died on D-Day leading his 1st Division troops on that most fatal of all the landing beaches. His Medal of Honor citation, well worth reading, recites incredible, repeated acts of bravery on one short day, his last:
"For conspicuous gallantry and intrepidity above and beyond the call of duty on 6 June 1944, near Colleville-sur-Mer, France. 1st Lt. Monteith landed with the initial assault waves on the coast of France under heavy enemy fire. Without regard to his own personal safety he continually moved up and down the beach reorganizing men for further assault. He then led the assault over a narrow protective ledge and across the flat, exposed terrain to the comparative safety of a cliff. Retracing his steps across the field to the beach, he moved over to where two tanks were buttoned up and blind under violent enemy artillery and machine gun fire. Completely exposed to the intense fire, 1st Lt. Monteith led the tanks on foot through a minefield and into firing positions. Under his direction several enemy positions were destroyed. He then rejoined his company and under his leadership his men captured an advantageous position on the hill. Supervising the defense of his newly won position against repeated vicious counterattacks, he continued to ignore his own personal safety, repeatedly crossing the 200 or 300 yards of open terrain under heavy fire to strengthen links in his defensive chain. When the enemy succeeded in completely surrounding 1st Lt. Monteith and his unit and while leading the fight out of the situation, 1st Lt. Monteith was killed by enemy fire. The courage, gallantry, and intrepid leadership displayed by 1st Lt. Monteith is worthy of emulation."
For me, crossing Monteith's path was an exclamation point on a most memorable day.
During his career, Robert F. Allnutt (industrial engineering '57), a member of the College of Engineering's Committee of 100, held leadership roles in NASA and the energy, pharmaceutical, and communications industries.