Former president and dean teaches his last class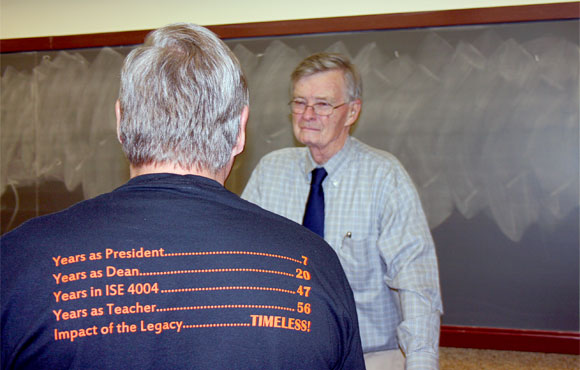 Paul Torgersen, John W. Hancock Jr. Chair in Engineering and president emeritus. Photos by Janis Torgersen.
Seven years as Virginia Tech president. Twenty years as College of Engineering dean. Forty-seven years in ISE 4004. Fifty-six years as a teacher.
So said the T-shirts worn by students in Paul Torgersen's Theory of Organization class (ISE 4004) in early May—his last day at the front of a Virginia Tech classroom. The students honored the John W. Hancock Jr. Chair in Engineering and president emeritus with a standing ovation before forming a line to get his autograph.
Torgersen joined the Department of Industrial Engineering in 1967, was named the engineering dean three years later, and served as president from 1994-2000. All the while, he continued to teach, leading at least one class each semester.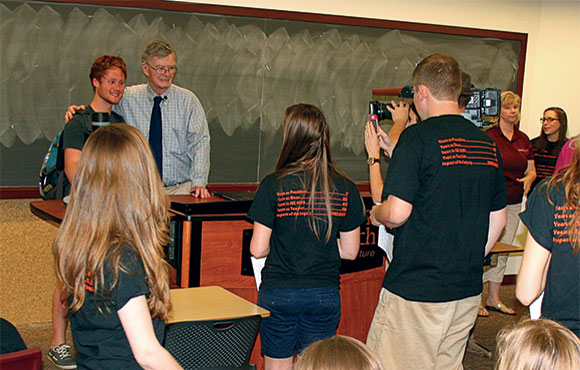 ---
Building scientific synergy
In a new $53.7 million building at the intersection of Duck Pond Drive and Washington Street, researchers and students from the College of Agriculture and Life Sciences' various departments are working together on critical issues in agriculture, food security, human health, and climate change.
The Human and Agricultural Biosciences Building 1—the first of four planned for the university's Biosciences Precinct—encourages synergistic relationships that allow the college to expand its scientific reach to advance research, academic, and Extension efforts.
"The research activities and discoveries made in the new building will become the cornerstone of programs that will directly benefit the citizens of the commonwealth and the agriculture, food, and health industries," said Alan Grant, dean of the college. "The work that is happening in the new building will bring the promise of a healthy planet, healthy food, and healthy people."
---
Pamplin dean charts new course for the college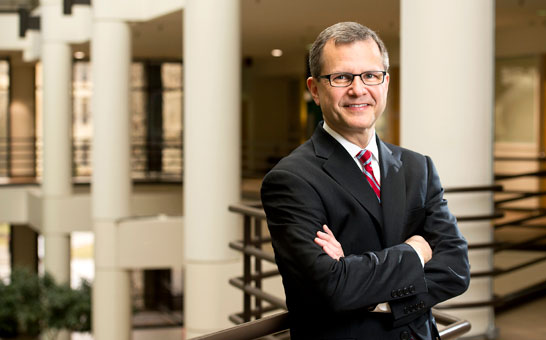 Pamplin College of Business Dean Robert Sumichrast
In December 2012, when Robert Sumichrast returned to Virginia Tech after a decade-long absence to interview for the dean's position in the Pamplin College of Business, he was immediately struck by how much physical change had occurred on campus—and how little of it had taken place in Pamplin Hall.
Realizing not only that Pamplin needed more resources, but also that a cultural shift was in order, Sumichrast has initiated a steady course of change since taking the helm in July 2013. "In formal meetings and informal chats, I have gotten great ideas on how to move forward," Sumichrast said. "You can't apply every good idea, of course, but people will stop giving you their ideas if they don't see any action."
At Pamplin for nearly 20 years before leaving in 2003 to lead Louisiana State University's E.J. Ourso College of Business and then the University of Georgia's Terry College of Business, Sumichrast learned firsthand "the need to develop a mission for your business school that is distinctive and that defines a space where you can be one of the very best."
To that end, Sumichrast's initial moves at Virginia Tech included suspending admissions to the full-time M.B.A. program—in order to focus resources on part-time M.B.A. formats and the highly ranked master of information technology program—and investigating the market for an executive doctorate program.
"I felt that Pamplin needed to become more focused," Sumichrast said. "We have made changes so that we can invest in those programs that can become among the best in the country, while eliminating or suspending those that currently did not have that potential."
Learn more about Sumichrast in Pamplin's spring 2014 magazine, Virginia Tech Business »
---
Hokies shine at Technology Council awards banquet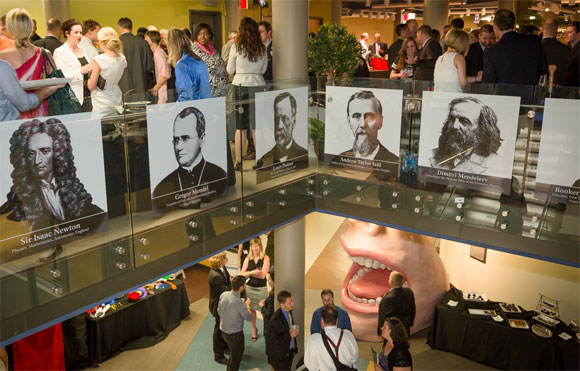 Before the Roanoke-Blacksburg Technology Council's TechNite Awards Banquet, attendees interacted with business concepts in order to select the People's Choice Award. At the after-party, banquet-goers filled the Science Museum of Western Virginia. Photo courtesy of Richard Boyd, Boyd Photography.
Every one of the award winners announced at the Roanoke-Blacksburg Technology Council's (RBTC) 15th annual TechNite banquet on May 9 has ties to Virginia Tech.
The nonprofit association of businesses and organizations is a driving force for the growth and success of the region's tech sector, as are these individuals with links to Tech:
Rising Star Award — Software engineering firm Mindsense, founded by Alexander Obenauer (computer science '12) and Josh Milas (biological sciences '11), launched Mail Pilot, which in a matter of hours was ranked as the No. 1 paid app in the Mac App Store.
Innovator Award — Bob Summers (computer engineering '98), "chief geek" at Fitnet, a mobile fitness app, is involved in a number of key groups in the region that benefit local entrepreneurs.
Entrepreneur Award — Michael Rihani (business information technology '08) is co-founder and CEO of Koofers, an online platform that allows college students to share course information. The company, which Rihani founded with several Tech alumni, has grown its user base from 10,000 students in Blacksburg to more than 1 million students nationwide.
Regional Leader Award — John "Jack" Lesko (M.S. materials science and engineering '91, Ph.D. engineering mechanics '95) is the associate dean for research and graduate studies in the College of Engineering. Lesko serves as a co-principal investigator for DC Innovation Corps, a training program for entrepreneurs.
People's Choice Award — The three founders of VirtualU—former students Caroline Pugh, Louis Cirillo, and Nick Gagianas (marketing '12)—launched VFit, an integrated system that creates 3-D models of users' bodies for quantifying and tracking fitness goals over time.
Educator Award — Sarah Gerrol (secondary education technology '02, M.A. curriculum and instruction '03), a teacher in Salem, Virginia, leads her students in robotics competitions and other STEM-related activities.
Educator Award — Brian Dye, a teacher in Radford, Virginia, is implementing an Android-based tablet system to deliver curriculum content. Dye was formerly the technology coordinator for the Training and Technical Assistance Center, a Virginia Department of Education office housed within Virginia Tech's College of Liberal Arts and Human Sciences.
RUBY Award — Through RBTC, VT KnowledgeWorks, Virginia Tech Intellectual Properties, and more, Ken Ferris (electrical engineering '70) has long been active in assisting the region's technology companies. He was a part of three tech startups, each of which was sold to a publicly traded company.
Technology Hall of Fame inductee — Ray Pethtel is the former director of the Transportation Policy Group at the Virginia Tech Transportation Institute and former commissioner of the Virginia Department of Transportation.
Technology Hall of Fame inductee — TechLab cofounder Tracy Wilkins is internationally recognized for his research on intestinal diseases and disorders and his innovative work developing diagnostic tests for these diseases. The former J.B. Stroobants Professor of Biotechnology at Virginia Tech played a leading role in the design and construction of two of Tech's premier life-science facilities: the Fralin Biotechnology Center, now the Fralin Life Science Institute, and the Virginia Bioinformatics Institute. Wilkins, a founding member of the board of the Virginia Tech Corporate Research Center, has made significant contributions to society as a scientist, educator, entrepreneur, and philanthropist.
---
The Bugle honored for third consecutive year
Editions of The Bugle, Virginia Tech's yearbook
The 2013 edition of The Bugle, Virginia Tech's yearbook since 1895, earned a Silver Crown from the Columbia Scholastic Press Association, an international student press association formed in 1925 to unite student journalists through conferences, idea exchanges, and awards programs.
Announced at a ceremony in May, the honor marks the third consecutive year that The Bugle has received a Crown award: The yearbook won a Gold Crown in 2012, and a Silver Crown in 2011. Yearbooks in the competition are judged on writing, editing, design, content, art, and photography.
Caroline Doss, of Salem, Virginia, a senior majoring in visual communication design in the College of Architecture and Urban Studies, has served as the yearbook's editor for four years. During her tenure, The Bugle has earned a place in the national ranks every year, making Doss the publication's most-decorated editor.
Not only has Doss created a compelling yearbook year after year, she has essentially run a small business. In addition to creating content, she coordinated portraits, managed a staff of nine, worked with vendors to create the book, and led a marketing and sales push to get the yearbook to students.
One of just seven yearbooks nationally to earn a 2013 Gold or Silver Crown award, The Bugle is a student-run division of the Educational Media Company at Virginia Tech Inc., which manages the university's student media outlets on campus, including the Collegiate Times and WUVT 90.7 FM.
Hankering to browse those old yearbooks? Check out the digitized versions in The Bugle Archives »