PHILANTHROPY
Ready to Lead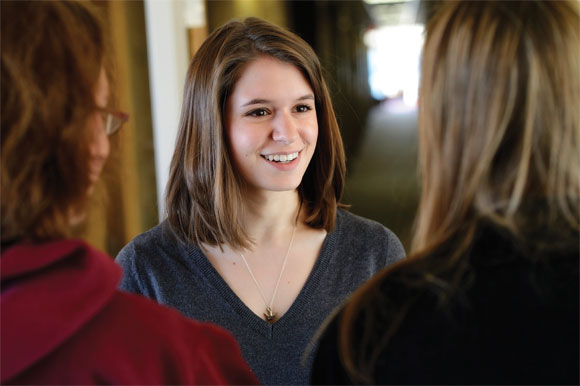 Kylie Gilbert, a rising senior from Manassas, Virginia, is majoring in finance and accounting and information systems in the Pamplin College of Business. Photo by Jim Stroup.
Kylie Gilbert may describe her involvement in Virginia Tech's Residence Hall Federation (RHF) as "kind of an accident," but she certainly has made the most of her time in the organization, including serving two terms as president.
A rising senior from Manassas, Virginia, majoring in finance and accounting and information systems in the Pamplin College of Business, Gilbert said she initially hesitated at the idea of seeking her first leadership post in student governance.
"I faced a lot of self-doubt because I was not confident in my abilities, and I didn't think I could win," she said.
Though she almost withdrew from the running for executive vice president of the Peddrew-Yates Hall Council during her first semester on campus, Gilbert said a pep talk from a hall-mate led her to stay in the race. Once on the council, she started attending larger-scale meetings of student leaders and went to a regional RHF conference at Georgia State University. The experiences made her want to get even more involved.
When the post of vice president of finance and administration for the university's RHF opened up during the second semester of Gilbert's freshman year, the accounting major who loved spreadsheets jumped at the opportunity.
Even though she gained significant experience in that role, including managing a budget of $125,000, Gilbert admitted she was "very, very afraid" when she was nominated for president at the end of that semester. Drawing on support from a faculty advisor, and looking within, Gilbert found her voice to represent the 9,400 students living on campus.
"She went from being a timid and unsure leader to someone who is outspoken and takes advantage of every opportunity to learn, grow, and help others find their voice," said Jennifer Bannon, an assistant director of housing and residence life for the Division of Student Affairs who encouraged Gilbert to seek the presidency.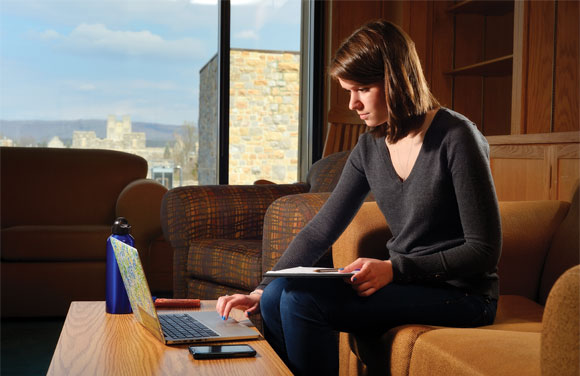 Kylie Gilbert; photo by Jim Stroup
Gilbert said that much of her success in developing her leadership abilities was due to the support of fellow students and university administrators like Bannon. In addition, Gilbert, who is paying a portion of her college costs, received the Clifford A. Cutchins Scholarship and an R.B. Pamplin Scholarship, which freed her from needing a part-time job and allowed her to take an unpaid internship in the White House's Office of the Chief Financial Officer in the summer of 2013. While the internship will be beneficial should Gilbert seek an accounting job, her leadership experiences have encouraged her to explore a career in higher education, perhaps in student affairs.
Gilbert said that before becoming RHF president, she viewed herself as someone comfortable working behind the scenes, overseeing budgets and other complicated, but not highly public, issues. As president, however, she did not shy away from issues likely to draw significant attention, including a resolution in favor of gender-neutral housing, which she championed. In February, RHF unanimously approved the resolution.
Bannon said the process demonstrated how far Gilbert had evolved as a leader.
"She has pushed herself beyond every boundary that she had [when she started at] Virginia Tech," Bannon said. "When she is given the chance to pursue her passions, there is nothing that can hold her back, and she no longer backs away from a challenge."
Patty Perillo, the university's vice president for student affairs, said she admired Gilbert "for many reasons—most notably because she is a quintessential servant-leader, one who cares deeply about impacting the community in positive ways. She leads without fanfare and never seeks attention or credit."
That mindset influenced Gilbert's decision not to seek another term as president. Having seen how the position helped her become ready to lead, she thought it best to step back in order to let one of her fellow students come forward.
"Thinking about how much RHF did for me," Gilbert said, "I want someone else to have that experience."
Beth Cameron (English '14) was an intern with Development Communications.