PROFESSOR PROFILES
Elizabeth Struthers Malbon
First-Century Relevance Today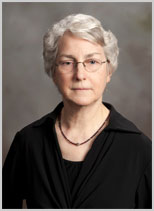 Elizabeth Struthers Malbon, professor of religion and culture in the College of Liberal Arts and Human Sciences, received Virginia Tech's 2014 William E. Wine Award and 2014 Alumni Award for Excellence in Research. Internationally recognized for her literary studies of the Gospel of Mark, Malbon teaches courses on early Christian literature, especially the New Testament, Jesus and the Gospels, and Paul and his interpreters.
How do you make the study of 2,000-year-old documents relevant to 21st-century students?
Most of my students are already convinced of the relevance of the New Testament in the contemporary world. My challenge is to help them discover the relevance of these 27 books in their contexts of origin in the Mediterranean world of the first and second centuries. By encouraging appreciation of the contexts and varying genres of this rich collection, I seek to make the familiar strange and the strange familiar. That is, I try to add another level of historical and literary complexity (the strange) to the readings students bring to the texts (the familiar).
You have said your greatest satisfaction as a teacher is "seeing the light bulb turn on" for your students. Can you provide an example?
Recently, in my New Testament survey course, I was showing images of paintings of various stories in the Gospel of Luke. In our analysis of the details of the paintings we were considering what each painter was trying to communicate to his viewers in his own time and place. A student excitedly raised—no, waved—her hand and said something like this: "Aren't the Gospels like these paintings? Different images of the story of Jesus created for different audiences by different authors? Seeing the paintings makes it all come clear to me."
You won an award from the Society of Biblical Literature for your mentoring of undergraduates and women faculty. What makes this field challenging to women?
It is difficult to think of a field that is not challenging to women—still. Certainly colleges and universities still congregate women faculty in the lower ranks while men faculty continue to dominate the upper levels. The academic study of religion and of the Bible is no different. I consider mentoring a privilege and a responsibility of longevity, and it has been especially rewarding to see my mentees become mentors.
Can you explain your comparison of the study of the Gospel of Mark to the study of folklore?
The Gospel of Mark shares several important realities with folklore. First, the Gospel came to life within a world of listeners, not a world of readers; it was written to be read aloud, or actually performed, for an audience that was largely illiterate. Second, the Gospel and folklore, both existed for the folk, for the non-elites of society. Third, the Gospel, like folktales, is a narrative, a story, with characters and settings and actions; paying attention to its unfolding as a story reveals its significance best. Fourth, like folklore, the Gospel of Mark was adapted to keep traditions alive and relevant to its community. Thus, there is the fifth similarity: The Gospel, like folklore, gives us two views at the same time: a view of the traditions it passes on from the past and a view of the interests and concerns of the author and audience who are passing those traditions on to the next generation.
Jean Elliott is the College of Liberal Arts and Human Sciences' communications director.
---
Donald Orth
Gone Fishin'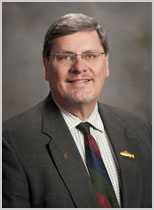 Donald Orth, the Thomas H. Jones Professor in the Department of Fish and Wildlife Conservation in the College of Natural Resources and Environment, has received a string of awards in recent months: the William E. Wine Award, which admits him into the university's Academy of Teaching Excellence; the Diggs Teaching Scholars Award from Tech's Center for Instructional Development and Educational Research (CIDER); the university's Certificate of Teaching Excellence, awarded to a faculty member in each college; CIDER's Teacher of the Week Award; and Tech's Exemplary Program Award for his first-year experience class.
Why do you study fish?
Fish have fascinated me since I was a kid. I am naturally curious, and fish gave me further motivation to explore life in the underwater world. Fish are at the nexus of human uses of our aquatic ecosystems for food, water, energy, industry, and climate stabilization. And if fish are at the nexus, so am I.
Why do you teach first-year students?
I believe that the first four to six weeks on campus are critical for students as they adjust to college and campus life. As an instructor of first-year students, I place more attention on discovering each student's dreams, aspirations, and challenges and helping facilitate their initial transition. My selfish motive is to witness their accomplishments years later and believe that I had a small part in their personal success.
What do students gain by learning to draw, photograph, and write about fish?
While the value of memorizing terminology and studying preserved specimens cannot be discounted in my Ichthyology class, I use the study of fishes to encourage a holistic education. What employers are telling us is they need students with writing, communication, teamwork, and problem-solving skills. Every fish can provide an important lesson in physics, chemistry, economics, mathematics, ethics, and art. Drawing, photographing, and writing are scientific skills of observation. Because many analytical tasks utilize computer databases, these learning activities tap the creative sides of my students' brains.
In what ways do fish act like "canaries in the coal mine"?
Fish serve as sentinels, warning of hazards in the aquatic environment. Almost all fishes in North America extract oxygen through their gill tissues. Fish gills rapidly develop lesions when exposed to acidic water, heavy metals, pesticides, and suspended sediments. When gill or other damage is noted, follow-up water quality and source-tracking studies can be instituted in a timely fashion. Similarly, the egg and larval stages of fish are more sensitive to contaminants.
What is the purpose of higher education?
Truth, beauty, and goodness! These virtues from Plato and Socrates are represented at Virginia Tech. Science, engineering, and mathematics have expanded society's ability to discover new truths and contrast them with traditional forms of knowledge. Any thoughtful and reasonable human must be able to appreciate the beauty in everyday experiences of art and design and nature. Virginia Tech's aspirations for student learning provide reminders of the values—civility, self-awareness, integrity, and Ut Prosim (That I May Serve)—that lead to a good and just world.
Do you have a favorite fish story?
Fishing is a holistic experience. A memorable fishing trip provides, perhaps, a chance to test a favorite hunch about what makes fish feed (truth), the experience of quiet and contemplative nature (beauty), and appreciation of friends or family in a place protected from excessive pollution (goodness). The simple thought that my scholarship plays some role in that experience inspires me every day. My favorite stories are about my students becoming effective advocates for application of good science to protect or restore fish and fishing.
Lynn Davis is the College of Natural Resources and Environment's communications director.