ALUMNI SHORTS
Hokies display "Intrepid Spirit"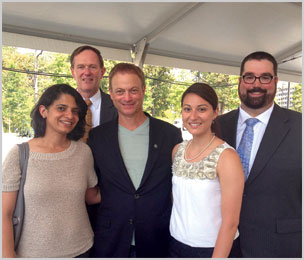 A number of Hokies with Turner Construction Co. played a pivotal role in the creation of Intrepid Spirit, a clinic for treating traumatic brain injuries and post-traumatic stress disorder. The Ft. Belvoir, Virginia, facility—built entirely with donated funds—is a part of what will be a network of clinics connected to the National Intrepid Center of Excellence, a Department of Defense institute.
At the grand opening in 2013, actor Gary Sinise (center) posed with (from left to right) project engineer Kripa Iyer (M.S. architecture '04), project executive Gary Ball (who has pursued graduate studies in civil engineering), assistant engineer Emily Belote (architecture '10, M.S. building construction '12, M.B.A. '12), and project superintendent Peter Kapsidelis (civil engineering '03, M.S. '05).
Other Hokies on the Turner team who aren't pictured include project accountant Patrick O'Leary (finance '08), preconstruction/building information modeling manager Drew Kelleher (civil engineering '03, M.S. '04), and vice president and senior operations manager H. Benjamin Short (building construction '77).
---
Shaping the Net
by Alex Baruch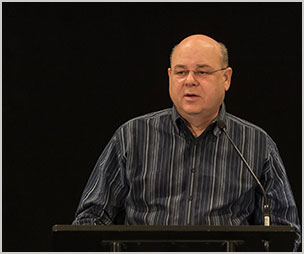 The chair of the Internet Architecture Board (IAB), Russ Housley (computer science '82), is quick to acknowledge that "no one is in charge of the Internet."
Still, Housley comes closer than most. The IAB oversees the Internet's technical and engineering development, as an activity of the Internet Society, a global nonprofit organization that promotes online standards, education, and policy.
Elected IAB chair in 2013, Housley is a security systems consultant who founded Vigil Security in 2002. From 2007 to 2013, he served as chair of the Internet Engineering Task Force (IETF), the group responsible for the protocol standards that allow the Internet to work. At IAB, Housley monitors the technical evolution of the Internet. "The IAB is focused more on technology than policy," Housley said. "However, what we have learned is that technology-savvy people need to speak out and participate in discussions about Internet policy."
Housley and current IETF chair Jari Arkko recently visited the White House. "We provided the cybersecurity coordinator [with] the perspective of the technical community on several topics related to Internet governance," Housley said.
"When I was a recent graduate from Virginia Tech, my goal was to manage a small programing team," Housley said. "My vision was never to be invited to the White House to talk about policy of the Internet. It has been a very fulfilling career evolution."
Alex Baruch (M.P.A. '14) was a graduate assistant in University Relations.
---
Insects as evidence
The most common cocktail party question for entomologists, who study insects: What's the best way to exterminate them?
The work of Kimberly Lane Kreitlow (Ph.D. entomology '04) turns that question on its head. Instead of killing bugs, she uses them to answer questions about dead people.
Kreitlow is a forensic entomologist who occasionally aids investigators and serves as a witness in criminal and civil cases. Her work usually means determining how long a body has been dead through identifying what insects are present and where they stand in a successional cycle.
"You may have a situation where a body has been found and perhaps they have witnesses and a date for last seen alive," Kreitlow said. "If you have photo evidence there were insects involved, you can use that to sometimes garner a window of time when a person died."
The age of a body matters both for criminal cases and for civil matters such as determining an inheritance. Forensic entomology also factors into issues such as whether to award disability pay for a bee sting or how the presence of termites affects a home sale.
To date, Kreitlow has participated in 17 legal cases and written a chapter of the 2010 book "Forensic Entomology: The Utility of Arthropods in Legal Investigations."
The adjunct assistant professor at North Carolina State University has taught forensic entomology for several years and received the Virginia Tech College of Agriculture and Life Sciences Outstanding Recent Alumni Award in April.
Kreitlow originally came to Tech with the intention of studying bees with Richard Fell, professor emeritus in the entomology department. In a fortuitous coincidence, her interests shifted to forensic entomology just as Fell had started working with the Roanoke medical examiner. He quickly approved Kreitlow's new Ph.D. program, and thereafter they periodically jointly fielded requests from the medical examiner.
"When I first started, I didn't think there would be a time I'd have to go collect insects off a dead body," Kreitlow said. "Nothing can prepare you for that, no matter how much fieldwork and research you've done. It really imprints on your memory."