---
---
1930s
Horace "Ed" Alphin (biological sciences '34, M.S. dairy bacteriology '35), a Virginia Tech benefactor and distinguished military officer, died Jan. 21. The colonel completed his military career serving as director of the U.S. Army's Personnel Services Support Directorate at the Pentagon, retiring in 1967 with more than 33 years service. He funded a variety of scholarships and three professorships in the College of Agriculture and Life Sciences and contributed to the construction of the Alphin-Stuart Livestock Teaching Arena.
1937

Arthur A. Kirk (BIOL), Portsmouth, Va., 1/26/15.
---
---
---
---
---
---
---
---
Kitchen and bath pros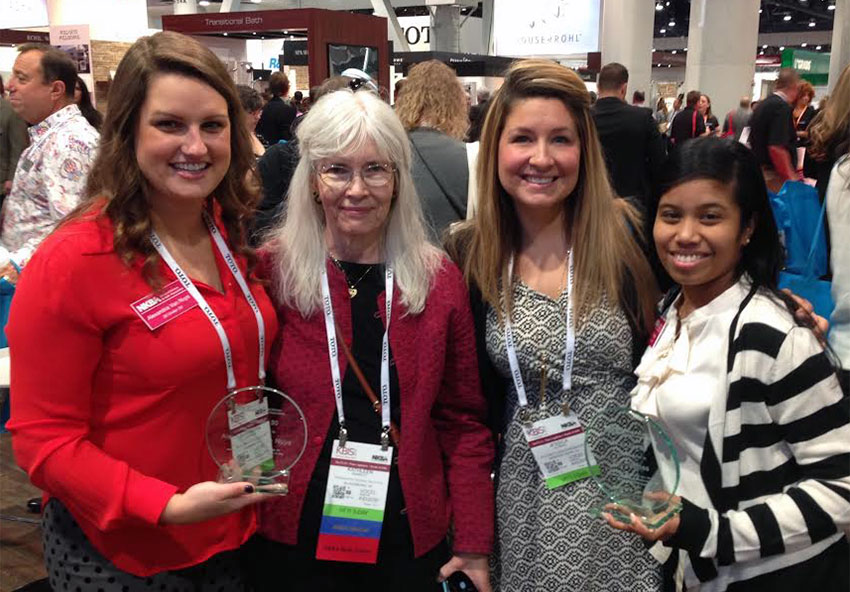 (From left) Alexandra Van Nuys '11, Professor Kathleen Parrott, Jessica Whitbeck Altman '07, and Tyl Glover Thomas '07
Six alumni in three years have been named to the National Kitchen and Bath Association's (NKBA) "30 Under 30" list.
How does a program generate such positive results?
"From day one, our students are learning and working in the world of kitchen and bath design," said Professor Kathleen Parrott, the career advisor for the residential environments and design major. "Academic studies include projects for real clients, study tours, internships, design competitions, field trips, and hands-on exposure to products and materials in our Center for Real Life Kitchen Design. Regular interaction with industry professionals, including alumni, sets the standard for professional development and career goals."
Tech's kitchen and bath design program in the Department of Apparel, Housing, and Resource Management (AHRM) has been accredited by NKBA since 2008. Five of the alumni earned AHRM degrees, while Stephenson's degree was in public and urban affairs.
2015 winners
• Tyl Glover Thomas '07, kitchen and bath designer, Kitchen and Bath Expo, Virginia Beach, Virginia
• Alexandra Van Nuys '11, design consultant, Lane Homes and Remodeling, Richmond, Virginia
2014 winners
• Jessica Whitbeck Altman '07, Hatchett Design/Remodel, Newport News, Virginia
• Ebony Stephenson '07, Criner Remodeling, Newport News, Virginia.
2013 winners
• Meagan Sutton Fox '07, Fox Design Studios, Leesburg, Virginia
• Richard Anuszkiewicz '10, kitchen and bath designer, Alt Breeding Schwartz Architects, Annapolis, Maryland
---
---