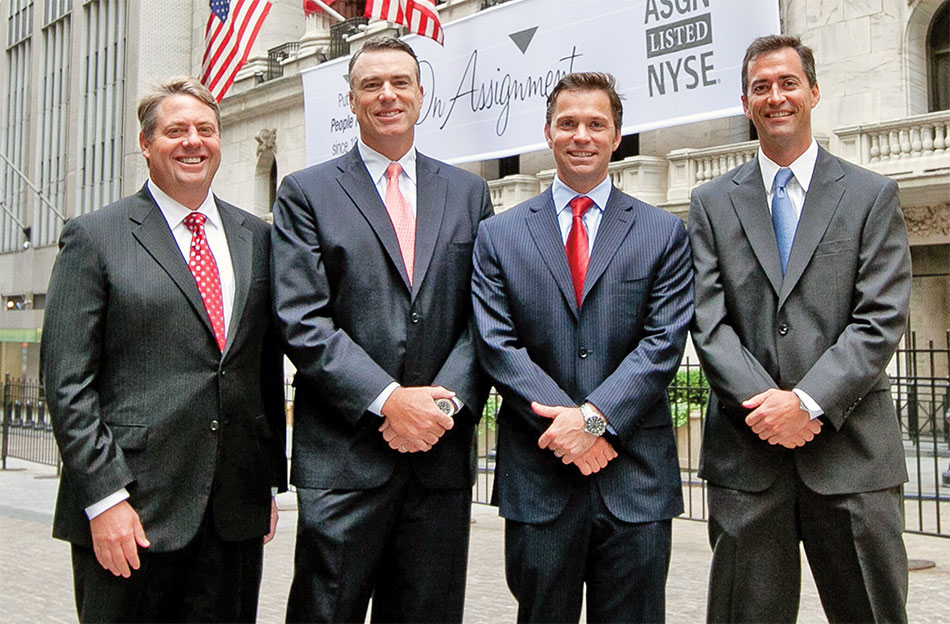 Four alumni leading Apex Systems—(from left) Ted Hanson '91, Brian Callaghan '93, Edwin "Win" Sheridan '94, and Jeffrey Veatch '93—were inspired to support entrepreneurship activities at Virginia Tech.
---
Apex of innovation
by Annie McCallum
Joe Acanfora's goal is to help people reach their destinations.
To help achieve that goal, he created an app that helps users determine where they should park on Virginia Tech's campus based on what kind of parking permit they have and what time of day it is. A native of Gilbertsville, New York, Acanfora (computer science '15) developed the app while he was a student.
He said he hopes to expand on the technology and use it elsewhere, including Richmond, Virginia, where he is a software developer and consultant with CapTech. "Even though [the app is] about parking, it's more about helping people get where they want to go," he said.
Getting people where they want to go is also the idea behind the Apex Systems Center for Innovation and Entrepreneurship, which is helping and inspiring students like Acanfora.
Launched in July 2014, the center supports entrepreneurship and innovation across the university through programs, resources, and the expertise of its staff. While it's based in the Pamplin College of Business, the center assists students and faculty across campus.
In April, in its first-ever Student Innovator and Entrepreneur of the Year Awards program, the center recognized Acanfora for his creation. Acanfora said the awards are a powerful way to encourage students. "I think it can inspire students who have great ideas and aren't sure what the next step is."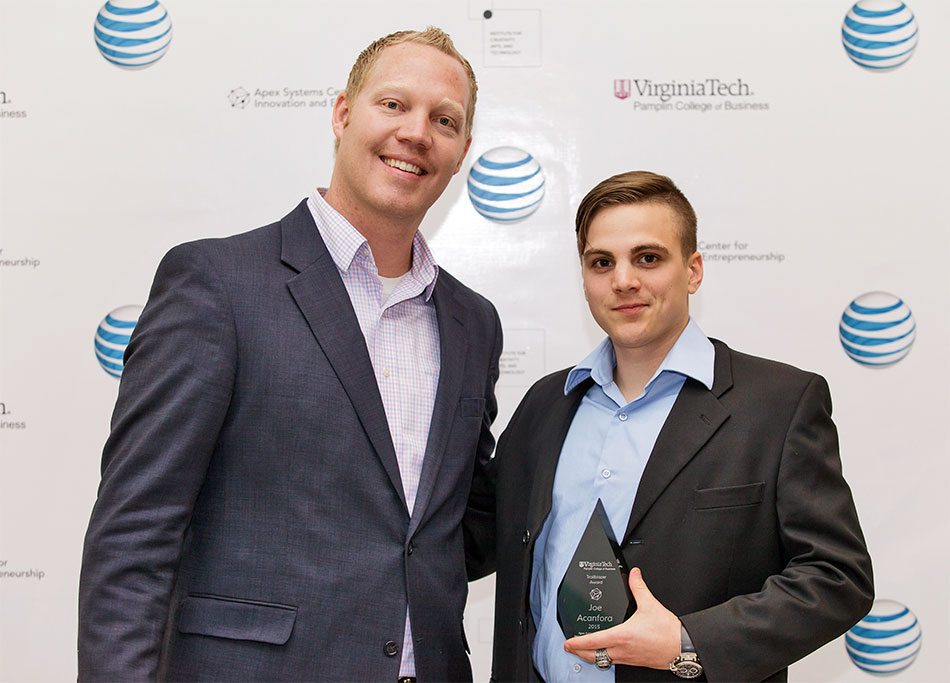 Apex center executive director Derick Maggard '13 and Joe Acanfora '15; photo by Christina O'Connor
---
While the center was in existence for only a fraction of Acanfora's time at Virginia Tech, he still saw its potential to shape the future. "Hopefully, it grows the community of entrepreneurs in Blacksburg," he said. "There are tons of great ideas out there and tons of people who have great ideas. It's really about bringing those ideas together and growing and incubating them."
The center got a serious boost in November 2014, when four Virginia Tech alumni committed a combined $5 million to jumpstart the center's activities.
In 1995, Brian Callaghan (psychology '93), Edwin "Win" Sheridan (political science '94), and Jeffrey Veatch (finance '93) founded the information-technology staffing and services company Apex Systems, now the center's namesake. Ted Hanson (accounting '91) joined the company as chief financial officer in 1998. The group gathered at Virginia Tech in April for the center's naming celebration and to present the innovation and entrepreneur awards to Acanfora and five other students.
Thinking back on their time at Virginia Tech, Sheridan said the odds of the group starting a company seemed slim. Two decades later, though, Apex's sales and recruiting staff alone numbers more than 625 people; and in 2014, the company surpassed $1 billion in revenue.
"We couldn't think of a better way to give back to our university than this great center," Sheridan said. It's important, he added, to recognize students, give them positive reinforcement, and let them know they can go out and succeed.
That support is the crux of the center's mission, which has been helped significantly by the generosity of the Apex alumni, said Derick Maggard (M.S. industrial and systems engineering '13), the center's executive director.
Maggard pointed to several popular programs helping foster new ideas and businesses while encouraging participants. These include Innovate, a living-learning community that is a partnership between the center and Virginia Tech's Division of Student Affairs, and Entrepreneur Treks, which take students to different cities to visit companies and connect with business leaders. The visits give students a chance to learn in the field and form powerful relationships in the business community.
"It's difficult to simply teach and learn," Maggard said. "You have to do."
Innovate, which launched in 2013, provides a place where more than two dozen students are immersed in entrepreneurial activities, such as forming business plans, drafting marketing campaigns, and conducting product research.
Acanfora, the app creator, lived in the Innovate community, where he mentored younger students. He said Innovate helped first-year students and sophomores with the public-speaking skills critical in business and also provided a supportive environment. Now, Acanfora is drawing on his Virginia Tech experiences as he develops his award-winning business idea.
"I think the future is really bright at Virginia Tech for innovation and entrepreneurship," he said.
Annie McCallum is the Web editor for University Development.