---
Mark McNamee has served as senior vice president and provost for 14 years—remarkable longevity in such a position. He will step down in August when the new provost, Thanassis Rikakis, takes office.

How will the past 14 years shape the next 14 years of Virginia Tech academics?
I came to Virginia Tech in 2001 with a strong belief that public land-grant research universities like Virginia Tech had a unique opportunity to expand their local and global impact by taking full advantage of the strong synergy among the tripartite missions of research, teaching, and outreach. An immediate strategic goal here was to expand the size, scope, and impact of the research enterprise across all of our existing disciplines and to build new strengths in areas such as health and life sciences. I envisioned a cascade effect whereby growth in research would lead over time to major enhancements in graduate programs, followed by innovations in undergraduate degree programs and eventual improvements in general education, external partnerships, and overall campus quality. These advancements would be driven by the recruitment and retention of outstanding faculty members, an emphasis on strategic initiatives involving institutes, cluster-hiring, interdisciplinary research, and creation of state-of-the-art facilities.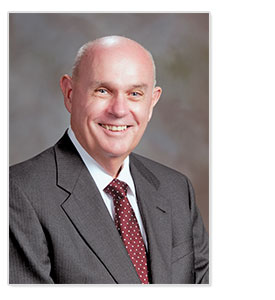 These 14 years have enabled me to see these cascading scenarios come to life. The foundations of the new general education program and the exciting new undergraduate majors and degrees have emerged from the growing graduate programs that in turn were strengthened and developed by the creative input of our faculty. In parallel, a number of advancements—the expansion of our arts programs, symbolized by the Moss Arts Center and the Institute for Creativity, Arts, and Technology; the transformation of the library; the National Capital Region investments; and the renewed commitment to inclusion and diversity—have placed Virginia Tech in the same league as our aspirational peers. Our ability to establish a major medical research institute and medical school in partnership with Carilion Clinic was an unanticipated opportunity that leveraged our growing strength in the life sciences and accelerated our progress. Our strongest programs have increased in strength, our newer programs are flourishing, and the quality of our student body and the quality of the student experience continue to improve.
The next 14 years can and should provide Virginia Tech the opportunity to outpace and outperform our competition and solidify our position as a rising star among research universities. We will increasingly benefit from our presence in the National Capital Region, and our global reputation will steadily grow. We face relatively few barriers in creating and supporting new academic ventures, and we should be able to attain the ambitious goals set out in "A Plan for A New Horizon," the university's strategic plan for 2012-18. The challenge will be to develop a diversified resource base that can meet the needs for competitive faculty and staff salaries, adapt to concerns about steadily increasing tuition in the face of state funding limitations, and adapt to the uncertain prospects for federal research funding. The next capital campaign should help, and increased emphasis on innovation, entrepreneurship, and industrial partnerships should also help.
I could not have predicted all the challenges we faced in my 14 years here, but we never lost focus of our bigger goals, and we always remained pragmatic and optimistic. I am confident that the leaders of Virginia Tech will continue to surge ahead with confidence and optimism about the future.