Here Today,
Home Tomorrow
Imagine an intuitive, responsive home that recognizes and instantly adapts to you, a home where accessories, appliances, plumbing, heating, cooling, lighting, and ventilation — and even the miniature cleaning robots — are easily activated by your voice, gestures, and touch.
It's not an episode of "The Jetsons." It's the FutureHAUS, under construction now at Virginia Tech.
The FutureHAUS research team has discovered that if major components of homes, such as kitchens, bathrooms, and audio-visual walls, are built in factories — much like the way cars are manufactured — advanced technologies can be seamlessly integrated. Safer and more environmentally sustainable than on-site construction methods, the modular process capitalizes on the many benefits of prefabrication. Plug-and-play wall components called "cartridges" can be delivered to construction sites fully assembled.
Joseph Wheeler, professor of architecture in the College of Architecture and Urban Studies and co-director of the Center for Design Research, believes the concept can revolutionize the current building process and provide the digital complexity we'll demand in the future. As he explained, "We are looking at the future of both how we build and how we live."
Many aspects of FutureHAUS are inspired by the construction of Virginia Tech's LumenHAUS, which won the international Solar Decathlon Competition in Madrid, Spain in 2010.
In 2012, LumenHAUS won a 2012 AIA Honor Award for Architecture — the first time this award has been given to a university team. Wheeler was one of four faculty leaders on the project.
Wheeler and Denis Gracanin, an associate professor in the College of Engineering's Department of Computer Science, along with Clive Vorster, a visiting instructor in the School of Architecture + Design, have worked the past three years with students from architecture, industrial design, interior design, and computer science to envision how people will interact with their homes in the near future. "The technology is here; it's just not yet being fully integrated into our buildings," Wheeler said.
And that's the work the team is doing: finding new ways to integrate technology while ensuring the home accommodates users of all ages and abilities. "You're going to walk into this place and say, 'Wow, this house is cool,' and then you're going to realize that it's 100 percent [Americans with Disabilities Act] accessible," Wheeler said.
Students have played key roles in conducting research, proposing new design concepts, and constructing various prototypes. So, too, have industry and campus partners. The team has commenced work with DuPont and professors Tim Long and Chris Williams of Virginia Tech's Macromolecules and Interfaces Institute in a research partnership, aptly dubbed "From Molecules to Modules," to develop smart building materials for the modular cartridge concept.
The ultimate plan is to install a complete multistory prototype on campus.
---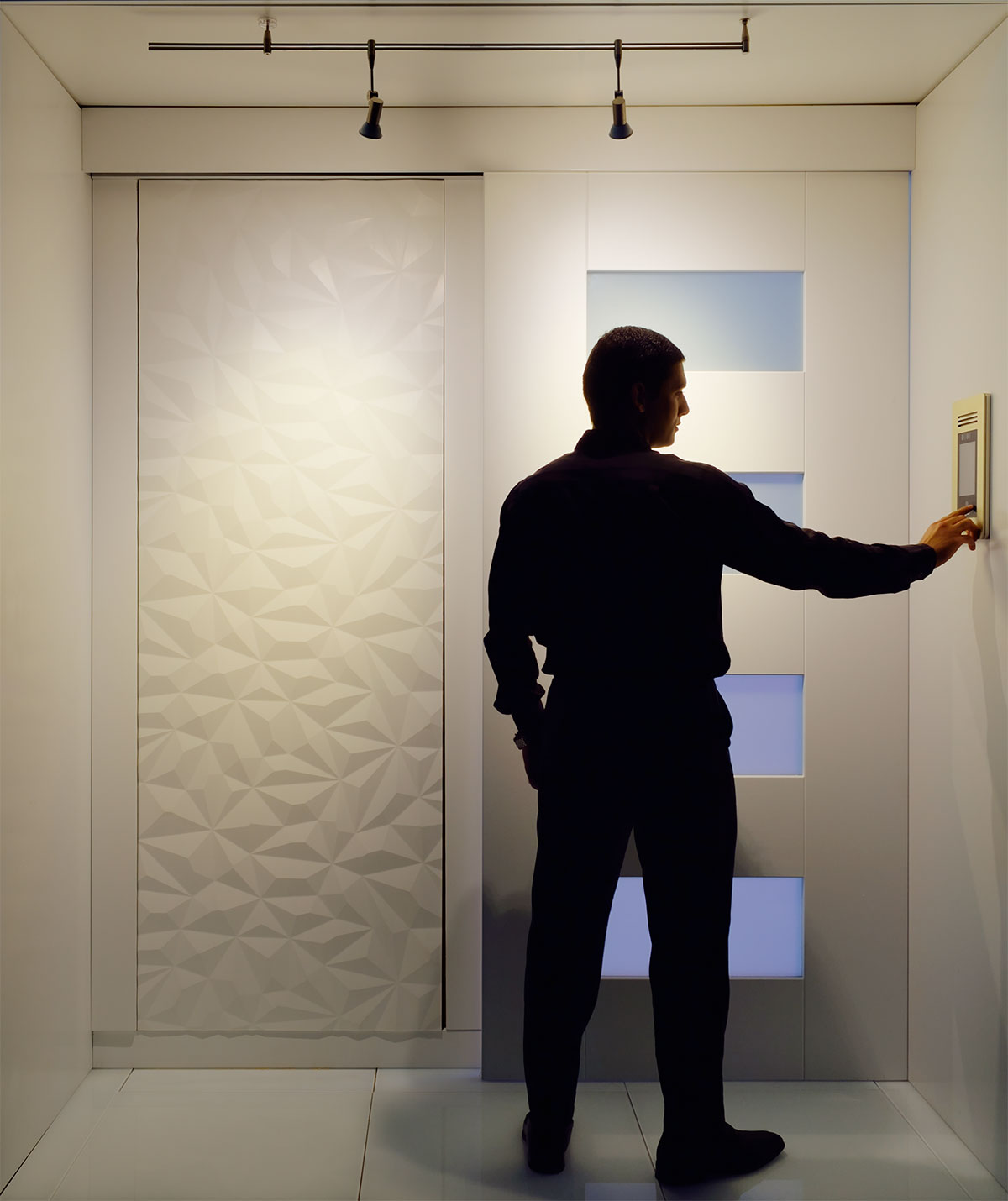 At FutureHAUS's front door, a visitor's image is relayed to the kitchen's "virtual window" backsplash.
The first cartridge introduced, The Kitchen seamlessly integrates multiple functions into one easy-to-use interface. With electronic control, multiple devices can be activated in many ways, including with voice and gesture. The design allows for "aging in place" — in other words, lifelong accessibility. The systems manage energy use, track grocery inventory, and assist users with cooking, shopping, and socializing.
---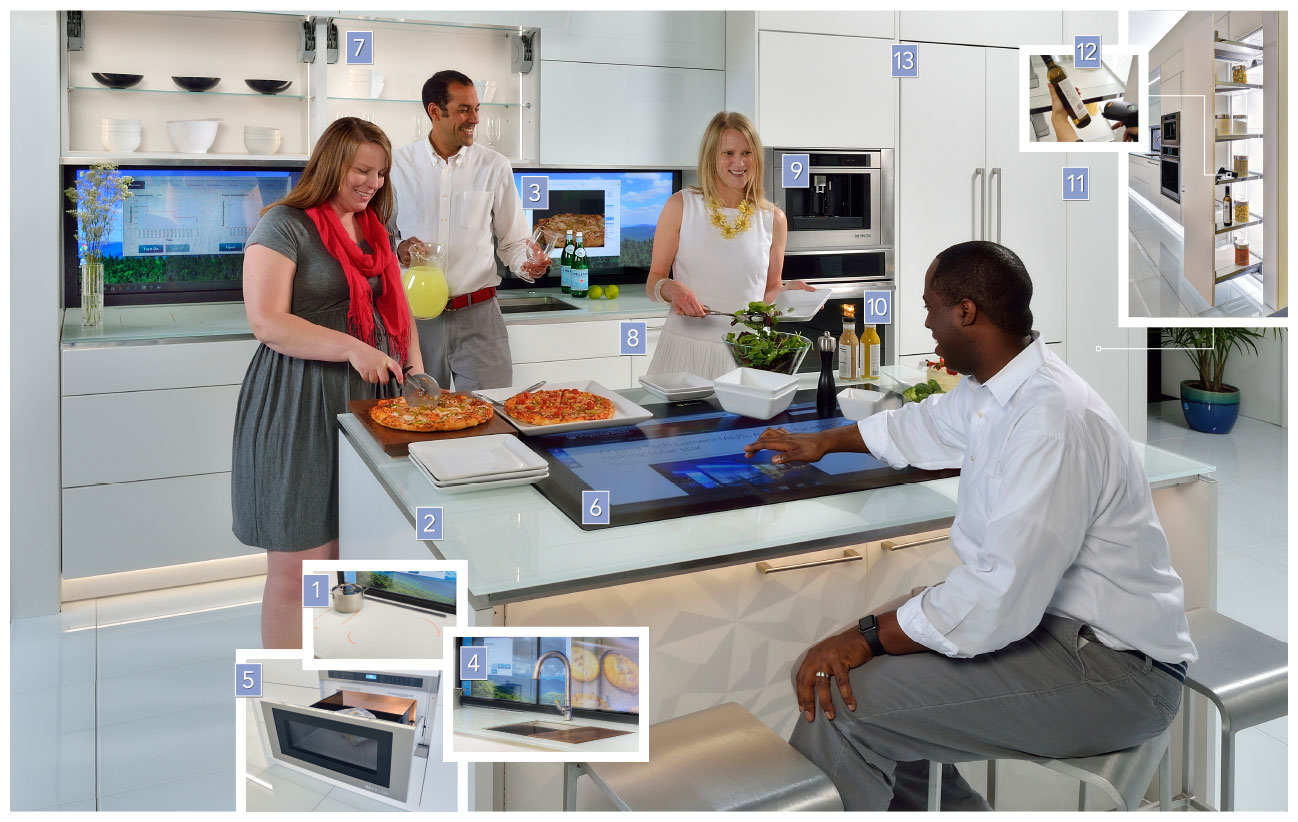 1 Energy-efficient magnetic INDUCTION TECHNOLOGY underneath the countertop offers an easy-to-clean surface and flexible space. Any area can become a heating surface while the rest remains cool and usable.
2 The COUNTERTOP SURFACES are durable, easy-to-clean, anti-microbial glass.
3 On the interactive "VIRTUAL WINDOW" BACKSPLASH, the main interface for all kitchen functions, display a recipe, activate an appliance, monitor cooking, or communicate with friends and family.
4 The FAUCET features hands-free operation and gesture control for flow and temperature settings.
5 The MICROWAVE'S infrared sensor allows for precise temperature cooking, while a microphone detects the status of your popping popcorn.
6 The SOCIAL TABLE carries an interactive multimedia display for researching recipes, browsing the web, or extending the "virtual window" for kitchen operations.
7 LED LIGHTING is motion-activated, offering custom colors and region control.
8 When the DISHWASHER'S automatic detergent dispenser runs low, your house will reorder detergent from Amazon Prime.
9 The COFFEE MAKER can be programmed to start making coffee when a warm shower is activated in the morning.
10 Monitoring food temperature and moisture, wireless probes in the WALL OVEN will alert you when dinner is ready, while a video feed allows you to follow the action on a screen or drive.
11 In the PANTRY, weight sensors monitor stock ingredients and expiration dates,while a 12 UPC reader can update an inventory database that can be remotely accessed, while you're shopping, from a smartphone. The 13 REFRIGERATOR does the same thing. The pantry features touch-to-open and hands-free door operation, while the fridge opens by voice, gesture, or touch… or the old-fashioned way: manually.
The TRASH BIN CABINET, with a hands-free door, has bins for trash, recycling, and compost.
In a fall 2015 interdisciplinary special studies course, students researched technology, materials, plumbing fixtures, and accessible design. The best ideas led to a bathroom — the FutureHAUS's most recent addition — that recognizes its users and provides customized preferences along with cleanliness, safety, and accessibility.
---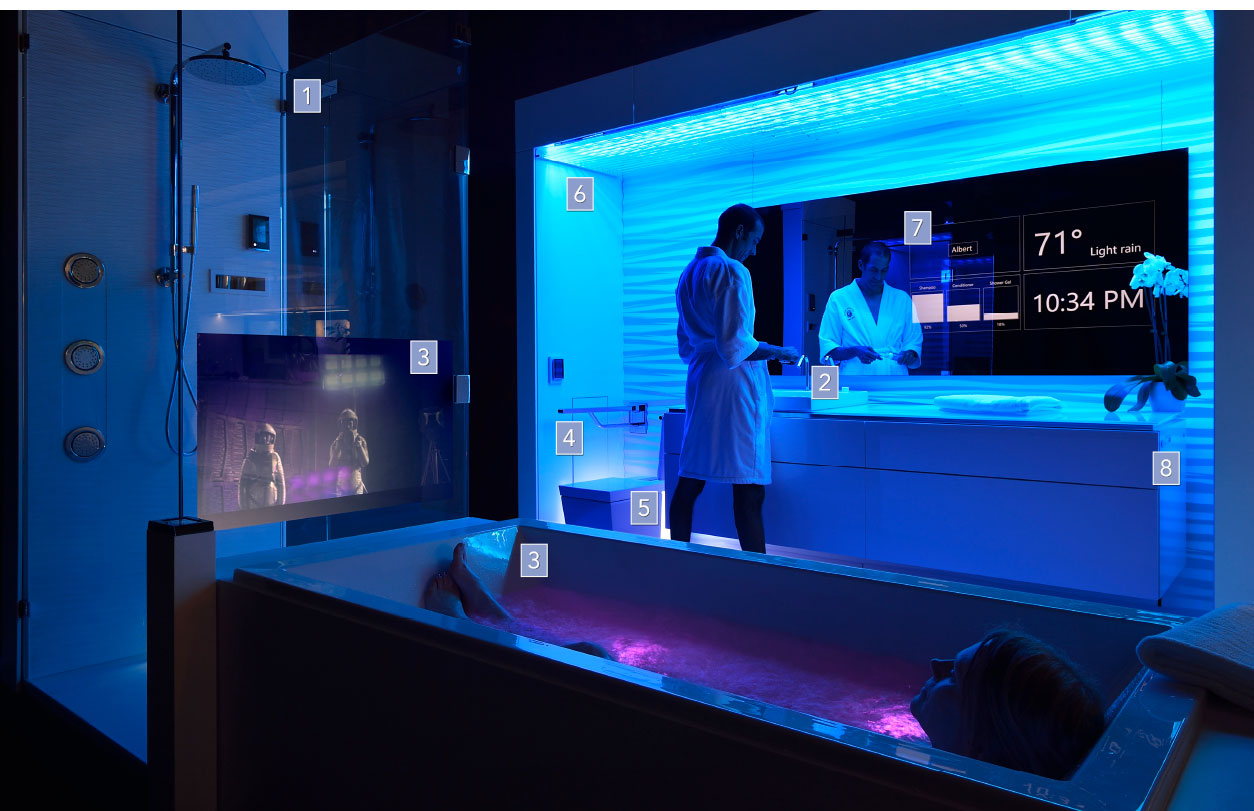 1 The interactive SHOWER SYSTEM monitors energy and water use. Control the water volume and temperature with voice and gestures.
2 Hands-free FIXTURES use low-flow technology and save hot water, even adjusting for your individual temperature preference.
3 When you're not streaming Netflix, jets in the BATHTUB can be synched to music.
4 The IN-WALL HAMPER and TRASH BIN keep the floor clutter-free, clean, and safe.
5 The SMART TOILET offers air filtration and recirculation; heating in the seat and base; integrated lighting; motion-activated seats; and water efficiency.
The seamless, glass SMART FLOOR is etched to prevent slips, heated for comfort, and lighted at night. An embedded scale will display your weight on the mirror, while slip-and-fall technology can detect vibrations consistent with a fall and send a text message to a caregiver.
CLIMATE CONTROLS feature automated humidity management and a smart thermostat for pre-programmed individual comfort settings.
6 Automatically adjusting based on tasks and user preferences, the RGBW LED lighting can be tuned to the entire spectrum, with varying degrees of color and white, and synched to circadian rhythms to provide psychological comfort.
The embedded AUTOMATIC SOAP DISPENSER will order soap from Amazon Prime.
7 The SMART MIRROR displays email, calendar, messages, weather, time, traffic, or sports scores — whatever you choose. The mirror is an interface for lighting, music, and the shower's temperature and flow.
Using biometric fingerprint recognition, the ADJUSTABLE VANITY automatically adjusts its height for adults, children, or those in wheelchairs.
Along with anti-microbial, self-cleaning surfaces, the bathroom uses a system of panels in the walls, floor, and shower stall to minimize joints and provide a CLEAN AND SANITARY environment. When the restroom is unoccupied, a motion-activated robot will emerge from its storage cubby in the base of the wall.
The living room cartridge primarily focused on lighting research and interior modular wall systems. With support from DuPont and the Virginia Tech Institute for Creativity, Arts, and Technology, Gracanin and Wheeler worked with John Richey of the Department of Psychology to explore the psychology of lighting comfort and the responsive home interior, including looking at circadian rhythm and how to mimic the natural changes of light, as well as creating lighting conditions that are appropriate for the tasks at hand.
---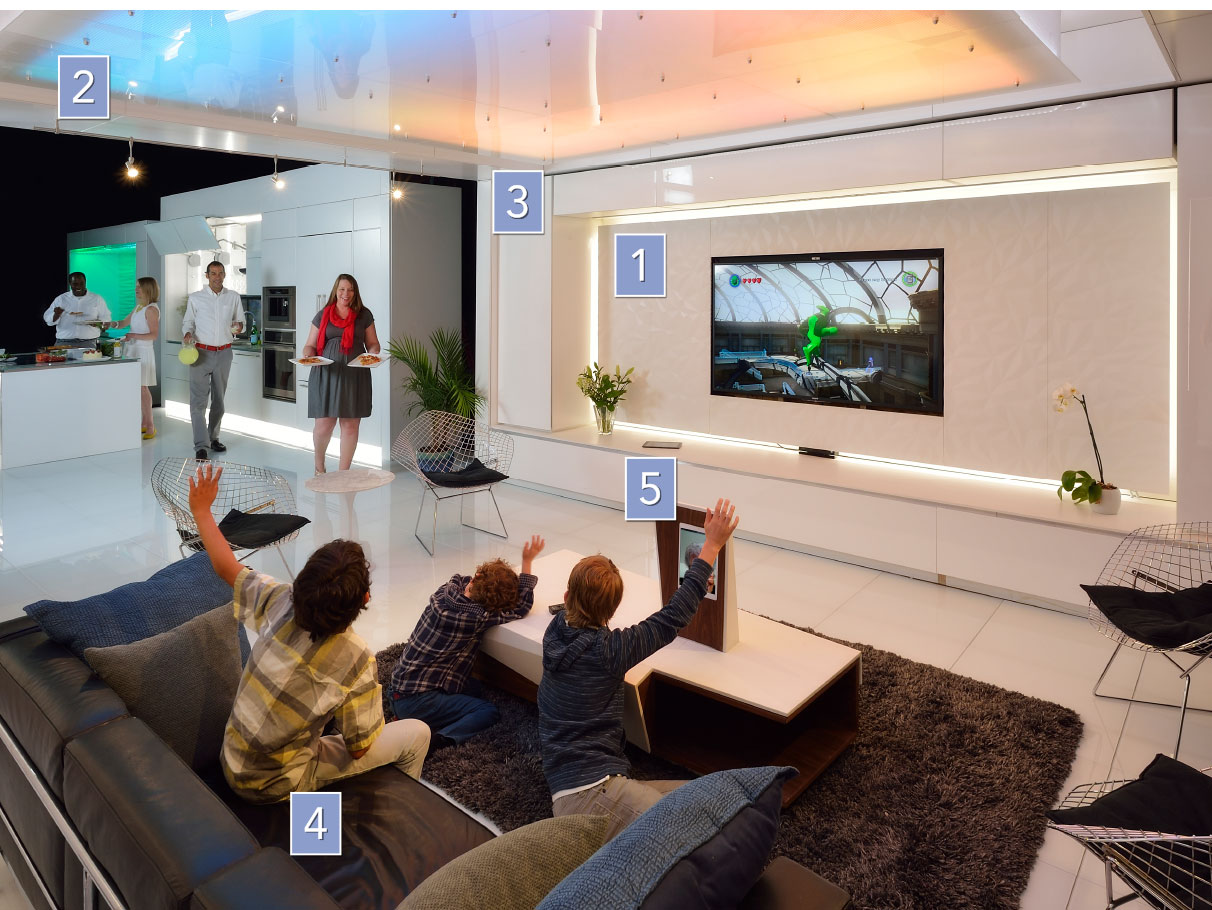 1 The central communications hub of the entire home, the AUDIO-VISUAL WALL features an integrated entertainment center and a countertop that conceals wireless charging stations for phones and tablets.
2 A customizable LIGHTING system in the ceiling and walls provides responsive lighting that can be coordinated with sensor-detected activities throughout the day. The system can detect pixel color on the TV screen and repeat the colors in the ceiling.
GESTURE-CONTROLLED LIGHTING can be activated, brightened, and dimmed by hand.
3 The solid-surface MODULAR WALLS, fire-resistant with sound and thermal insultation, are easy to clean, customize, and change. With DuPont, the team is exploring wall compositions for better HVAC performance.
4 SEAT SENSORS can detect room occupancy and even identify specific differences, which is used to adjust lighting according to your preferences.
5 Integrated into the custom-built coffee table, the TABLET STAND allows for a more natural communication experience over Skype or Facetime.
Katie Gehrt (psychology '97, art '02) was the College of
Architecture and Urban Studies' communications director.
---
Leading the nation in intelligent infrastructure
by Albert Raboteau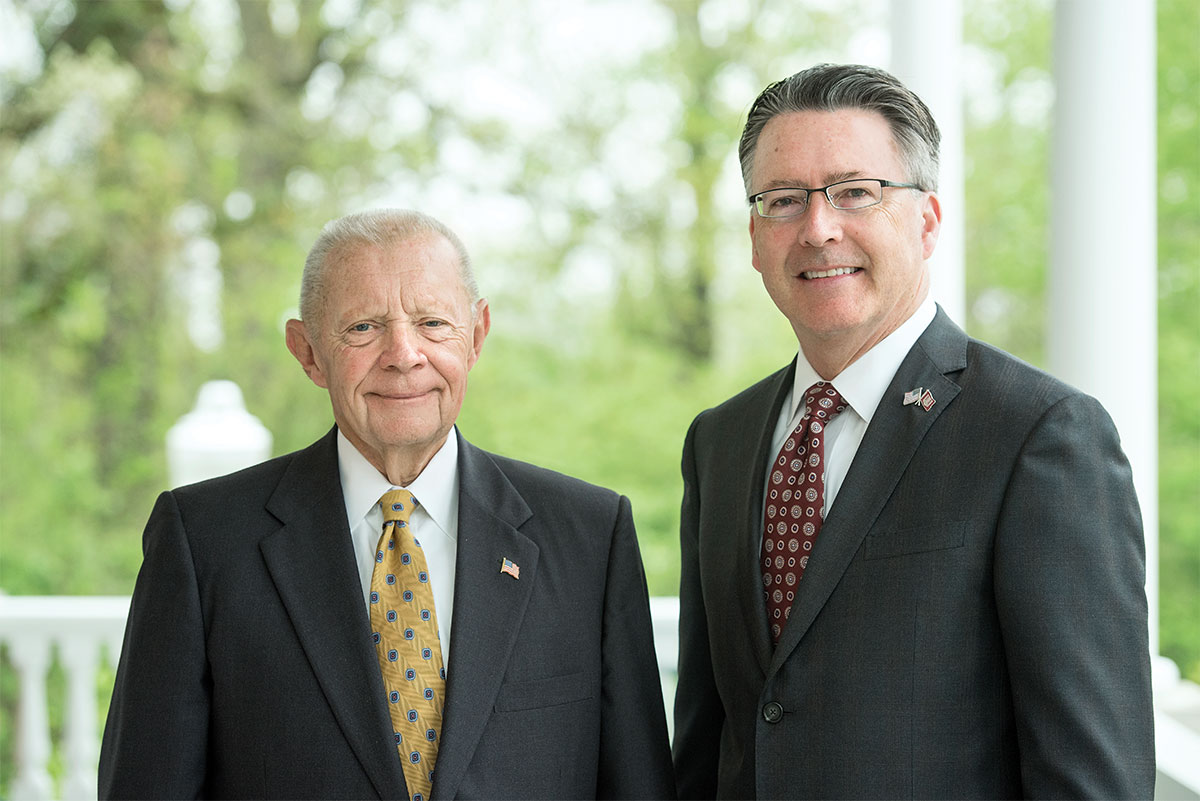 Russell Hitt, chairman of Hitt Contracting Inc., and Tim Sands, president of Virginia Tech
In addition to its FutureHAUS endeavors, Virginia Tech is adding facilities, creating an academic major, and leveraging partnerships with industry and government to expand teaching and research about integrating emerging technologies into daily life.
"We are uniquely suited to lead the nation in intelligent infrastructure for the 21st century," said Executive Vice President and Provost Thanassis Rikakis, pointing to the university's faculty expertise in key components of intelligent infrastructure, its crosscutting curriculum, and its network of research capabilities and partnerships.
Preliminary plans for new facilities include an Intelligent Infrastructure and Construction Complex that will allow the doubling of enrollment in the Myers-Lawson School of Construction. The two-building complex will be built near Bishop-Favrao Hall and the Classroom Building now under construction.
Also in the works is the Intelligent Infrastructure Corridor, to be developed along the western end of campus, providing a connection between the aforementioned complex and research facilities on Plantation Road. Connected by smart roads, the corridor's buildings will include large-scale smart construction, smart transportation, smart materials, and smart energy facilities with smart residences for students.
While significant private fundraising for the complex is ongoing, major commitments include $5 million from the charitable foundation controlled by the Hitt family, whose company, HITT Contracting Inc., is one of the nation's 100 largest general contractors.
"Technology continues to drive the evolution of our industry," said Brett Hitt, the company's co-president. "We're moving toward building smart spaces. As construction professionals, we need to consider the impact a space will have on the community it's built in and the people who will live or work there."
One building under development will be named Hitt Hall, pending approval by the Board of Visitors. The other structure, the Intelligent Infrastructure Building, will likely be used by students from multiple colleges who will be able to earn an intelligent infrastructure major within other degrees.
Vice President for Research and Innovation Theresa Mayer said the complex will join a strong collection of Tech resources, including the Urban Living Lab in the National Capital Region (NCR) and the network of smart and connected roadways operated by the Virginia Tech Transportation Institute (VTTI).
The university's existing MetroLab Network partnership with Arlington County allows the testing and collection of data from intelligent-infrastructure-related technology in an urban setting. Meanwhile, research related to autonomous and intelligent vehicles and smart roads is ongoing, both in Blacksburg and the NCR, through a partnership between VTTI and the Virginia Department of Transportation. Among the ultimate aims of these partnerships are relieving traffic congestion and reducing crashes by alerting drivers and cars to traffic and road conditions in time for them to take action, or for vehicles to brake automatically.
"The implications of being able to take a systems approach to the intelligent infrastructure that will surround us — from vehicles, to roads, bridges, and buildings — cannot be overstated," Rikakis said. "Our expertise in this area is not just an opportunity for Virginia Tech, but for our entire state to become known as the national leader in this area."
Albert Raboteau is the director of advancement communications.
---