Few settings are more symbolic than the New York Stock Exchange (NYSE) to celebrate Virginia Tech's rapidly expanding initiatives in innovation and entrepreneurship.
A single moment — 4 p.m., Tuesday, April 26, to be exact — captured the university's momentum, for that was when university representatives and alumni rang the exchange's closing bell.
The bell-ringing was sponsored by Tech alumni at two NYSE-listed companies: HubSpot, whose chief financial officer is John Kinzer (accounting '90), and On Assignment, which acquired Apex Systems, the information technology staffing company founded in 1995 by Brian Callaghan (psychology '93), Win Sheridan (political science '94), and Jeff Veatch (finance '93) and that Ted Hanson (accounting '91) joined as chief financial officer in 1998.
Said Sheridan, "Ringing the closing bell at the New York Stock Exchange was a wonderful way to mark the momentum and impact that the Apex Systems Center has had in inspiring and nurturing entrepreneurs and innovators at Virginia Tech."
Behind the bell is a tale of how the forces of innovation are shaped at Virginia Tech.
In 2014, Callaghan, Hanson, Sheridan, and Veatch contributed $5 million to create the Apex Systems Center for Innovation and Entrepreneurship (Apex CIE) at Virginia Tech. Situated in the Pamplin College of Business and charged with a mission to instill innovative, entrepreneurial thinking in students across campus, the center provides hands-on, educational training through the delivery of experiential curriculum and extracurricular programs.
Apex CIE Executive Director Derick Maggard (M.S. industrial systems engineering '13) said the center nurtures a mindset that serves both the young alumna leading a startup and the mid-career alumnus spinning a company out of a large corporation. "We believe that innovation and entrepreneurship can be a powerful force in organizations of all types and sizes, in established businesses as well as new ventures. It takes the entrepreneurial mindset to solve problems, make an impact, and innovate," he said.
Such thinking is embodied in the university's physical presences. With Virginia Tech's proximity to federal agencies and international communities in the National Capital Region, coupled with the Health Sciences and Technology Innovation District in the Roanoke-Blacksburg region, the university is creating innovation hubs — vast living-learning districts that will become a magnet for talented partners and students.
"Everybody wins when successful graduates partner with Virginia Tech to provide resources to educate the next generation of students both inside and outside the classroom," said Theresa Mayer (electrical engineering '88), vice president for research and innovation. "We are building innovation spaces and mentor networks to support active sharing of ideas and information among our students, faculty, staff, alumni, and partners. This is creating the environment and culture to collaborate, innovate, and start companies."
---
---
Alongside the Apex center—a driving force on campus—a number of activities prepare students to be adaptive and entrepreneurial.
Alongside the Apex center—a driving force on campus—a number of activities prepare students to be adaptive and entrepreneurial.
• The Innovate living-learning community seeks to discover, prepare, and connect the next generation of entrepreneurial leaders. Students immerse themselves in the many facets of entrepreneurship: brainstorming ideas, concept development, demographic research, product design, writing a business plan, project management, problem-solving, critical thinking, securing funding, creating a marketing campaign, and final implementation.
• During each academic year, visiting entrepreneurs-in-residence live in an apartment connected to the Innovate living-learning community. Representing diverse fields, the entrepreneurs are chosen based on their success in starting and managing enterprises and their commitment to building Virginia Tech's entrepreneurial ecosystem.
• The Global Entrepreneurship Challenge, organized by business incubator VT KnowledgeWorks, allows student teams to present concepts to a panel of local business leaders. At the most recent competition, the three top prizes (in the outstanding tangible product, information technology/services, and people's choice categories) went to teams that had benefited from Apex CIE programs, support, and curriculum.
• The annual Union Innovation Challenge, organized by the Apex center in partnership with Union Bank & Trust, inspires students and others to submit innovative proposals for a chance to win funding and start-up services from Union. Carilion Clinic participated in organizing the 2016 challenge, in which six teams pitched ideas for new healthcare, wellness, or medical devices.
• Entrepreneur treks routinely expose students to venture capitalists and other business movers and shakers in various innovative and startup communities. The treks have taken students to New York, Washington, Boston, San Francisco, and Atlanta.
• The minor in entrepreneurship-new venture growth focuses on the knowledge and skills needed to create new ventures and lead their early growth. Students learn how to convert ideas into business successes, particularly in the context of engineering and science-based technology commercialization.
• The annual Hokies on Wall Street networking reception, held every spring, has drawn more than 200 alumni in recent years. Initially an event for alumni working on Wall Street, it has expanded to include alumni in such fields as accounting, real estate, marketing, and publishing.
• Virginia Tech alumni play pivotal roles in the university's innovation and entrepreneurship programs. They serve as classroom speakers, career mentors, and entrepreneurs-in-residence. They serve as the university's links and advocates to the business and professional communities, and they give back to the university through advisory board service, job placement assistance, and philanthropic gifts. See "Pamplin alumni: foundation of success" in the spring edition of Virginia Tech Business, the magazine of the Pamplin College of Business.
• In capstone projects, multidisciplinary teams of faculty and students work alongside industry representatives to ideate on problems, critically assess opportunities, and propose solutions based on market potential.
• The Virginia Tech Enterprise Forum gives entrepreneurs and innovators a valuable network and resources to connect with the broader community. The forum connects entrepreneurs with management expertise, joint-venture partners, business services, capital, and other critical resources.
• Internships play a critical role. Companies work with Tech and Apex CIE to access talented students who possess deep disciplinary skill sets as well as broad competencies in teamwork, leadership, problem-solving, and innovation.
The experience of education
For today's Virginia Tech student, then, the curricular and extracurricular offerings provide something perhaps more valuable than a GPA: experience.
"Experiential entrepreneurial education goes beyond developing start-up companies. It builds the skills needed for a fulfilling and resilient life and career," said Virginia Tech President Tim Sands. "Our graduates must have a global perspective, coupled with the ability to evaluate and act on new information as the economy evolves and new opportunities develop over the next several decades."
---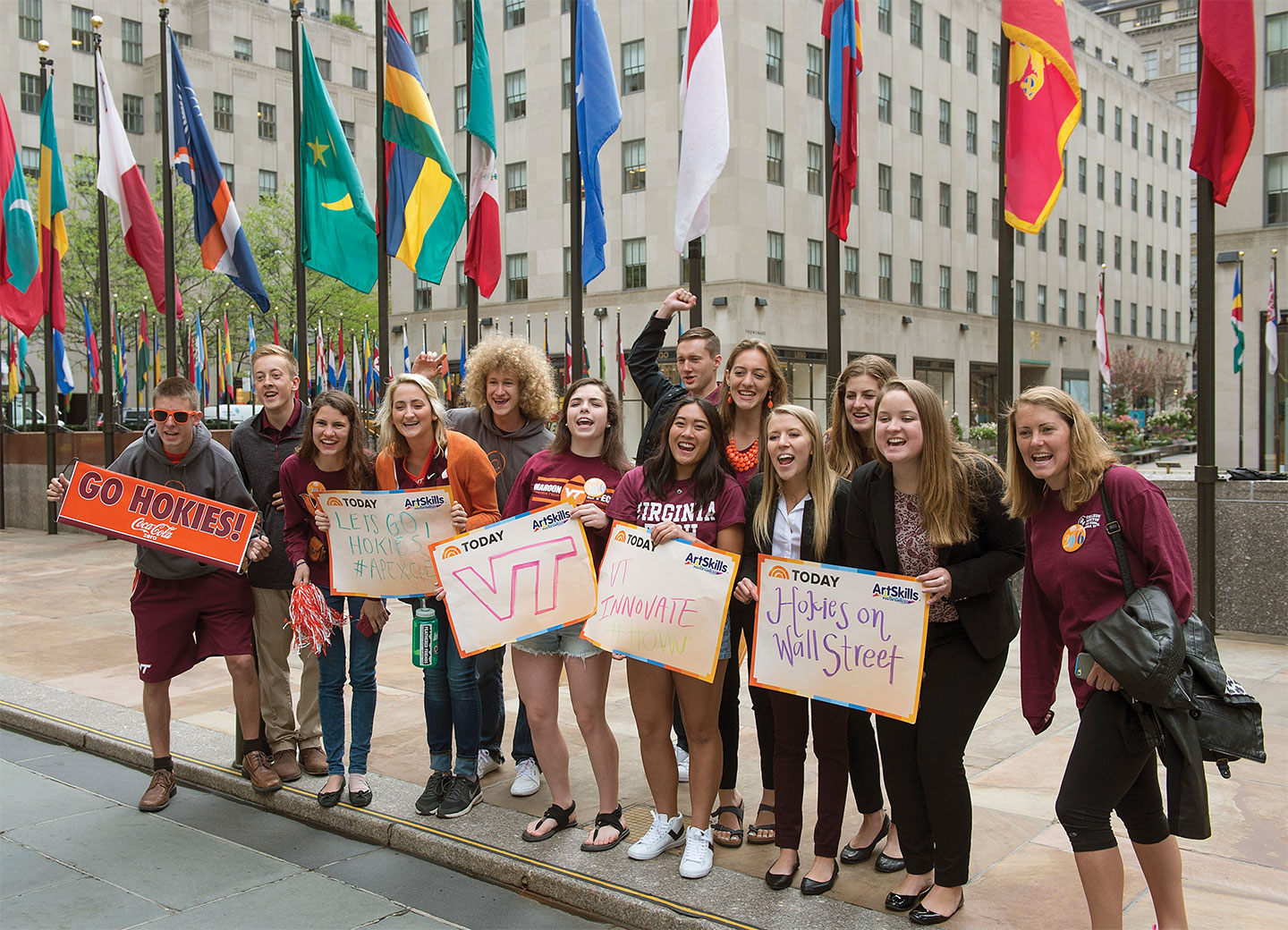 ---
The Entrepreneur Trek
by Zachary Hoopes '16
More than a dozen current students, coordinated by Apex CIE, traveled to New York City to join in the bell-ringing, networking reception, and more. The students visited seven companies—household names such as ESPN and Goldman Sachs, as well as Hokie-led companies such as Betaworks and Tribute.
More than a dozen current students, coordinated by Apex CIE, traveled to New York City to join in the bell-ringing, networking reception, and more. The students visited seven companies—household names such as ESPN and Goldman Sachs, as well as Hokie-led companies such as Betaworks and Tribute.
Zachary Hoopes (finance '16), the account manager of PRISM, Pamplin's social media organization, is returning in the fall semester to finish a management degree.
After returning from the New York City trip, he said the experience was an invitation for students to examine "what we want out of our education, our careers, and beyond."
Virginia Tech Magazine asked Hoopes to visit with his fellow travelers about their experiences.
How did the trip change your perspective?
Madison Blevins, finance major and rising junior: "It showed me the endless possibilities that I have during the rest of my time at Tech. We got to meet really passionate and successful alumni who want nothing more than to help other Hokies achieve their dreams. I plan to be more intentional when I interact with people on campus, because I never know who I might be able to help."
Did you make any lasting relationships?
Maddie Kulik, computer science major and rising junior: "I made a good connection with Alex Obenauer (the Mindsense co-founder and CEO who earned a Tech computer science degree in 2012), which was a cool moment for me because I heard him speak at an engineering conference in the fall, and I thought he was an incredible speaker and a very humble person. Simply making that connection with someone who is so successful, but also struggled in the same ways I am as an undergrad, is awesome. I am actually meeting with him for coffee [soon]."
What was the best piece of advice you received?
Mckenzi MacDowall, finance major and rising senior: "I was talking to an alumnus at Goldman Sachs and he said that Hokies do very well when they go into firms like [his]. I asked what sets us apart, and he said that Hokies have grit and a lack of a sense of entitlement. He told us to be humble and work hard — so that is something I will definitely take with me going into my internship this summer."
What exceeded your expectations?
Elisabeth Cox, accounting and information systems major and rising senior: "I realized that the Hokie family does really exist everywhere, and that alumni are just as interested in me and my life as I am in theirs."
What surprised you?
Christine Smith (finance '16): "It is refreshing to meet people whose lives have taken them a million different directions, but who have become incredibly successful by pursuing their passions and seeking what they thought was interesting. I hope that my life takes a similar trajectory, where I constantly feel inspired and let that inspiration lead me."
Name a moment from the trip that stands out.
Kenny Horoho, business information technology major and rising sophomore: "Ringing the New York Stock Exchange bell was a once-in-a-lifetime, humbling experience that Virginia Tech and the Apex CIE made possible, along with many other parties, and I want to say thanks to all of them."
---