Visionary

Remembering Tech's
11th president
Photo by Logan Wallace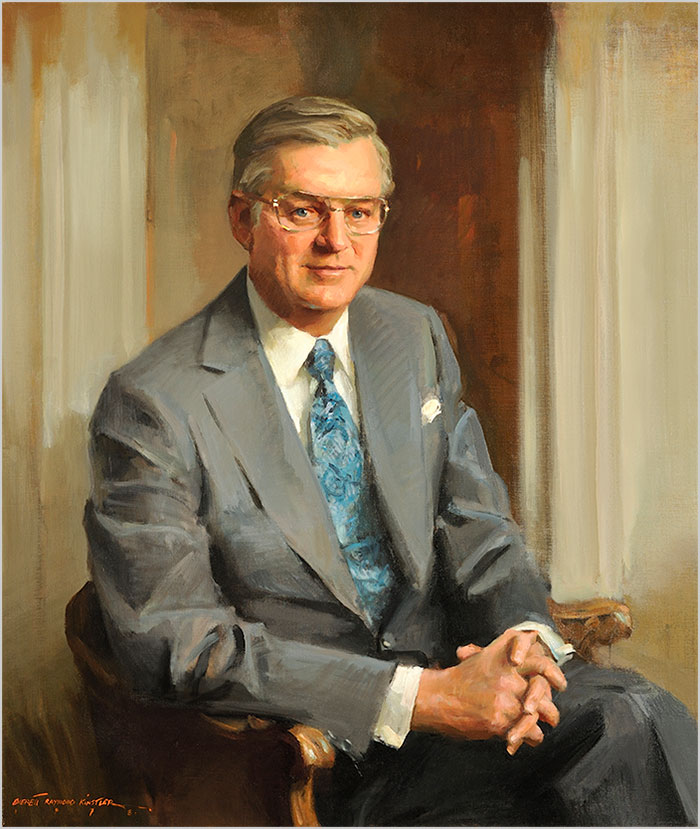 T. Marshall Hahn Jr. was named the president of Virginia Polytechnic Institute at the age of 35, serving from 1962 to 1974. MORE »
by Larry Hincker '72, '94 and Albert Raboteau
President emeritus T. Marshall Hahn Jr., who transformed a primarily male military college into a comprehensive university, died May 29. He was 89.
A brilliant scientist, Hahn was a prodigy in all aspects of life. He earned a bachelor's degree in physics from the University of Kentucky at age 18 and, after serving a two-year stint in the U.S. Navy, received a Ph.D. in physics from the Massachusetts Institute of Technology at age 23. He was hired at age 35 as the president of then-named Virginia Polytechnic Institute (VPI), becoming the youngest president of any land-grant institution in the country.
After his academic career, Hahn distinguished himself in industry, retiring in 1993 from Georgia Pacific Corp. as CEO.
"President Hahn was a trusted and supportive friend who displayed unwavering support for Virginia Tech," said university President Emeritus Charles W. Steger. "During his transformative presidency, he opened access to higher education and laid the foundation to expand our research programs so that we could become a major national research university. He was the best of the best."
When Hahn first came to VPI in 1954 as head of the Department of Physics, the entire institution enrolled some 4,000 students. When he became VPI's president, the school had slightly more than 6,000 students. By the time he left in 1974, enrollment was 17,400.
Hahn began his presidency on July 2, 1962, 100 years to the day of Abraham Lincoln's signing into law the Morrill Land-Grant Act, which changed American higher education. Hahn proceeded to change VPI: He diversified and broadened academic offerings; expanded admissions opportunities, particularly for women; and remade the physical plant.
Early on, Hahn recognized that change was needed in response to the Baby Boomer demographic bulge. He felt it was neither morally responsible nor practical for VPI to remain a male military college. Although Hahn battled with alumni — and even with his own governing body — about dropping the mandatory military requirement, he prevailed in 1964. Applications immediately increased.
Hahn also fully opened VPI's doors to women in 1964. Even though VPI had partnered with then-Radford College to allow women enrolled there to take VPI degree programs not offered at Radford, VPI was functionally an all-male school. Hahn severed the Radford College connection, and female enrollment at VPI increased significantly.
Over the course of his almost 13-year presidency, Hahn added 30 undergraduate degree programs, including art, German, history, marketing, management, philosophy, sociology, and psychology, and no less than 20 graduate programs. He also created colleges of architecture, arts and sciences, and education.
This broadening of the institute's academic profile induced Hahn to begin calling VPI a university instead of a college. In April 1970, the Virginia General Assembly conferred the university's current, formal title: Virginia Polytechnic Institute and State University.
On campus, Hahn oversaw the construction of approximately 25 major buildings, including huge dormitories to house the influx of students, Lane Stadium, and Cassell Coliseum.
Long after stepping down, Hahn still helped advance the construction of new buildings. Four buildings on the Blacksburg campus bear the Hahn name: Hahn Hall-South Wing, Hahn Hall-North Wing, the Hahn Hurst Basketball Practice Center, and the Peggy Lee Hahn Garden Pavilion and Horticulture Garden.
"His presidential legacy would inspire all of us even if he had never set foot on our campus again after stepping down," current Virginia Tech President Tim Sands said. "But, of course, that was not the case. His philanthropic legacy is truly extraordinary. I can think of no single person who has done as much for this university."
When Hahn left Tech in 1974, the Richmond Times-Dispatch wrote, "Constructive change has been the hallmark of the Hahn administration. His willingness to implement changes, even at the risk of severe criticism and ridicule to himself, is the primary reason VPI had grown and prospered."
In Virginia, Hahn's impact was felt far beyond Blacksburg. He chaired what later became known as the Hahn Commission, which advocated for regional government. Today, regional planning commissions are a lasting legacy of that effort. He was an early advocate of the Virginia Community College System, and Virginia Tech was the first college or university to accept community college students without loss of credit.
"The Virginia Tech family, the commonwealth, and beyond have lost a giant," said Debbie Petrine, rector of the Virginia Tech Board of Visitors. "Dr. Hahn was truly a visionary and transformational leader, as well as an incredibly warm and generous gentleman. He will be missed."
Hahn is survived by two daughters, Anne Hahn Hurst and Betty Hahn; a son-in-law, Doug Chancey; and three grandchildren, Erin McKelvy, Shane McKelvy, and Marshall Hurst. He was preceded in death by his wife, Margaret Louise "Peggy" Hahn, and son, William Hahn.
Larry Hincker '72, '94 is the former associate vice president of university relations, and Albert Raboteau is the director of advancement communications.
---