How much can change in a decade? Quite a bit, as it turns out.
After looking back at the list of "The 25 best things about Virginia Tech" in the Winter 1996 issue of Virginia Tech Magazine, the magazine staff thought it would be fun to update that list.
We quickly found, however, that at a university of more than 21,500 undergraduate students, about 6,000 graduate students, and more than 2,600 faculty members and researchers, there's so much happening here every day that we simply couldn't keep the list to 25. So--in no particular order or ranking--here are 50 facts about Virginia Tech that should make any Hokie proud.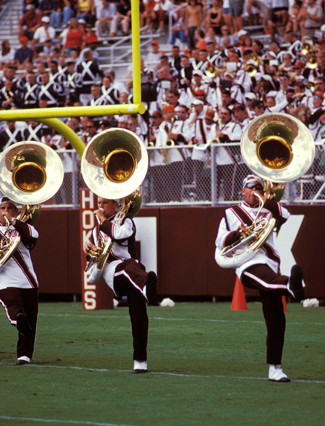 Tech traditions. The "Hokey Pokey." Bodacious school colors. A cannon named "Skipper." The inimitable HokieBird. Knowing the answer to the ubiquitous, "What is a Hokie?" These traditions and others make Virginia Tech unique and help to seal the bond among all members of the Hokie Nation. www.vt.edu/about/hokie.php
High performance. Virginia Tech burst into the limelight in 2003 for building, in a matter of months, System X--pronounced "system ten" and named for its ability to exceed 10 teraflops of processing speed--the third-fastest supercomputer in the world. The university will further establish itself as a national leader in high-performance-grid computing once it connects the Virginia Tech Advanced Research Computing facility with the National Lambda Rail, a national fiber-optic backbone linking research universities and laboratories with supercomputing, storage, and visualization capabilities. www.tcf.vt.edu/systemX.html

Pathway for success.

Replacing the former core curriculum, the Pathways for Learning encourages "thoughtful learning" for each student's stint at Tech. Students will begin working with academic and career advisers during their first year and will be encouraged to participate in research projects in their senior year.
You've come a long way, Hokies. In 1999, the Virginia Tech football team--led by quarterback Michael Vick--finished the season with an historic 11-0 record and played Florida State for the national championship at the Nokia Sugar Bowl. In July 2004, the Atlantic Coast Conference (ACC) offered membership to the Hokies, and the football team responded by winning the ACC championship during Tech's first year in the conference. The home field also has changed: Expansions of its south end zone and west side allow Lane Stadium to seat 65,115 screaming Hokie fanatics.
www.hokiesports.com/football/history.html
www.hokiesports.com/football/bowls/
www.hokiesports.com/football/lanestadium.html
The project factory. Engineering students get hands-on experience in the Ware Lab, a first-of-its-kind student-design project facility. A few of the lab's recent projects include

• the Hybrid Electric Vehicle Team's re-engineered Chevrolet Equinox SUV, an ethanol-powered vehicle that won top national honors at Challenge X: Crossover to Sustainable Mobility;

• the winning vehicles, for the third year in a row, in the 2006 international Intelligent Ground Vehicles Competition. The Virginia Tech Autonomous Vehicle Team brought home best and second-best overall prizes and placed first in the three top event categories; and

• entries for the 2007 Urban Challenge autonomous vehicle competition, a new version of the Defense Advanced Research Projects Agency (DARPA) Grand Challenge.
A heart of stone. Recognizing that Hokie Stone gives Virginia Tech a distinctive visual identification, the Virginia Tech Board of Visitors directed that the native limestone be incorporated in all new buildings on the central campus. Who knew you could love stone? www.vt.edu/about/documents/HokieStone.pdf
Instituting change. The Institute for Advanced Learning and Research (IALR) in Danville, Va., is Virginia Tech's showcase project for applying university knowledge to enhance economic development, a key component of our land-grant mission. In September 2006, IALR received a Governor's Technology Award in the "Innovation in Higher Education" category. Today, Tech's Office of Economic Development is working with several communities in Virginia to model similiar distributed research programs. www.ialr.org

A corps tradition. Virginia Tech remains one of only three public universities in the United States to support both a military and a non-military student lifestyle. Although the corps comprises just 3 percent of the undergraduate student body, a cadet has been named Undergraduate Man of the Year four times in the past eight years and the past three undergraduate student leaders of the year have been cadets. www.vtcc.vt.edu
An educated approach. In 2005, the Graduate Life Center at Donaldson Brown was officially opened. The center encompasses academic, social, residential, and administrative functions, creating an intellectually stimulating environment for graduate students in the only facility of its kind in the country.
http://grads.vt.edu/student_life/glc/about.html

Rising stock. Students in the Pamplin College of Business manage about $8 million of the university's endowment through separate stock and bond investment portfolios of $4 million each. The stock-investment project, SEED (Student-managed Endowment for Educational Development), is believed to be the nation's largest student-run portfolio managed as an extracurricular activity. The bond project, BASIS (Bond and Securities Investing by Students), makes Tech one of only five universities in the country--and the only one in Virginia--with a student-run, fixed-income securities fund.
www.seed.pamplin.vt.edu/home.html
www.basis.pamplin.vt.edu
It's easy being green. The updated campus master plan includes a "green" corridor from Main Street and the University Mall through the Drillfield and beyond the Duck Pond. Green thoughts aren't limited to the ground, however. Many new buildings will be designed with green-certification standards in mind, and a portion of the new life science building will have a vegetated section where faculty can showcase their research. Could this be called a bottoms-up approach?
www.oua.vt.edu/masterplan
www.vtmagazine.vt.edu/fall06/feature2.html
Smart students.

"We like to brag about the outstanding students Virginia Tech attracts." We're repeating this line from the "25 best things" article because it's still true--only the names have changed.

• Rhodes Scholar: In 1996, Mark Embree (mathematics and computer science '96) became Virginia Tech's second Rhodes Scholar. William W. Lewis Jr. (physics '63) was the first. http://scholar.lib.vt.edu/vtpubs/spectrum/
sp960118/1b.html

• Marshall Scholars (the British equivalent to Rhodes Scholars): Stacey Smith (biology and Spanish '99), Sarah Airey (electrical and computer engineering '01), and Ashley White (materials science and engineering and music '05). The university's previous Marshall Scholar, Anya McGuirk (animal science '80), is a professor of agricultural economics and statistics at Tech.
www.vtmagazine.vt.edu/spring99/feature4.html
www.vtmagazine.vt.edu/spring01/feature5.html
www.eng.vt.edu/news/news.php?article_id=228
www.stat.vt.edu/facstaff/amcguirk.html

• Members of USA Today's All-USA College Academic Team: John Michael Schmidt (biology and environmental sciences '98), Sarah Airey (electrical and computer engineering '01), Ashley White (materials science and engineering and music '05), and Greg Sagstetter (philosophy and political science '07). Previously, Susan Cox (aerospace engineering '92) received this honor. www.usatoday.com/news/education/2004-08-12-2005-colllege-team_x.htm

• Barry M. Goldwater Scholars: Virginia Tech has produced 33 Goldwater Scholars since the program's inception in 1986. www.act.org/goldwater

• Morris K. Udall Scholars: Virginia Tech has produced nine Udall Scholars since the program was established in 1992. www.udall.gov

• Jack Kent Cooke Scholars: In 2002, Aaron Barr (engineering science and mechanics '05) was among the first recipients of a Cooke undergraduate scholarship and Sara Hupp (mechanical engineering '02) and Rebecca Weber (biology '02) were among the first recipients of a Cooke graduate scholarship.
www.jackkentcookefoundation.org/jkcf_web/home.aspx?Page=Main

• Winner of the national Film Your Issue (FYI) competition: Tim Leaton (communication, business management '07), whose one-minute film, "Orphans in Africa," won the highly acclaimed contest, which encourages Americans ages 18 to 26 to explore social issues.
www.filmyourissue.com/index.shtml
www.timleaton.com

It's a nano world.

Already pioneers in nanoscience and nanotechnology, including discovering how to insert atoms inside a hollow carbon molecule known as a bucyball, Tech researchers--led by chemistry professor Harry Dorn--are developing certain metal-filled buckyballs that can boost the sensitivity of magnetic resonance imaging (MRI) techniques and improve the diagnosis of brain tumors. Supported by a five-year, $3.7 million grant from the National Institutes of Health, Virginia Tech and Virginia Commonwealth University are collaborating to further develop, produce, and test nanoparticles that can be used to identify brain tumor cells and target them for radiation therapy.

An alumnus takes the helm. In 1999, Charles W. Steger (architecture '69) was named the university's 15th president. A former undergraduate, grad student, professor, department head, dean, and vice president, Steger is the first president to have experienced all facets of university life. As dean of the College of Architecture and Urban Studies, Steger laid the groundwork for the university's Center for European Studies and Architecture, located in Switzerland, beginning his imprint on international education and outreach. As vice president of Development and University Relations, he was the architect of Tech's last fundraising campaign, which raised $337 million. Now, Steger has challenged the university to expand research and scholarship, particularly in the life sciences. www.president.vt.edu
Living to learn. Nearly 30 percent of Tech students live in one of 10 diverse theme-housing programs, including the Biological and Life Sciences Learning Community; Engineering Learning Communities; Hillcrest Community, an invitation-only, three-year, academic honors community; MOSAIC (Multicultural Opportunity Social Awareness Interest Community), which will start in fall 2007; Oak Lane Community, for fraternity and sorority members; Residential Leadership Community, created by multiple units on campus to enhance students' leadership skills; Virginia Tech Corps of Cadets; The W.E.L.L., or Wellness Environment for Living and Learning; The WING, designed to acclimate first-year students to the university environment; and The World, where international and domestic students live in a cross-cultural setting.
www.studentprograms.vt.edu/themehousing
To the moon! Countless alumni are or have been involved with NASA, including astronauts Roger Crouch (M.S. physics '68; Ph.D. '71) and Charlie Camarda (Ph.D. aerospace engineering '90); Jeff Sugar (aerospace engineering '97; M.S. industrial and systems engineering '99), lead trainer for robotic technology who recently received NASA's coveted Silver Snoopy Award; and several alumni involved with the New Horizons mission that will explore Pluto. It is fitting, then, that Virginia Tech now owns a piece of the moon. In 2006, NASA honored its first space flight director, Christopher Kraft Jr. (aerospace engineering '44), with the National Aeronautics and Space Administration's Ambassador of Exploration Award, a Lucite-encased sample of lunar material, which Kraft then presented to the College of Engineering. Today, the moon rock is on display in Norris Hall.
www.vtmagazine.vt.edu/sum01/feature3.html
www.vtmagazine.vt.edu/vtmag/sum03/feature1.html
www.vtmagazine.vt.edu/winter06/feature1.html
www.vtmagazine.vt.edu/spring06/feature2.html
www.vtnews.vt.edu/story.php?relyear=2006&itemno=454
Miles of research. The Virginia Tech Transportation Institute, the largest university-level research center at Tech, is working onmore than 90 projects. Recently, researchers conducted the 100-Car Naturalistic Driving Study, which examined driver inattention. Widely quoted across the nation, the study was the first of its kind conducted in a naturalistic setting, documenting actual driving behavior, and resulted in approximately 43,000 hours of data collected and more than 2 million miles driven.
www.vtti.vt.edu/index.cfm?fuseaction=DisplayHomePage&PageId=2
www.vtti.vt.edu/index.cfm?fuseaction=DisplayHundredCar

The old and the new. Virginia Tech's University Libraries offers a world of information in its fully computerized library, which contains more than 2.2 million volumes, an array of specialized collections, and numerous electronic databases. Want to peek into the past? The Special Collections department has built extensive archival research collections around the American Civil War, aerospace exploration, and the Norfolk and Western and Southern railway companies, and also maintains the University Archive, the historical record of Virginia Tech.
www.lib.vt.edu
http://spec.lib.vt.edu
www.lib.vt.edu/help/instruct/toursked.html
www.vtmagazine.vt.edu/spring04/feature2.html
Fine dining. From its restaurants and programs to its chefs and menus, Virginia Tech's Dining Program has been recognized with numerous national awards. Most recently, the 2006 Outstanding Design Award from American School & University Magazine went to D2, one of Tech's 11 restaurants that serve more than 5 million meals each year and offer a broad range of creative and healthful choices. So much for "mystery meat."
www.studentprograms.vt.edu/dining/diningcenters.php

Bridge to the future. When Torgersen Hall--named for former Virginia Tech President Paul Torgersen--officially opened in October 2000, it became the university's most technologically sophisticated building. Home to the Advanced Communications and Information Technology Center, Torgersen Hall spans Alumni Mall with arguably its most stunning feature: an electronic reading room that connects the hall with Newman Library. Couches, a wide-open space, and cherry-wood arched ceilings create the feel of the old library reading room with a modern touch--students can use their laptops or one of the room's 40 computers and, if needed, confer with an on-duty technology consultant. www.techconnect.vt.edu
House of the rising sun. Last year, students from the College of Architecture and Urban Studies and the College of Engineering teamed up to build Tech's solar house entry for the Solar Decathlon 2005, a bi-annual international collegiate competition. The U.S. Department of Energy-sponsored event challenges teams to design, build, and operate a home powered only by energy from the sun, including all electrical appliances and systems. Tech won awards for Best Architecture, Best Dwelling, and Best Daylighting, and tied for Best Electric Lighting. Innovations developed for the project were later applied to a meditation room built for Carol Crawford-Smith (M.S. human development '03) as part of the ABC reality show "Extreme Makeover: Home Edition."
www.eere.energy.gov/solar_decathlon/index.html
http://vtsolar.arch.vt.edu
www.research.vt.edu/resmag/2006Summer/Solarpage01.html
www.vtmagazine.vt.edu/spring06/feature4.html
Joining forces. In 2001, the Virginia Tech-Wake Forest University School of Biomedical Engineering and Sciences was created to combine the strengths of Virginia Tech's engineering and veterinary colleges and Wake Forest's medical school. Offering M.S. and Ph.D. degrees in biomedical engineering, the school provides collaborative research and educational opportunities for faculty and students on both campuses. Wake Forest heads up research and classes in bioimaging and signal processing while researchers at Virginia Tech have taken the lead in biomechanics and tissue and cell engineering. Translated into English: In 2005, the school created a prototype composite brace for Virginia Tech running back Cedric Humes, putting him back on the field only three weeks after his ulna was fractured. www.sbes.vt.edu
www.vtnews.vt.edu/story.php?relyear=2005&itemno=1074

Fore! Rated by Golf Digest as one the finest golf courses in the nation, the Pete Dye River Course of Virginia Tech opened for play in June 2006. Dye, considered one of the top golf course architects in the world, was commissioned to create the course. Funding the project were William (mechanical engineering '62) and Alice Goodwin, avid golfers who wanted to provide the golf team and university community with a world-caliber course. The new layout winds along 2.5 miles of the scenic New River. www.rivercoursegolf.vt.edu/index.html

Cum laude. With more than 1,500 students, the University Honors Program serves academic excellence. To be accepted into the program, incoming first-year students must have graduated in the top 10 percent of their high school class and have a combined SAT score of 1300; to remain in the program, they must maintain a 3.5 GPA and progress toward an Honors Baccalaureate, Honors Scholar, or "In Honors" degree. During the past nine years, honors students have won 106 major national scholarships and three have served as student representatives to the board of visitors, among other offices.
www.univhonors.vt.edu

Linking generations. Neighbors Growing Together (NGT),
which combines Tech's Adult Day Services program and Child Development Center for Learning and Research, is the country's only university-based shared-site intergenerational care program. The program--where children and older adults interact every day--has won several national awards. www.humandevelopment.vt.edu/cdclrcurriculum.html
A room at the inn (and conference center). The Inn at Virginia Tech and Skelton Conference Center celebrated its first anniversary in July. During its first year, The Inn welcomed 76,057 meeting attendees; hosted more than 25 wedding receptions for some 3,500 guests; served 58,773 meals; and accommodated approximately 57,750 people, including talk show host Montel Williams, the Rev. Jesse Jackson, NFL quarterback Michael Vick, NASCAR driver Richard Petty, and "Extreme Makeover: Home Edition" host Ty Pennington. www.innatvirginiatech.com
If the shoe fits. Housed at Tech, the Horseshoe Crab Research Center, created in 2001, is the only multi-institutional research unit examining ways to reverse the decline in the horseshoe crab population. Because the horseshoe crab is important not only to environmentalists and commercial fishers, but also to biomedical companies--which bleed the arthropod to produce LAL, a product used to test the sterility of medical and pharmaceutical products--its value to the economy is estimated at more than $100 million each year.
www.nmfs.vt.edu/HSCwebsite/index.htm
www.vtmagazine.vt.edu/fall02/feature2.html

Nature leaves its mark. During the fall, orange and maroon happen naturally on campus and throughout the commonwealth, recalling ESPN football analyst Lee Corso's famous quip, "I don't know what a Hokie is, but God must be one of them."
www.vtmagazine.vt.edu/fall01/feature3.html
www.ee.unirel.vt.edu/index.php/vt/flip_book/C17
That they may serve. The Virginia Tech Service-Learning Center, created in 1995, helps faculty, students, and organizations to become involved in community service projects, such as the Second Harvest Foodbank in Salem, Va.; the STUDENT-TO-STUDENT national youth literacy program, where Tech students work with local at-risk students ages 12-18; and the Hometown Industries Program, which helps local families in need.
www.vtserves.vt.edu/dd/home.asp
Inventing the future--literally. Virginia Tech consistently ranks among the top 15 schools in the nation in number of patents received. During calendar year 2005, 17 patents were awarded to Virginia Tech Intellectual Properties Inc. and 20 new licenses were signed. www.vtip.org
www.vtnews.vt.edu/story.php?relyear=
2006&itemno=94

Business as usual. A modern-day manifestation of Tech's land-grant economic development mission, the university's 120-acre Corporate Research Center (CRC) houses 140 companies and research organizations--many of which are led by Tech alumni--employing about 2,000 people in 21 buildings. One factor in the CRC's growth is VT KnowledgeWorks, an incubator program that facilitates the start-up of new companies based on intellectual property developed by Tech and others. The CRC's successes are no secret: in 2004, it was named one of three national finalists for the Excellence in Technology-Led Economic Development Award granted by the U.S. Department of Commerce.
www.vtcrc.com
www.vtmagazine.vt.edu/fall03/feature3.html

Nobel notable. In 1996, Robert C. Richardson (physics '58, M.S. '60), fellow Cornell Professor David Lee, and former doctoral student Douglas Osheroff won the Nobel Prize for Physics for discovering how helium-3 can transform itself into a liquid that flows without friction at temperatures near absolute zero. This discovery bucked the classical physics law that movement always causes resistance. Richardson, the Floyd Newman Professor of Physics and vice provost for research at Cornell University, continues to work with experimental low temperature physics.
www.vtmagazine.vt.edu/winter97/richardson.html
http://nobelprize.org/nobel_prizes/physics/laureates/1996/index.html

The footsteps of history. In 1997, the corps of cadets initiated the Caldwell March, which became a semi-annual event in 2000. Each fall and spring, the cadets march 13 miles to commemorate William Addison "Add" Caldwell's 26-mile trek in 1872 to become the university's first student. At the conclusion of the spring march, freshmen are awarded the rank of freshman private, making them full members of the regiment.
http://spec.lib.vt.edu/archives/125th/students/add.htm
www.vtmagazine.vt.edu/sum05/feature1.html

Lifelong learning. A Virginia Tech education doesn't end when you receive your degree--VTalumnNET offers alumni the chance to take one online, noncredit course free each year.
www.alumni.iddl.vt.edu/crslist.php?cat=all&tab=
www.vtmagazine.vt.edu/spring01/feature4.html
How does our garden grow?
Featuring an acre of broad lawns and beautiful blossoms, the Hahn Horticulture Garden--named for former president T. Marshall Hahn and his wife, Peggy--is open from dawn until dusk, free of charge. Sightseeing aside, the garden and pavilion are also available for special events. Don't be surprised to see students and volunteers at work--the garden also supports teaching and outreach efforts.
www.hort.vt.edu/hhg
A helping hand.

Professor of Psychology Russell T. Jones, a nationally recognized expert in disaster-related trauma in children, met with members of first lady Laura Bush's Office of Special Projects to help

prepare her for a visit to children displaced by Hurricane Katrina. Jones, who accompanied Bush on her public visit to the region, continues to serve as a White House adviser on children exposed to natural disasters and other traumas. www.vt.edu/spotlight/20061106_jones.php
Opening doors. In 2004, Virginia Tech and the Virginia Community College System created "Pathway to Excellence," an agreement that guarantees community college graduates admission into Virginia Tech's College of Agriculture and Life Sciences. By providing students with the best resources for degree completion, Pathway to Excellence will help solve Virginia's challenge of educating its growing student population.
www.vtnews.vt.edu/story.php?relyear=2004&itemno=510
Energizing research. One of the university's four new research focus areas, energy is a hot topic at Tech. From alternative sources, such as biofuels and solar power, to studying the impact of new technologies on human behavior and the economy, energy research is taking place in multiple departments across campus. By channeling its resources through interdisciplinary collaboration, Virginia Tech seeks to provide solutions for energy-related issues across the country and around the world. www.research.vt.edu/energy/index.html
Preempting a pandemic. Hard at work at VMRCVM's College Park, Md., campus is Dr. Daniel Perez, one of the nation's leading experts in avian influenza H5N1, or "the bird flu," which many fear may cause a global pandemic for humans. In an effort to prevent such a disaster, the USDA granted $5 million to investigate
H5N1--the largest grant ever awarded to study a single disease--to a research team led by Perez.
www.vetmed.vt.edu/Publications/News/avianinf.asp

Location, location, location.
Easy access to the Blue Ridge and Allegheny mountains, the Cascades, Mountain Lake, the New River, the George Washington and Jefferson National Forests, and the Appalachian Trail--need we say more?
www.vt.edu/where_we_are/blacksburg/area.php
Equality for all. Nearly two years ago, Tech enacted the Principles of Community to affirm the university's on-going efforts to increase access and inclusion and to create a community that nurtures learning and growth for all of its members. Today, the principles remain a common reference point in campus dialogue about diversity.
www.vtmagazine.vt.edu/fall06/feature3.html
World-class faculty.

Just a few of the awards won by Tech faculty members:

• The 2005 Joseph Campbell Prize in Ethnography, one of the most significant honors for scholars of interdisciplinary ethnographic research, went to Wilma Dunaway, associate professor of sociology in the School of Public and International Affairs. www.mpia.vt.edu/?q=node/99

• A third NAACP Image Award for literature went to Nikki Giovanni for her book Quilting the Black-Eyed Pea.
www.nikki-giovanni.com

• A Fulbright Distinguished Chair, considered among the most prestigious appointments in the Fulbright Scholar Program, was awarded to France Belanger, associate professor of accounting and information systems.
www.vtnews.vt.edu/story.php?relyear=2005&itemno=601

• The Oak Ridge Associated Universities' Ralph E. Powe Junior Faculty Enhancement Award went to Y.H. Percival Zhang, assistant professor of biological systems engineering, one of two individuals nationwide to receive it.
www.vtnews.vt.edu/story.php?relyear=2006&itemno=115
www.esquire.com/features/articles/2006/061105_mfe_December_06_Sugar_Cars.html

• A 2006 Presidential Early Career Award for Scientists and Engineers, the highest national honor for researchers in the early stages of their careers, was given to Tom Martin, an associate professor in the Bradley Department of Electrical and Computer Engineering.
www.vtnews.vt.edu/story.php?relyear=2006&itemno=394

• The American Veterinary Medical Association honored two professors in 2006: Kevin Pelzer, associate professor in the Department of Large Animal Clinical Sciences, was named the best teacher in clinical sciences, and Marion Ehrich, a professor in the Department of Biomedical Sciences and Pathobiology, was named the best teacher in the biomedical sciences.
www.vtnews.vt.edu/story.php?relyear=2006&itemno=476
www.universityawards.vt.edu/award.php?item=516
www.vetmed.vt.edu/Organization/Centers/LNS/index.html

• Technology Review named Srinidhi Varadarajan of computer science one of the world's 100 Top Young Innovators and listed Stefan Duma, associate professor of mechanical engineering and founding director of the Virginia-Tech Wake Forest Center for Injury Mechanics, on its 2006 roster of the top 35 innovators under the age of 35.
www.technologyreview.com
www.csrl.cs.vt.edu/~srinidhi
www.me.vt.edu/people/faculty/duma.html

• The internationally acclaimed Alexander von Humboldt Research Award has gone to Michael Hochella Jr. of geosciences and Royce Zia of physics.
www.humboldt-foundation.de/en/programme/preise/pt.htm
www.geol.vt.edu/profs/mfh/mfh-r.html
www.phys.vt.edu/~rkpzia/HmPg.html

• Seven of the past 10 years, Virginia's Outstanding Scientist Award has gone to Tech professors: Duncan M. Porter, professor of botany and director of Cambridge University's Darwin Correspondence Project (www.vtnews.vt.edu/story.php?relyear=2006&itemno=39; www.vtnews.vt.edu/Archives/2002/02198.htm); Michael Hochella Jr., professor of mineralogy and geochemistry (www.geol.vt.edu/profs/mfh/mfh-r.html); John J. Tyson, University Distinguished Professor of Molecular Cell Biology (www.nyas.org/ebriefreps/main.asp?intSubSectionID=3072); David G. I. Kingston, University Distinguished Professor of Chemistry (www.kingston.chem.vt.edu/research.html); Richard O. Claus, the Willis G. Worcester Professor at the Bradley Department of Electrical and Computer Engineering and founder and director of the Fiber and Electro-Optics Research Center (http://www.ee.vt.edu/%7efeorc/research.htm); Neal Castagnoli, the Peters Endowed Professor of Chemistry and co-director of the Harvey W. Peters Research Center (www.chem.vt.edu/chem-dept/castagnoli/PetersCenter/PetCtr.html); and James E. McGrath, University Distinguished Professor of Chemistry, Ethyl Chaired Professor, and director of the Materials Research Institute (www.chemistry.vt.edu/faculty/mcgrath.php).

Gown thanks town. Since 2002, Virginia Tech's largest community-service project, the Student Government Association-run Big Event, allows students to thank communities in the New River Valley for hosting them during the school year. One day each year, approximately 2,000 students complete more than 250 service projects, including painting, yard work, and trash pickup, making sure that the project lives up to its motto, "One big day. One big thanks." www.sga.vt.edu/bigevent/about.php
From wired to wireless. Not only are all campus facilities connected by fiber-optic cable, providing high-speed direct Internet connection, but in 2004, Tech also began offering wireless Internet connections. Today, approximately 90 percent of the campus is wireless, including academic buildings, student centers, dining facilities--and, should you need to multitask at a football game, the south end zone of Lane Stadium.
www.cns.vt.edu/html/wireless/wlan
www.cwt.vt.edu/faq/default.htm

Taking a hit for science. During each 2003 home football game, four Hokies wore helmets rigged with sensors that recorded impacts and then transmitted real-time data to a sideline computer. Stefan Duma and other researchers in the Virginia Tech-Wake Forest University School of Biomedical Engineering and Sciences (see #23) hope to use the data to determine not only the level at which impacts begin to cause injury, but also the cumulative effects of those impacts. www.vt.edu/spotlight/20061016_helmet.php
A foot-friendly campus. What other university of 26,000+ students is designed to be crossed in 10 minutes?
www.admiss.vt.edu/visit/PodTour
www.ecampustours.com/VirtualTours/
Default.aspx?FafsaCode=003754&login=false
Workable solutions. Researchers at the Virginia Bioinformatics Institute (VBI) are working to cure many human, crop, and animal diseases; create high-yield, insect- and disease-resistant crops; and provide bioinformatics information and tools to support further discoveries. In three years of operation, VBI's multidisciplinary research programs have leveraged a contract base of more than $43 million from the National Science Foundation, U.S. Department of Agriculture, U.S. Department of Defense, and more.
https://research.vbi.vt.edu

Giving alumni. During FY 2005-06, the university raised $75.3 million, its second-highest private-giving total to date. Of that amount, alumni contributed $32 million, constituting more than 43 percent of all private giving. This generosity proves what we knew all along: Hokies truly are invested in Tech. Which makes item No. 50 most fitting, indeed. www.givingto.vt.edu
A home for alumni. On Oct. 28, 2005, the new Holtzman Alumni Center was officially dedicated. Considered a prime example of the power of private philanthropy--including that of William B. Holtzman (horticulture '59), for whom it is named--the center embodies the lifelong loyalty of alumni and provides them with a beautiful "home of their own" on campus. The center houses a museum, meeting spaces, a library, and an art museum, and shares a 193,000-square-foot complex with The Inn at Virginia Tech and the Skelton Conference Center. The Alumni Association, which has staff offices in the alumni center, extends a standing invitation to all alumni: Come home--you're welcome any time. www.alumni.vt.edu/holtzman/Tour1.htm
To read the original top 25 list from the Winter 1996 issue of Virginia Tech Magazine, go to 25GreatThings.winter1996.pdf.

Also: Disagree with any of our choices? Let us know! Mail your comments to Virginia Tech Magazine, 105 Media Building (0109), Blacksburg, VA 24061; or e-mail them to vtmag@vt.edu.