LETTERS TO THE EDITOR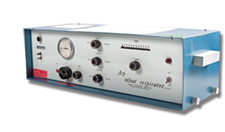 The life-saving infant respirator
The article was very special for me, and I am so proud to share it with friends and family. Thank you for all that you and the university have done—especially the chance to spend time with Dr. Arp and his family. He is an exceptional man.
Carrie Darkes
Mountain Home, Idaho
I often tell a story from my biomedical instrumentation class with Professor Arp. He volunteered me to demonstrate the operation of an electrocardiogram. As I lay shirtless with probes attached, in front of the class, everyone was crowded around the screen, observing and hearing my cardiovascular activity. A very attractive female classmate approached and proceeded to place her hands on my bare chest. Arp had obviously put her up to it, as he was laughing as hard as the rest of the class at my accelerated cardio activity.
Mike Dobie (mechanical engineering '76)
Dallas, Texas
I took [Professor Arp's] Introduction to Biomedical Engineering class because I thought it sounded interesting. As it turned out, I ended up working for Baxter Healthcare Corp. for most of my career, retiring at the end of 2011. Arp's class was instrumental in my interest in working in the medical manufacturing industry.
J. Stephen Forney (mechanical engineering '76)
New Bern, N.C.
The swordfish recipe
I was shocked that Virginia Tech Magazine printed a swordfish recipe without any consideration of the ethics and environmental impact of the purchase of swordfish. An Internet search would have turned up reliable reports of the advisability of the purchase of swordfish. The advisability of consumption depends on the location and the method of the catch. The magazine takes care to use environmentally preferable inks and paper. It needs to also model responsible consumption behavior.
Sandra B. Conners (M.B.A. '81)
Lexington, Ky.
Editor's note:
In response, we consulted with Eric Hallerman, fish and wildlife conservation department head, who recommended that consumers check the Monterey Bay Aquarium's Seafood Watch. (We found that the site, based on where and how swordfish and other species are caught, outlines best choices, good alternatives, and fish to avoid.) Hallerman said that consumers should look for swordfish that is certified as sustainable according to the Marine Stewardship Council, and/or swordfish that is harpoon- and handline-caught in U.S. and Canadian waters in the North Atlantic and eastern Pacific oceans.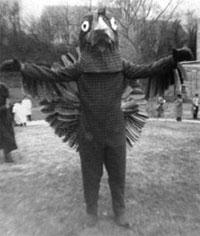 The Fighting Gobbler, 1962
The HokieBird at 50
Nice article on the HokieBird in the fall edition. It is interesting to note that the original HokieBird first appeared in the fall of 1962, named "The Fighting Gobbler." I wore the costume in its debut, in the final game of my senior year. It was a really big hit. Our bowl game in Orlando will be my 14th bowl game in a row, and every time I see that HokieBird, I feel good.
Mercer MacPherson (civil engineering '63)
San Juan Capistrano, Calif.
More on MacPherson and the HokieBird »