ALUMNI ASSOCIATION
Board of directors
The Alumni Association Board of Directors, comprised of 32 elected directors and nine honorary directors, met in October 2014 to review Alumni Association programs, including networking initiatives, diversity outreach, corporate and entrepreneurship activities, student mentoring opportunities, and efforts to engage more alumni. The board meets next in April, with its committees holding various meetings in the interim.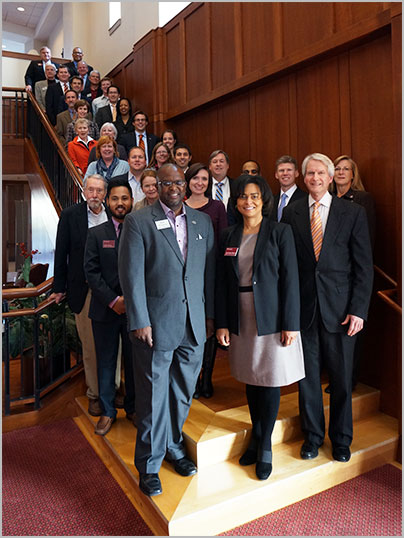 Officers
Matthew M. Winston Jr. '90 – president
A. Carole Pratt '72 – vice president
Lance L. Smith '68 – past president
Thomas C. Tillar Jr. '69 – secretary-treasurer
Members
Deseria Creighton Barney '87
Mary Virginia Jones Berry '62
*


Daniel W. Bird Jr. '60

*


Morgan E. Blackwood '02
Marvin J. Boyd '00
Gordon "Gordy" Bryan '82
Kendley J. Davenport '84
Lisa Carter Ellison '86
A. Jerome Fowlkes '88
Kathleen Kyger Frazier '04
William M. Furrer '91
Colin L. Goddard '08
Harry N. Gustin II '43

*


Travis E. Hardy '01
William B. Holtzman '59

*


Thomas H. Hughes '80
Gene A. James '53*

*


Michael T. Kender '83
Adeel S. Khan '09
William C. Latham '55

*


Nathan T. Lavinka '11
Mark S. Lawrence '80
David E. Lowe '63

*


Jacob A. Lutz III '78
Lisa Glasscock Miller '87
Jean S. Montague '69
Brian C. Montgomery '03
Thomas W. Moss Jr. '50

*


Melissa Byrne Nelson '92
James P. O'Connell '97
Susan Bull Ryan '68
Gregory J. Sagstetter '07
Judy McIntire Springer '95
Karen E. Torgersen '78, '86
Ellen B. Vance ' 76
G.T. Ward '49, '52

*


Justin A. Yalung '05
Kai M. Zuehlke '05



*Honorary directors
---
The Alumni Association Board of Directors nominating committee has proposed the following nominees for election to three-year terms from 2015 through 2018. Please vote for up to six nominees and return the ballot by April 1. Results will be announced at the board meeting in late April.
____ Thomas J. Fast (management, finance '06), Long Island City, New York
____ Deborah J. Barackman-Flippo (marketing management '83), Centennial, Colorado
____ Colin L. Goddard (international studies '08), Washington, D.C.
____ Gregory J. Sagstetter (philosophy, political science '07), Moseley, Virginia
____ Brian T. Sullivan (political science '93), Princeton, New Jersey
____ Claudia K. True (biological sciences '81, D.V.M. '86), Ashland, Virginia
Write-in nomination
__________________________________
Signature
__________________________________
Return to: Virginia Tech Alumni Association; Holtzman Alumni Center (0102); 901 Prices Fork Road; Blacksburg, VA 24061
---
New Black Alumni and Ex Lapide societies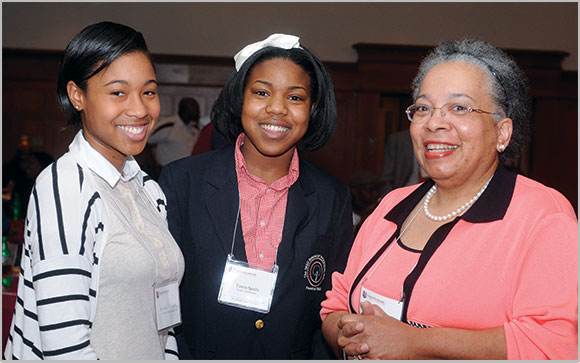 New alumni societies have been formed to serve the interests of black alumni and LGBTQA+ (lesbian, gay, bisexual, transgender, queer, asexual, and other) alumni, and the Alumni Association welcomes the opportunity to engage with and learn from these Hokies through the programs created by their societies.
The Black Alumni Society is an organization serving all black alumni. Future activities include the 2015 Black Alumni Summit in Tidewater, Virginia, and the 2016 Black Alumni Reunion on the Blacksburg campus.
Ex Lapide ("out of stone," in Latin) is a society for LGBTQA+ alumni and their allies. Activities include a fall reunion held in October, a fall tailgate with the University of Virginia's Serpentine Society, and the Year Zero Graduation Reception with recent grads.
The societies work to promote closer fellowship among their constituents, establish and strengthen relationships with the university, and assist with the university's ongoing diversity and inclusion efforts.
Both societies are affiliated with the Virginia Tech Alumni Association and the Office of the Senior Vice President and Provost. For more information, contact Latanya Walker at latanya@vt.edu or 540-231-8970. To receive information about the societies, visit www.diversity.vt.edu/alumni and sign up for the mailing list(s).
Class of '64 and the Old Guard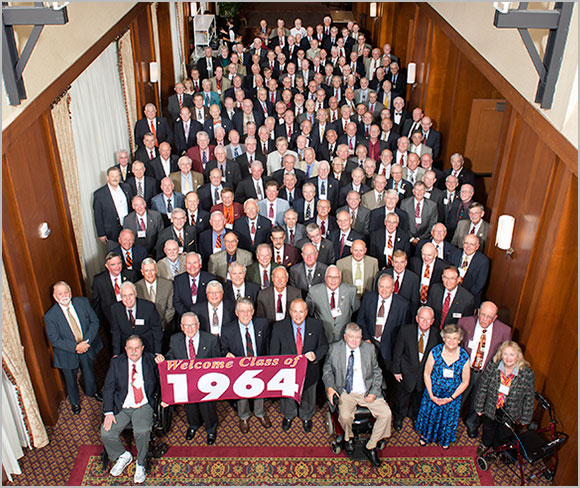 A total of 330 alumni and guests, including 180 members from the Class of 1964, returned to campus in fall 2014 for a 50th reunion. They toured campus to explore how Virginia Tech is inventing the future and enjoyed a Hokie football victory against Western Michigan. Each year, the reunion banquet includes induction into the Old Guard, an organization of alumni who graduated more than 50 years ago.
Alumni who reach this milestone anniversary are automatically members of this honored group of Hokies and are invited to return to campus each year for the Old Guard Reunion. The next Old Guard Reunion, on May 20-22, includes anniversary dinners for the classes of 1945 (70th), 1950 (65th), 1955 (60th), and 1960 (55th), and dinners for the classes of 1961, 1962, 1963, and 1964. Registration opens early in 2015.
Learn more and see highlights from the May 2014 Old Guard Reunion »
Columbarium expanded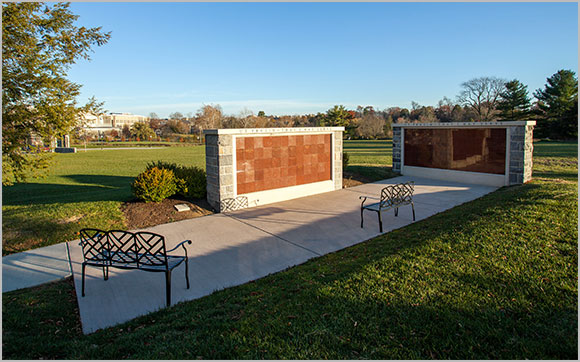 Located on a grassy knoll with a view of the Duck Pond, Virginia Tech's columbarium contains niches for either individual or dual interments. Each niche is covered with a maroon granite square on which name(s) will be engraved with gold-filled lettering. A few of the first 60 niches are still available to reserve, and an expansion housing an additional 60 niches was recently completed. For more information or to reserve a niche, contact Jay Whitlow at 540-231-6285 or jowhitl4@vt.edu.
---
2015 travel tours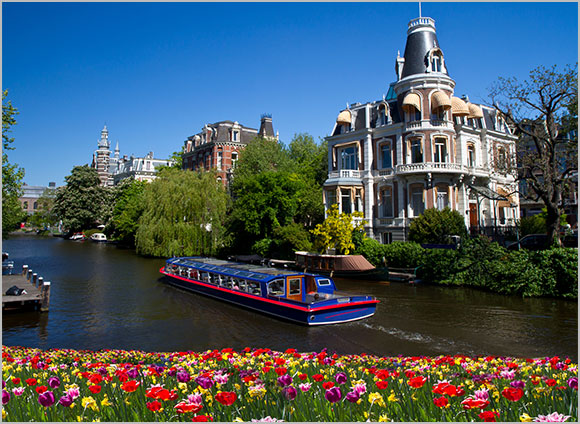 Paris Immersion
AHI
April 6-17 • $3,295*

Cuban Discovery
Go Next
April 9-17 • $5,399*

A Toast to Provence and Burgundy
Go Next, A-ROSA Stella
May 1-9 • $3,669*

Waterways and Canals of Holland and Belgium
AHI
May 2-10 • $2,495*

Isles and Empires of the Adriatic
Go Next, Oceania Cruises' Riviera
May 2-11 • $2,999* (air included)

Southern Culture and Civil War
Go Next, American Queen
May 14-23 • $4,699*

Sicily – Alumni Campus Abroad
AHI
May 15-24 • $2,795*

River Routes and Channel Crossings
Go Next, Oceania Cruises' Marina
May 18-June 3 • $5,299* (air included)

Exotic Mediterranean
Go Next, Oceania Cruises' Nautica
May 19-31 • $3,999* (air included)

Essential Europe Grad Trip
Alumni World Travel
May 22-June 9 • $3,725*

Swiss Alps and the Italian Lakes
AHI
June 5-14 • $3,295*

Pearls of the Mediterranean
Go Next, Oceania Cruises' Riviera
June 15-23 • $2,699* (air included)

Normandy – Alumni Campus Abroad
AHI
July 1-9 • $2,895*

Coastal Alaska
Hosted by Dwight Shelton, vice president for finance and chief financial officer
Go Next, Oceania Cruises' Regatta
July 7-14 • $2,299* (air included)

Passage of Lewis and Clark Expedition
Go Next, American Steamboat Company's American Empress
July 18-26 • $3,795*

Nordic Pathways
Hosted by Patricia A. Perillo, vice president for student affairs
Go Next, Oceania Cruises' Marina
Aug. 1-14 • $5,499* (air included)


The splendors of Northern Europe await you while sailing from London to Copenhagen aboard Oceania Cruises' elegant Marina, hosted by Patricia A. Perillo, vice president for student affairs. Depart Southampton for Belgium, and travel back in time in 14th-century Bruges, a lovely city of quaint gabled buildings. Next is eclectic Amsterdam, Europe's dynamic cultural hub filled with galleries and museums, followed by the port of Warnemünde, where a drive takes you to Berlin, a city teeming with landmarks. Explore the "City of Roses and Ruins," Visby, encircled by 13th-century walls, then continue to Helsinki, where ultra-modern masterpieces coexist with stunning medieval structures. Sail to one of Russia's most enchanting cities, St. Petersburg, to visit its cathedrals and majestic palaces. Before concluding your voyage in Copenhagen, admire the old-world charms of Tallinn.



North America's Five Majestic Great Lakes
Go Next, MS Saint Laurent
Aug. 1-10 • $4,199*

Baltic Marvels
Hosted by Tom Tillar, vice president for alumni relations
Go Next, Oceania Cruises' Nautica
Aug. 19-27 • $2,999* (air included)

Coastal Maine and New Brunswick
AHI
Aug. 26-Sept. 2 • $3,895*

Tuscany – Alumni Campus Abroad
AHI
Sept. 16-24 • $2,795*

Jewels of the Aegean and Holy Lands
Go Next, Oceania Cruises' Riviera
Sept. 16-27 • $4,299* (air included)

Iberian Princes and Palaces
Go Next, Oceania Cruises' Marina
Oct. 23-Nov. 3 • $3,799* (air included)

Country Music
Go Next, American Steamboat Company's American Queen
Oct. 24-Nov. 1 • $2,699*

Mediterranean Artistic Discoveries
Go Next, Oceania Cruises' Riviera
Nov. 6-18 • $3,999* (air included)
More information »
* Dates and prices are subject to change. Listed price is the base price per person on double occupancy without air, except as noted. Free air is based from select North American gateway cities. The Alumni Association encourages all alumni to consider purchasing travel insurance.
---
Successful alumni connect through Hokie Nation Networking
The Virginia Tech Alumni Association offers Hokie Nation Networking, a professional networking program designed to bring alumni together to make long-lasting connections. (The association's multifaceted efforts in networking were described in this magazine's fall edition commentary by Tom Tillar.) Whether you are recruiting employees, identifying new clients, or looking for a job or career change, there are Hokies who can help.
A cornerstone of the program is a series of professional networking events that target specific professions and connect alumni with experts in those fields. These events provide opportunities for Hokies to grow in their careers, identify new talent to bring into their organization, and discuss trends in their field.
A recent Hokie Nation Networking event centered on finance took place at the Sobe Bistro and Bar in Arlington, Virginia, on Oct. 28, 2014. Alumni gathered for an evening of professional networking, drinks, and appetizers. The event was sponsored by Wells Fargo, Ameriprise Financial, and Access National Bank. Previous events have focused on real estate, hospitality and tourism, technology careers, and the collective areas of legal, financial, insurance, and banking services.
This spring, the Alumni Association will host a technology-focused event during the South by Southwest festival in Austin, Texas. Open to all alumni, the event will be held from 6-8 p.m. on March 16 at the Capital Factory in Austin.
Proposed or planned events, topics, and locations include startup companies in Blacksburg, Virginia; defense in Washington, D.C.; energy in Houston; finance in Charlotte, North Carolina; aerospace in Huntsville, Alabama; healthcare in Nashville, Tennessee; real estate in Richmond, Virginia; biotechnology in Baltimore; engineering in Greenville/Spartanburg, South Carolina; and startups in Boston. To submit recommendations for an event or to learn more about the program, please contact Katie Marquis at kmarquis@vt.edu.
In addition to events hosted by the Alumni Association, alumni chapters are hosting networking events throughout the country. For information about events taking place in your area, find your local chapter's website or Facebook page at www.alumni.vt.edu/chapters. If you don't have a local chapter and are interested in starting one, please contact Ginny Ritenour at ginnyrit@vt.edu.
To strengthen the networking initiative, the Alumni Association offers a suite of online resources at www.alumni.vt.edu/hnn. The Hokie Nation Network site leverages LinkedIn, the alumni directory, job listings (no PID or password required), webinars, and other career resources designed to help Hokies connect with fellow alumni. These resources can be invaluable to anyone interested in professional networking and career growth.
For more information about Hokie Nation Networking, please visit www.alumni.vt.edu/career/index.html or contact Katie Marquis at kmarquis@vt.edu.